Broadcast Asia this year features a whole day devoted to radio.
The Conference, held in Singapore this week, in conjunction with a huge technology
trade exhibtiion
, will feature viewpoints from international speakers including the ABC's Director of Radio
Michael Mason,
the BBC's Head of Technological Systems
Lindsay Cornell
, Astro Radio's
Ramesh Mark Sankey,
and Commercial Radio Australia's
Joan Warner
.
The trade exhibition, which stretches across 4 floors of the huge Marina Bay Sands Conference and Exhibition Centre has range of media industry exhibitors on show this year, including AsiaRadioToday.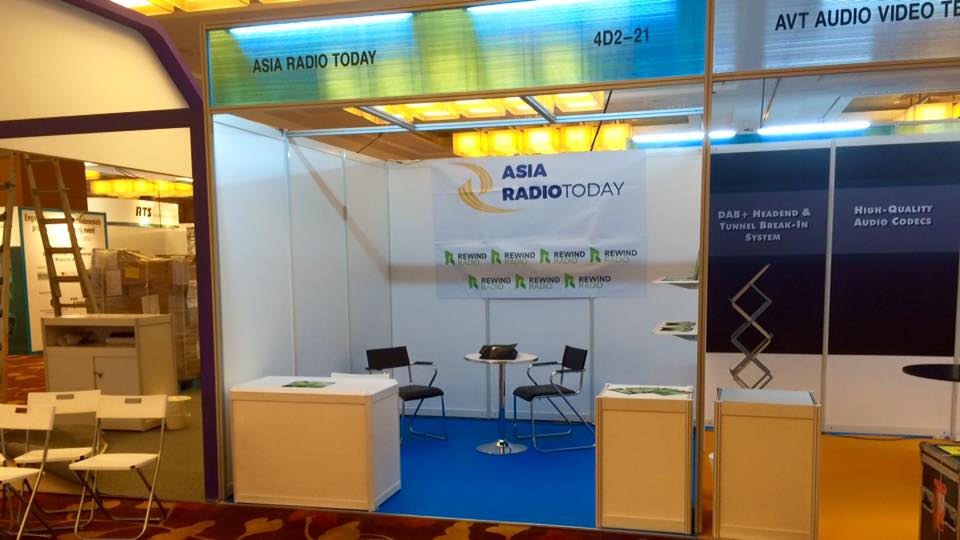 The full Radio Stream program for Thursday 2 June is below.
RADIO AND NEW TECHNOLOGY

10.55 AM
Chairman's Address
Mike Powell, Senior Vice President, International Operations & Chief Compliance Officer, RCS & Media Monitors
11.00 AM
Opening Keynote:
How to Build a Station that Turns its Audience into Fans

Building a content driven-station that fuels audience engagement
Highlighting the major benefits of social media for radio station campaigns – Facebook and Twitter for radio audience interaction?
Converting social media audience to radio fans
Active conversations create loyal listeners following more

Ramesh Mark Sankey, Chief Content Officer, Astro Radio

11.30 AM
Thailand Case Study:
New Developments in Radio Audio Technology

What kind of audio media do broadcasters need in future?
Procedures of production based on listening habits and great spectrum,
The consumption of broadcast-content on multiple devices – Smartphones, tablets and increasing number of headphone users
Consequences and questions for broadcasters

Supinya Klangnarong, Commissioner, National Broadcasting and Telecommunication (NBTC)

12.00 PM
Case Study: Digital Radio on Smartphones
Why DAB+ in Smartphones is Better – Combining the Broadcast Power of DAB+ Digital Radio with the Mobile Internet?

Combining the broadcast power of DAB+ digital radio with the mobile internet
Announcement of the world's first mass market DAB+ enabled Smartphone and the marketing support across Europe and parts of the Asia Pacific
Highlighting the savings of using broadcast radio over streaming – Particularly saving on copyright and transmission costs for broadcasters
Achieving the robust reception of broadcast, with the best of connectivity and interactivity delivered by the mobile broadband

Joan Warner, VP Asia Pacific and Chief Executive Officer, WorldDAB and Commercial Radio Australia

12.30 PM
Lunch Break and Exhibition Viewing
1.30 PM
Challenges for Radio Broadcasting after WRC-15

WRC-15 and spectrum issues
Future scenarios for digital radio
Planning and implementation aspects of a digital network
Technical and commercial challenges in rolling-out digital radio services
Digital radio outlook for the region

Milos Pavlovic, Sales Manager, Broadcast, LS Telcom AG

2.00 PM
MPEG xHE-AAC – The Latest Innovation in Audio for Digital Radio and Web Streaming

Overview and core benefits of xHE-AAC: Successor of widely used
HE-AACv2 codec: Equally suitable for speech and music content, enabling services as low-bitrate as 8 kbps
Adopted as core codec of DRM Digital Radio Mondiale, replacing former speech-only codecs
Enabling efficient and reliable good-quality web-streaming services even over 2G or congested mobile networks
Sound demos of xHE-AAC

Alexander Zink, Senior Business Development Manager Digital Radio, Fraunhofer Institute for Integrated Circuits (IIS)

2.30 PM
Next Generation Radio – Managing the Revolution

Television, streaming audio, curated channels. Why does radio refuse to die?
Is content still the key? Is intimacy still radio's most powerful weapon?
Digital broadcasting and social media: Are they still re-shaping the radio landscape?
Online music streaming services – threat or opportunity? What do we know so far?

Mike Powell, Senior Vice President, International Operations & Chief Compliance Officer, RCS & Media Monitors

3.00 PM
Afternoon Break

NEW RADIO BROADCASTING STRATEGIES

3.30 PM
The Road to 2020 – Shaping Public Radio for Digital Consumers

Understanding the audience behavioural shifts in content consumption
Aligning content around content strengths and audience needs
Developing content strategy for multi-platform radio
Why community engagement matters and other success measures for a viable content offer in 2020

Michael Mason, Director, ABC Radio

4.00PM
Managing Evolution of Future Digital Radio Technology

Is content the key?
How are digital and social media shaping the radio landscape?
How radio technologies reshape services for the next generation?
Managing the threats of online music streaming services and how they affect radio business

Lindsay Cornell, Principal Systems Architect, BBC Digital

4.30 PM
Chairman's Closing Remarks and End of Conference Day 3
We hope to see you at Broadcast Asia. Come and visit Asia Radio Today at Stand 4D2 – 21