I like reading Fred Jacobs blogs because he just gets radio, and he is so passionate about it.

In his latest blog Is Anyone Really LISTENING To Radio?, he, as usual, makes some really good observations.

Fred writes, "We live in a world of metrics – what audio source has the most cume, the most eyeballs, the most downloads, the most TSL, etc. We're into superlatives – hence all those "mosts." But the one we never ask is which audio source is most effective?

"That's what Jeff (Vidler)'s newest online research study attempts to tell us. He surveyed just north of 1,500 Canadian adults earlier this month. And he compared their use of audio: radio, streaming services, owned music, and podcasts.

"The findings are nothing short of spectacular. That's because we tend to view audio listening as a pie – different sources make up different "slices."

Signal Hill Insights is a Canadian audio research consultancy, and in their latest survey of 1,510 Canadian adults they asked weekly listeners of different types of audio where, when and why they use each type.

The survey found that AM/FM radio is the audio most widely used to get information, to "feel connected", and to be entertained, while those listening to music services such as Spotify and those listening to their own music do so for very similar purposes that include for entertainment, to relax and to lift the mood of the listener.

Podcast listeners are the only ones to list "to be inspired", while learning something new and to get new information are also important.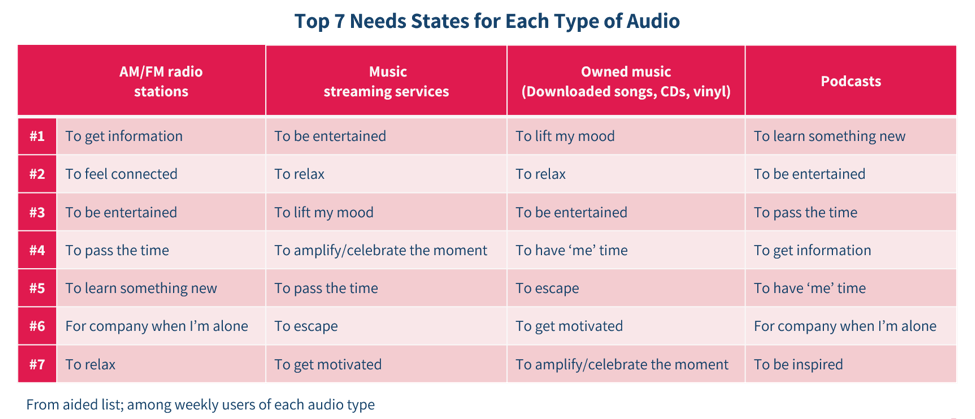 Founder of Signal Hill Insights, Jeff Vidler, says "…motivations for listening to owned music and music streaming services look remarkably similar to each other, sharing six of the seven leading needs states.

"Listeners often use both their owned music and music streaming services to relax, unplug and escape—that's a full 180 degree turn from radio which serves listeners' need "to feel connected."

So what should be the takeaway for radio programmers?

According to Fred Jacobs, a great radio station stands for something – music, entertainment, personality, community spirit, service. These other audio media occupy time but lack a sense of belonging.

Sean Ross also weighed in on radio programming this week in his column I Missed The Jock Break: What Did I Miss?

He says, "These days, any broadcast personality who cracks a mic has to answer the question "why are you here?" Every break is an opportunity to show what radio has to offer, beyond a jockless playlist.

"I hear a lot of breaks that do not make the case for radio. I hear a lot of "coming up, these three artists" and "here's a news item you already heard this morning." Doing station business often means alternating between "download our app" and "tell Alexa to play … " in a way that asks for the order but does little to motivate it.

"Often those breaks are a few minutes away from identically worded promos for station apps or smart speakers."

Breakfast and drive both connect well with their audiences, but listen to non-talk stations from 9am – 3pm each day and there appears to be a lack of connection, with many stations just pumping out music with breaks for promos for Breakfast and Drive.

I crave connection from my local radio station, but then I am way outside the target audience for most of the ones I listen to, and I am 'old school' about the importance of connecting with the audience one-on-one, but it does make me wonder if some stations are missing the mark.

Wayne Stamm
---
Subscribe to the radioinfo podcast on these platforms: Acast, Apple iTunes Podcasts, Podtail, Spotify, Google Podcasts, TuneIn, or wherever you get your podcasts.