Edison Research's Share of Ear survey measures what people listen to, for how long and where. They've taken a closer look at podcasting's share of all listening by location in the US for all populations 13+ and the results are interesting.
The below graph shows a breakdown of all listening by location.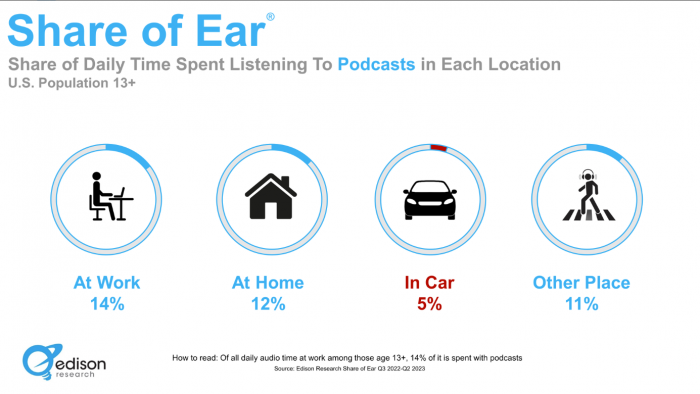 Podcasts are more than 10% of listening time in every location except for the car.
This would suggest that there's incredible room for growth here for podcasts, but perhaps there's more at play.
June's Infinite Dial Australia report showed that we are bigger consumers of podcasts than the US with the breakdown of car audio listening from those surveyed over the course of a month showing 84% AM/FM/DAB+, 41% music streaming services, 38% podcasts and 20% online AM/FM stations.
Again this indicates Australians, who the report showed 43% of listen to podcasts every month, are also preferring to tune in at home, work, doing chores and generally outside of the car.
Radio rules in the car for a couple of obvious reasons:
People want to know what might impact their trip to and from work and local radio provides that information
It's easier to leave the car after a song or talk break than knee deep in a podcast conversation
It requires no additional power to turn on the radio as compared to using your phone to play a podcast episode (although my new car can charge my phone and play a podcast without being plugged into anything)
Its easier full stop. Many times I've started driving, remembered that I meant to set up my device to listen to something and then can't be bothered pulling over to change from the radio.
My partner listens to podcasts every work trip. If I get in the car with him between times he stops where he is up to. Many times, he's accidentally muted it and then had to go back and find his place later.
My son has just got his Ps (that's a whole other article). He's bought a 20 year old Holden that still has a cigarette lighter instead of a USB slot. He can only listen to radio (or the six stacker CD player the car also features). Many who have older vehicles can't listen to a podcast even if they want to.
I would imagine that podcast listening is far higher for those who take public transport to and from work, which would also make for an interesting survey, as would of people whose individual car trips are longer than 45 minutes, where they may have time to listen to the news and a whole podcast episode.
---
Jen Seyderhelm is a writer and editor for Radioinfo