Radio ratings survey 6 results have just been released.
B105 back on top in Brisbane
BH takes over from KQ
SEN Brisbane back in the survey, other SEN stations register name changes
Brisbane was the most volatile market this survey
The survey was conducted by GfK for Commercial Radio Australia between Sun Jul 10 to Sat Sept 17, 2022.
Previous survey results here. See also Cumes, Spin and DAB+ results.
The interactive data graphs are below the raw figures. Click the city charts to enlarge them.
Sydney
Top station 2GB slipped 0.8 to 12.8%
smooth jumped back into second place, gaining 1.2 to 10.9%
Third placed KIIS lost 0.6 to 9.5%
Fourth placed ABC Sydney gained 0.7 to 8.7%
Fifth placed WSFM lost 0.5 to score 7%
2GB won breakfast ahead of KIIS then ABC Sydney
smooth won Drive
Demographics: KIIS won 10-17s and 25-39s, Nova won 18-24s, smooth won 40-54s, 2GB won the over 55s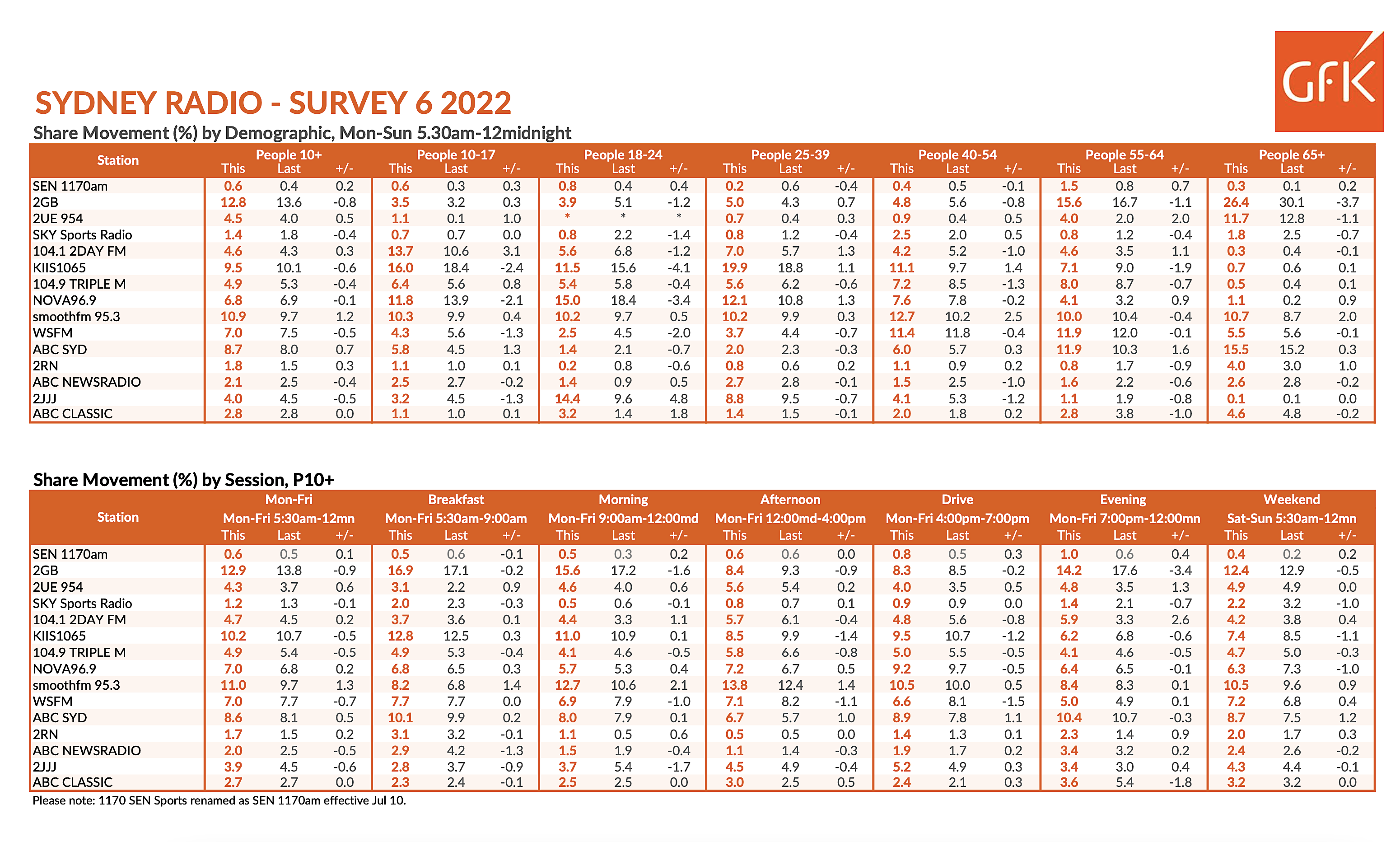 Melbourne
Top station 3AW dropped 1.1 but is still well ahead of the market on 13.4%
Second placed Gold gained 0.1 to 11.9%
Third placed smooth gained 0.1 to score 9.4%
Fourth placed Fox gained 0.1 to 9.3%
Fifth placed Nova lost 0.1 to 7.9%
3AW won breakfast ahead of Gold then Nova
Gold won Drive
Demographics: Nova won 10-17s, Fox won 18-24s and 25-39s, Gold won 40-54s, 3AW won the over 55s
Brisbane
B105 jumped into top position, gaining 1.1 to 13.3% overall
Second placed Nova gained 0.1 to 13.1%
Third placed Triple M gained 1.5 to score 11.2%
Nova won breakfast ahead of B105
Nova won Drive
Demographics: Nova won 10-224s, B105 won 25-39s, Triple M won 40-64s, 4BH won the over 55s