Radio ratings survey 6 results have just been released.
3AW now holds a massive 18.2% of the Melbourne radio audience. More highlights below each chart.
The survey was conducted by GfK for Commercial Radio Australia between Sun Jul 11 to Sat Sept 18, 2021. Results were delayed by one week due to covid. Sydney and Melbourne were in lockdown during the entire survey.
Click the charts to pop out a full size image.
Mouse over a station in the interactive charts to see its share results since survey 1 2020.
AM/FM/DAB+
2GB and ABC Sydney both score big gains during covid lockdown
Big gains for 2GB and ABC Sydney breakfast shows
2GB top with 16.4% overall
Nova has the biggest drop, now on 4.7 with Triple M
KIIS and smooth breakfast shows take a tumble
2Day the only FM station to rise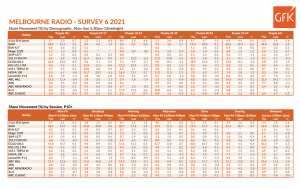 A new high for 3AW with a huge increase to 18.2 up 3.1 share points overall, huge breakfast increase (again)
smooth has the biggest fall, down 1.1 to 6.8% overall
ABC Melbourne does not benefit from covid lockdown, slips 0.4 to 12.0% overall, loses share in breakfast
Gold strengthens its third place position
Top 3 Breakfast Shows command almost half the audience
Smallzy's Surgery (7pm-10pm) is # 1 FM night show in Melbourne with 10.4% share
A big gain for Nova, up 1.5 to 11.7%, retaking the lead and moving into a clear first place
4KQ, which was equal first last survey, gains, but not enough to keep up with Nova
Talk stations only have small rises, Brisbane was not in lockdown for the whole survey
Nova has the Number 1 Drive Show – Kate, Tim & Joel and Fitzy & Wippa from 4pm – 7pm (15.2% share)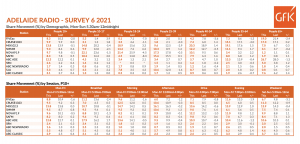 ABC strong but FIVEaa fades in Covid free SA
A big drop of 2 share points for FIVAaa, down to 8.3.
Mix steady in top position, down 0.1 to 13.8% overall
ABC Adelaide steady in second spot, up 0.1 to 12.3%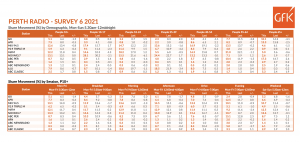 Nova wins titanic tussle from Mix and 96
Nova now top, steady on 13.1% and a cume of548,000
Mix slips into second place, down 0.8 to 12.6%
6IX has a big drop, down 1.5 to 5.1%
The DAB+ Only station results are all here in our other report.
All our Survey 6 coverage:
Radio Ratings Survey 6: Talk stations rise in lockdown, new leader in Perth
Kyle & Jackie O lose their crown to Ross & Russel: Cumes Survey 6
Breakfast results: Survey 6 2021
80's Gold has knocked Coles Radio off the top shelf: GfK DAB+