Radio ratings survey 7 results have just been released.
KIIS beats 2GB in the Sydney breakfast race
Talk breakfast shows fall in Sydney
Nova tops Perth and wins all shifts except Drive
Melbourne market steady, with little movement
Mix jumps to top position in Adelaide, Cruise and Nova slip a little
ABC Brisbane gains share
The survey was conducted by GfK for Commercial Radio Australia between Sun Aug 14 to Sat Sept 17 & Sun Sept 25 to Sat Oct 29, 2022.
Previous survey results here. Cumes and DAB+ results coming soon.
The interactive data graphs are below the raw figures. Click the city charts to enlarge them.
Results
SYDNEY
Top station 2GB fell by 1.2 share points overall to 11.6%, but still retains top position in he market… just
KIIS powered into second spot, up 1.8 share points to 11.3% overall
smooth slipped into third position, down 0.6 to10.3%
Fourth placed ABC Sydney slipped 0.9 to 7.8%
Fifth placed WSFM gained 0.7 to score 7.7% overall
KIIS Breakfast is now the number one overall breakfast show in the market, gaining 2.1 share points in that timeslot, moving it ahead of 2GB for the first time in many years. ABC Sydney remains in third place in the breakfast timeslot.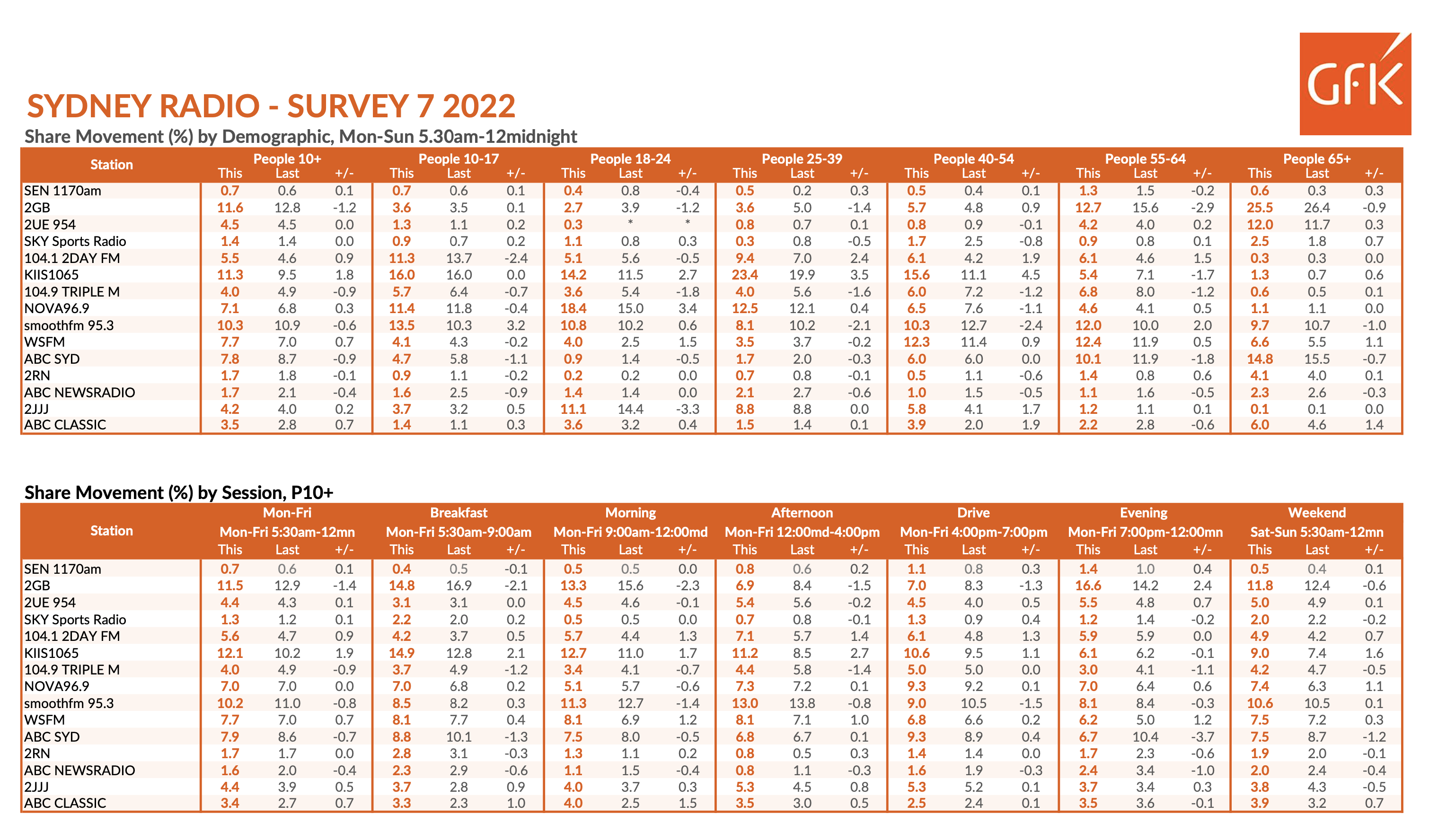 MELBOURNE
Top station 3AW gained 0.3 to score 13.7%
Second placed Gold slipped 0.4 to 11.5%
smooth was third on 9%, down 0.4
Fourth placed Fox lost 1 share point, down to 8.3%
Fifth placed ABC Melbourne gained 0.1 to 7.5%
3AW won breakfast ahead of Gold then ABC Melbourne
BRISBANE
Top station B105 slipped 0.1 to 13.2%
Second placed Nova fell 0.4 to 13.1%
Triple M was third, down 0.2 to 11%
KISS fell the most in this market, down 1.1 to 9.8% in fourth place
Fifth placed 4BH slipped 0.2 to 8.4%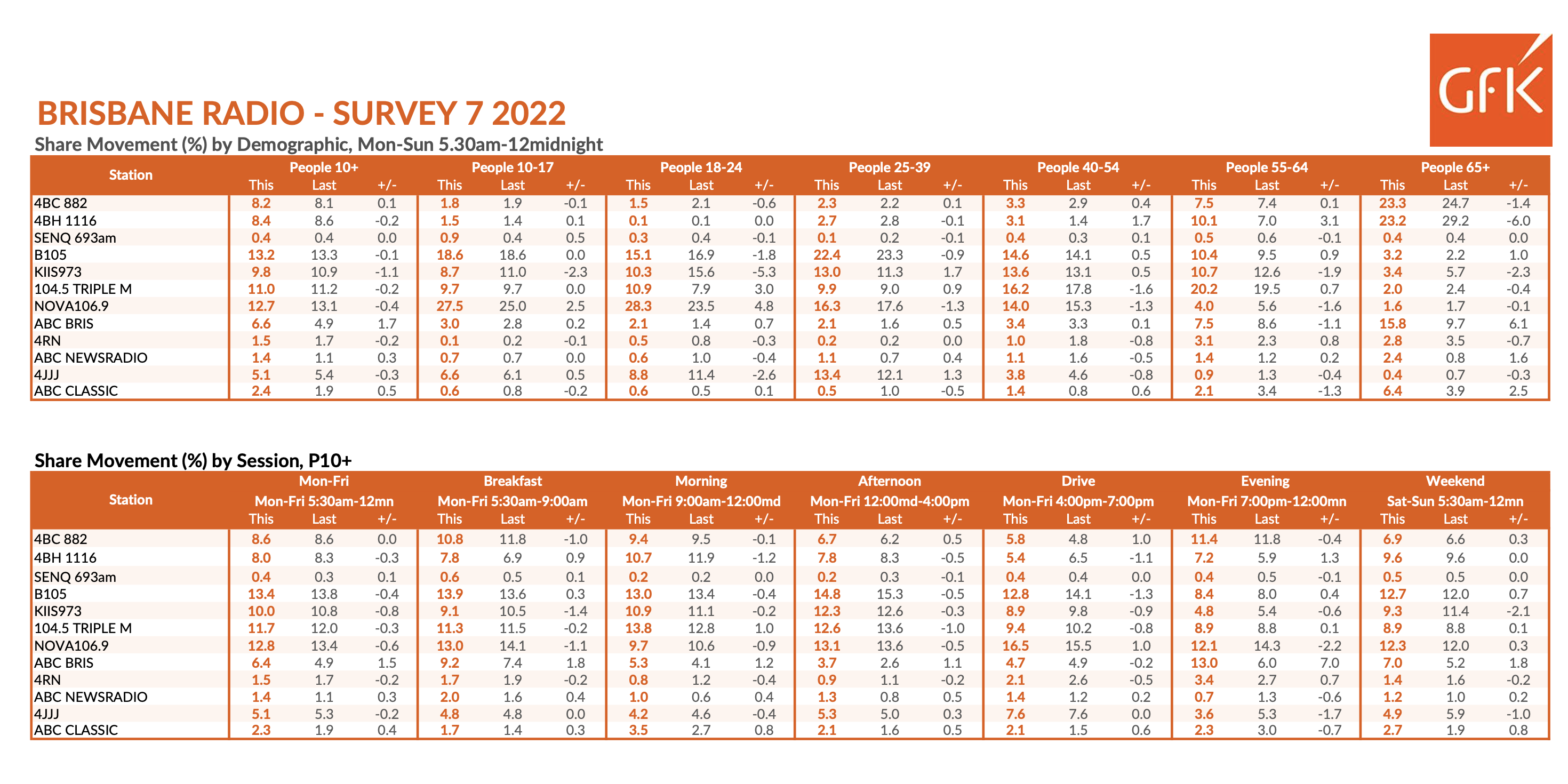 ADELAIDE
MIX jumped into top position, gaining 0.9 to score 11.5% overall
Nova lost its top position, down 0.9 to 10.9%, slipping into second place
Third placed FIVEaa gained 0.3 to 10.3%
SAFM was fourth, down 0.3 to 9.4%
Fifth placed ABC Adelaide gained 0.3 to 9.3%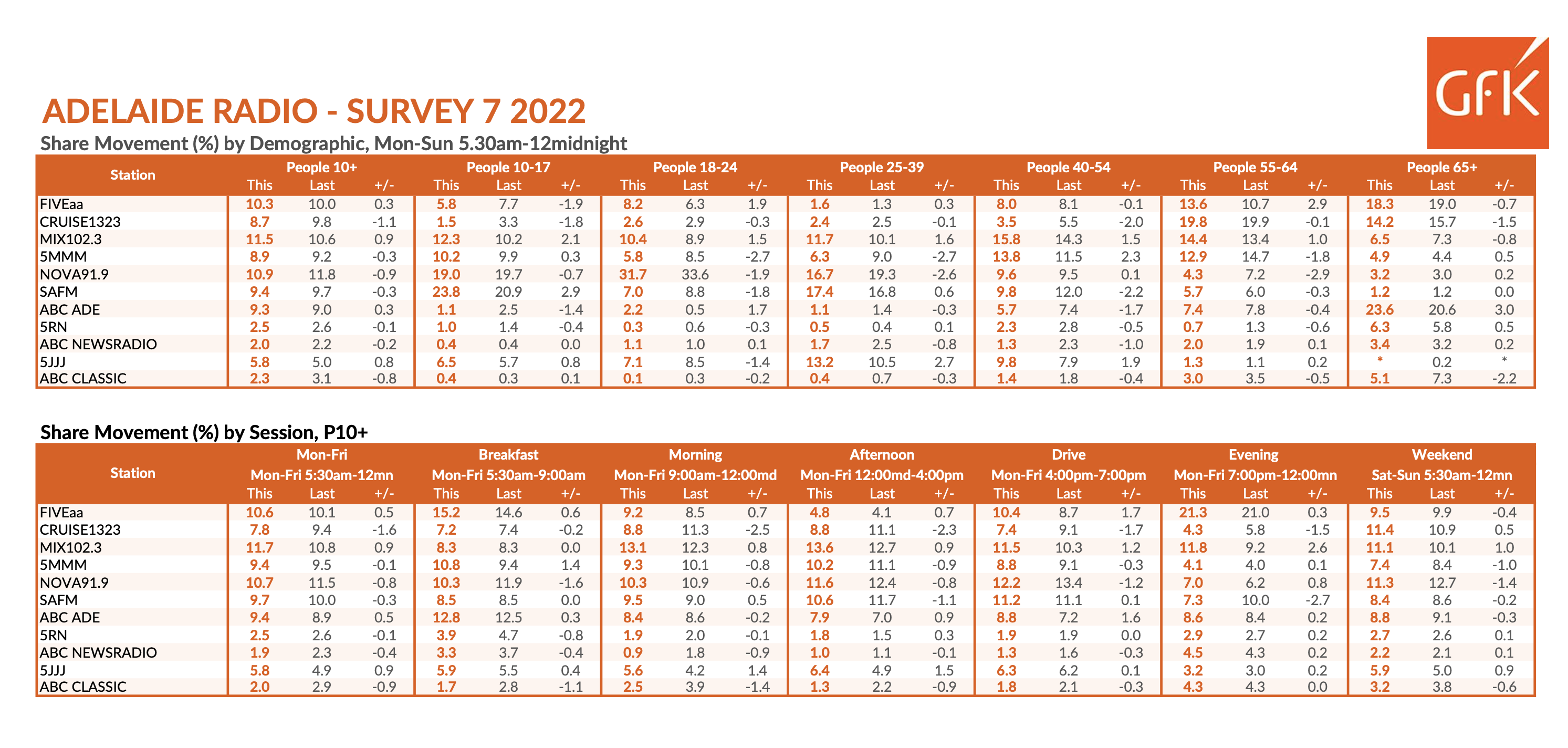 PERTH
Nova consolidated its top position in Perth, up 1.1 share points to 17% overall
Mix gained 0.2 to 12.3%, moving into second place
96fm slipped to third, down 1.1 to 11.4%
6PR was fourth, up 1.3 to 8.5%
Fifth placed ABC Perth gained 0.7 to 6.7%
Data Charts