Radio Tomorrow with James Cridland
My first job for radio was in a radio studio built in 1975 to a full studio specification from the UK broadcasting regulator: including adequate sound-proofing. The studio I worked in was virtually underground, with hessian-dampened walls and large double sand-filled doors.
Studios are a big part of any radio station – an expanse of glass and equipment and often built as a showcase. They're intentionally cut off from the rest of the station.
However, in Canada, one local radio group is removing the studios altogether.
"Geoff Poulton, President of Vista was visiting our station in 100 Mile House BC and noticed that during Larry Rode's Morning Show he had numerous listeners just drop into the studio to say hi and chat," Murray Brookshaw, Vista's National Director of Programming told me. "He realised that our storefront studio was a community gathering place."
A community gathering place… with a big, secure, noise-dampened room in the middle of it: an impregnable fortress, separating listeners from the on-air team.
"If we are part of the community, why wouldn't we make the station front and center and include everyone?", said Brookshaw.
So, in all new station builds, Vista no longer has a studio. Announcers no longer broadcast from a hermetically-sealed studio, separated from station staff – they now broadcast from a desk in the middle of the open-plan office.
"It wasn't an easy transition for our talent because as radio talent we're conditioned to be in a soundproof room set apart from everyone," Brookshaw admitted: but he adds that the talent "love it now. They feel more a part of the station and the community. It also helps break down barriers within the station."
Vista's stations have a music intensive format, which is more forgiving of noisier environments. Announcers might be in the middle of a busy office, but Brookshaw says that "with proper mic technique and processing" – and with careful mic selection at the outset, I'd guess – the office noise "isn't heard on air."
The main photograph is of Vista's setup in Prince George BC – the reception in the front, and behind are both stations – sitting back to back. No glass, no sand-filled doors, no hessian walls; just a vibrant space.
Brookshaw says: "The energy created by the open space is incredible. We've had these open air studios up and running for 2 years. It's been a huge success. The key is we can replicate the concept with individual tweaks in every new space. I'd highly recommend stations to try it…they'll love it!"

Photo: Vista Radio

About The Author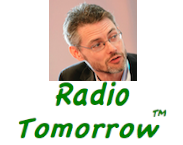 James Cridland is a radio futurologist: a writer, speaker and consultant on the effect that new platforms and technology are having on the radio business across the world.
A former radio presenter, James has worked for stations and companies across the world, including the original Virgin Radio in London, the BBC, Futuri Media, Imagination Technologies and Seven Network. He has judged many industry awards, including the CBAA, ABC Local Radio, RAIN and the UK's ARIAS.
He writes for publications across the world, and runs media.info the worldwide media information website. He also runs a free weekly newsletter with news of radio's future.
British by birth, James lives in Brisbane, QLD and is a fan of craft beer.