Radio ratings survey 4 results have just been released.
Nova breaks logjam: extends lead in Brisbane and Perth
Nathan Nat & Shaun on Nova 93.7 have big survey
Big increase for KIIS Sydney
Strong gain for 3AW
ABC Brisbane drops
Triple M up, Mix and Nova drop in Adelaide
ABC Adelaide bounces back
96fm falls in Perth
The survey was conducted by GfK for Commercial Radio Australia between Sun Apr 17 to Sat Jun 25, 2022.
Previous survey results here.
The interactive data graphs are below the raw figures.
Click the city charts to enlarge them.
Sydney
First placed 2GB slipped fractionally, down 0.1 to 12.9%
Second placed KIIS had the biggest rise, up 1 share point to 10.2% with gains in all shifts
Third placed Smooth gained 0.8 to 9.6%
2GB continued to top the breakfast timeslot, followed by KIIS then ABC Sydney
KIIS won 10-17s, Nova won 18-24s, KIIS won 25-39s, WSFM won 40-54s and 2GB won the over 55s
Melbourne
Top station 3AW had the biggest rise of the survey, up 1 share point to 15.7%
Second placed Gold gained 0.5 to 12.0%
Smooth was third, up 0.2 to 9.2%
3AW topped breakfast as usual, ahead of Gold in second breakfast spot. Gold and KIIS both had good increases in the breakfast timeslot
Nova won 10-17s, KIIS won 18-24s, Fox won 25-39s, Gold won 40-54s, 3AW won the over 55s
Brisbane
Nova had the biggest gain and ABC Brisbane had the biggest fall of the survey
4KQ slipped 0.5 to 10.2% in anticipation of the much heralded change to the SEN Sports format, which began last week
Top station Nova pulled ahead of the pack, gaining 1.4 share points to 12.6% overall
Second placed KIIS gained 0.8 to 11.6%
B105 moved into third place, up 0.5 to 11.1%
Nova won breakfast ahead of B105 and Triple M
Nova won all the 10-54 demographics, KIIS won 55-64s and 4KQ won the over 65 demographics.
With 4KQ's format change, expect the over 65 demographic to be a big factor in changes to next survey's Brisbane results, which will affect 4BC, 4N+BH and ABC Brisbane
Adelaide
There was a lot of movement in Adelaide this survey, with significant movements including falls for Mix and Nova and gains for ABC Adelaide, Triple M and SAFM
ABC Adelaide consolidated its top position, up 1.6 to 13.6%
Second placed Mix fell 1 share point to 10.6%
Third placed Nova lost 1 share point to 10.2%
ABC Adelaide won breakfast ahead of FIVEaa and Triple M
Nova won 10-24s, SAFM won 25-39s, Triple M won 40-54s and ABC Adelaide won the over 55s
Perth
96fm had the biggest fall this survey and Nova had the biggest rise
First placed Nova consolidated its lead, up 2 share points on the back of good gains in breakfast and all daytime shifts, scoring 15.5% overall
Second placed Mix gained 0.1 to 12.8%
Third placed 96fm lost 1.5 to score 10.4%
Nova won all the 10-54 demographics, 96fm won 55-64s and ABC Perth won the over 65s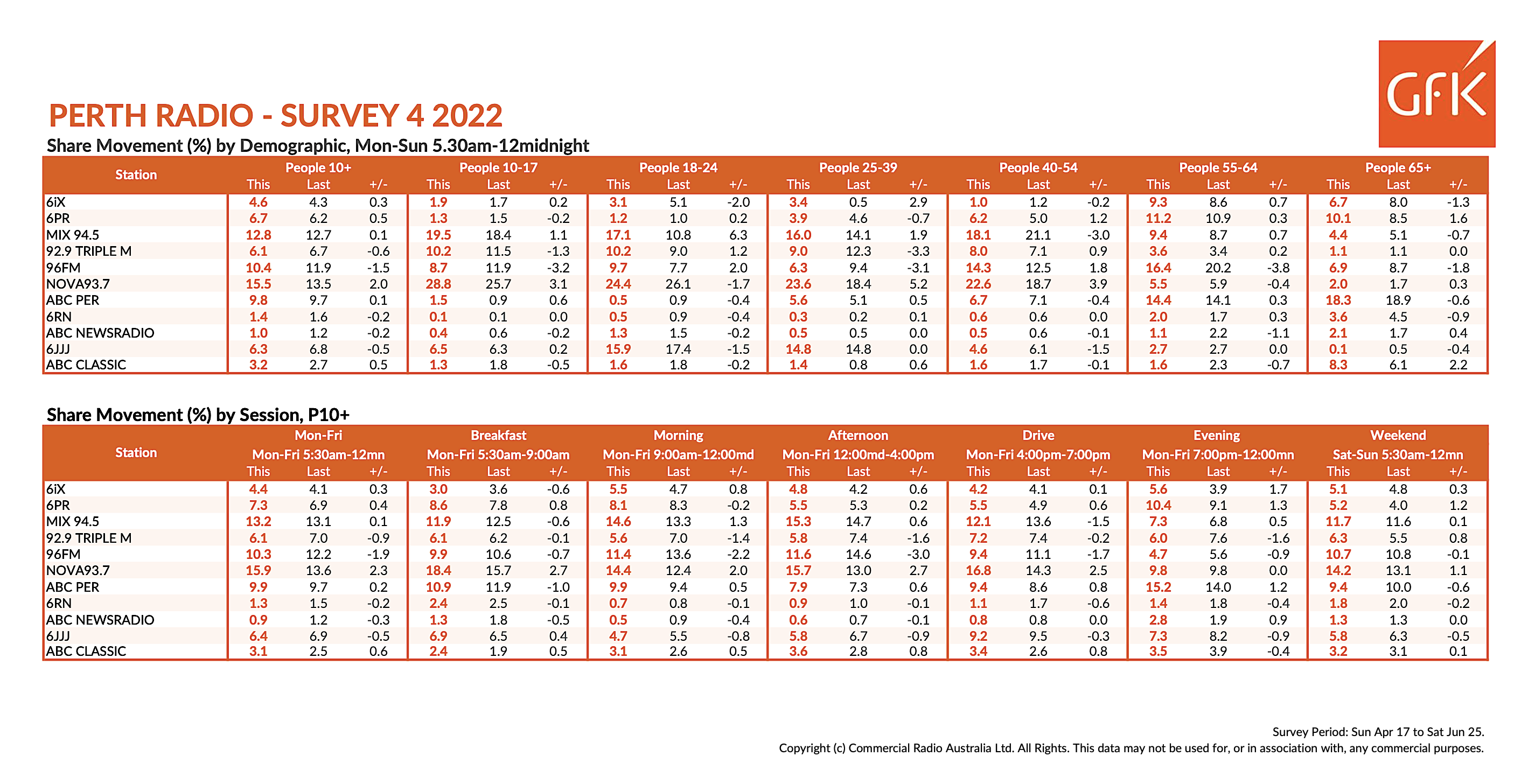 Related stories: Spin Cycle, Cumes, DAB+, Ratings
Our Data Charts