Steve Ahern is in Kuala Lumpur planning Radiodays Asia.

It's been a busy week.
I'm in Malaysia as part of the planning committee for Asia's inaugural Radiodays event, which will happen here on 27 & 28 August, just seven weeks away.

The conference is spoilt for choice when it comes to world leading speakers who are interested in sharing their expertise with pan-Asian broadcasters.
We are now in the final stages of arranging the speaker schedule to meet the needs of our Asian colleagues and cover topics that they have requested.
Radiodays founder Anders Held is leading the program committee with his colleague Rosie Smith, myself and James Cridland (see this week's column from James for more insights into the planning process). Colleagues from AIBD, Commercial Radio Malaysia and Radio Television Malaysia (RTM) have also met with us to give insights into the topics they will find most useful.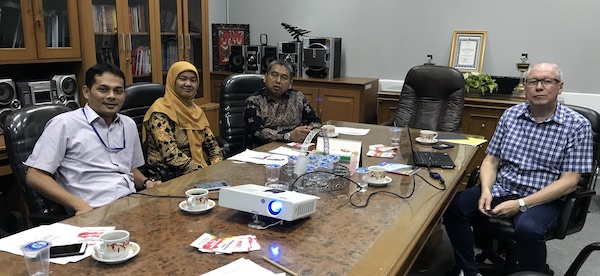 Because this is a conference for the whole region, we have also consulted broadcasters in Australia, New Zealand, Cambodia, India, Indonesia, Thailand, Singapore, China, Korea and Japan to ensure that we know what topics they are interested in and can incorporate them somewhere in the packed two day event.
They told us they want a mixture of topics for public and commercial broadcasters, they want to understand the technology behind new devices and delivery methods, and they want the latest innovations in programming. They also want to hear about new sales techniques and ways to pitch to clients using the power of the audio medium.
Final speakers will be announced in the next few weeks and the full program will be on the RDA website soon.
Topics in the program will include a podcaster from China, the case study of Virgin Radio's relaunch in the UK, smart speaker insights from CRA's Jaime Chaux, creativity from SCA's Matt Dickson, latest insights in music playout from RCS's Philippe Generali, what car owners want from the digital dashboard, research insights from world leading companies, programming innovations, Google and Amazon, and more. See the speaker lineup as of now – there are more additions coming soon.
Exhibitors at the event in its first year include RCS, Triton Digital, Xperi and Wedel Software, and there are a range of commercial sponsors also showing their support. Foundation partners include CRA, Commercial Radio Malaysia, the Malaysian Convention Bureau and many others.
Our sister publication AsiaRadioToday is a founding media partner.
It has been a real insight for me to see the way Anders and Rosie get to the heart of the most important issues facing the world radio industry through this planning process. The discussions that have taken place in our meetings are stimulating and entertaining as ideas bounce around from one expert to another and finally arrive at the name of the exact best theme or most interesting person to deal with a topic. It is no wonder Radiodays Europe, now in its tenth year, is such an energetic and
inspiring event. The same energy will be present at Radiodays Asia.
If you want to get in on the ground floor at the first Asian Radiodays, you can register here.

The early bird rate has just ended, but here's a tip (ssssh, don't tell anyone), if you are a reader of our sister publication AsiaRadioToday you can still save USD$100 with a special rate, but hurry, it won't last long. Get the special code here.

The exchange rate for Aussie dollars in Malaysia is great and the conference hotel has rooms from as little as $100 Australian per night.

If you decide to come to Radiodays Asia, ask me about my favourite jazz club around the corner, some great themed bars just 3 blocks away and discount market shopping. James Cridland has even found a craft beer place one block from the hotel. There's plenty to do, it is a safe area for foreign visitors and there will be lots of chances to mix with all the speakers during the conference and at the nearby après-conference venues.
See you at RDA in Kuala Lumpur next month!


About the Author

Steve is the founding editor of this website.
He is a former broadcaster, programmer, senior executive and trainer who now runs his own company Ahern Media & Training Pty Ltd.
He is a regular writer and speaker about trends in media. More info here.