In what could be the ultimate people's choice exhibition, the Art Gallery of South Australia in collaboration with 891 ABC Adelaide, presents YOUR Gallery, a rare opportunity for the public to decide what goes on display.
During a six week on air campaign at 891 ABC Adelaide starting tomorrow, the public will be invited to join an on air discussion with Sonya Feldhoff (pictured) every Monday 2.30pm, to hear from special guest speakers and art experts. After that they are then able to vote on which pieces they think should be included in the display.
"YOUR Gallery hands the curatorial reins to the public, the people who ultimately own the Art Gallery of South Australia's collection.
"The project also celebrates the diversity of the collection with works of art drawn from all of the Art Gallery's collecting areas – Australian, Asian, Indigenous, European, Prints, Drawings, Photographs and Decorative Arts. The final results are bound to be surprising, says Art Gallery of South Australia Director, Nick Mitzevich (pictured below).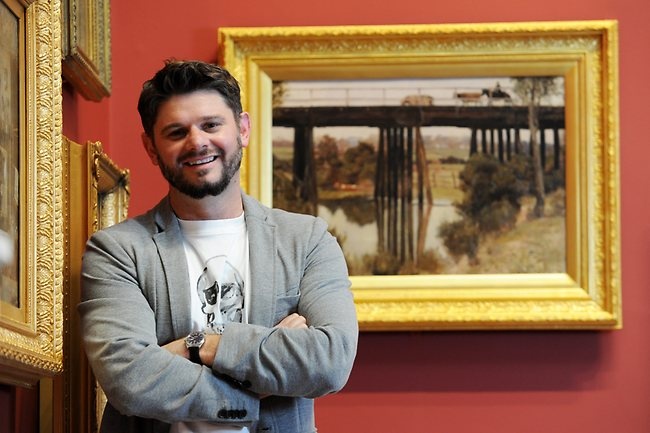 Each week about twenty preselected works will be offered from a new theme or focus including A is for Animal; After Dark; House and Garden; Sacred and Powerful; the Body and Journeys.
ABC Local Radio SA Content Manager Graeme Bennett says the promotion will make the arts more accessible to the public and 891 ABC Adelaide is delighted to be supporting it.
"Through Sonya's support for the project, we're delighted to play a part in putting the audience in the curator's role at one of our State's greatest institutions. It's a fascinating opportunity to find out where the experts and the public agree…or agree to disagree! "
Preselected by the Art Gallery's curators, the 120 works of art up for consideration represent the historical breadth and depth of the collection, such as 500 year old woodcuts on paper and a 21st century silk batik made in the Western Desert.
One work of art that is always on a spectator's favourite list is James Angus' Rhinoceros, first exhibited in the 1996 Adelaide Biennial of Australian Art. Neon yellow in colour and mounted sideways directly onto the gallery wall, Angus' Rhinoceros defies gravity and logic and continues to enchant audiences of all ages.
Other works of art selected for voting by the Gallery curators include a rare smoke painting by David Boyd. He made a series of these experimental works from the late 1950s onwards, painting with real candle smoke and this work has never been exhibited before.
Voting for YOUR Gallery is now open and closes October 21. The final 24 works of art handpicked by the public will be on display at the Art Gallery of South Australia from November 29 until 17 March 2013.
For further information click here.