Chart Highlights – 3 October 2019
Biggest Mover: Samantha Jade's 'Bounce' up 257 spins to No.16
New Music: Maroon 5 earns 322 spins at No.26 with 'Memories'
Heating Up: 'Ride It' by Regard rises 11 frames to No.29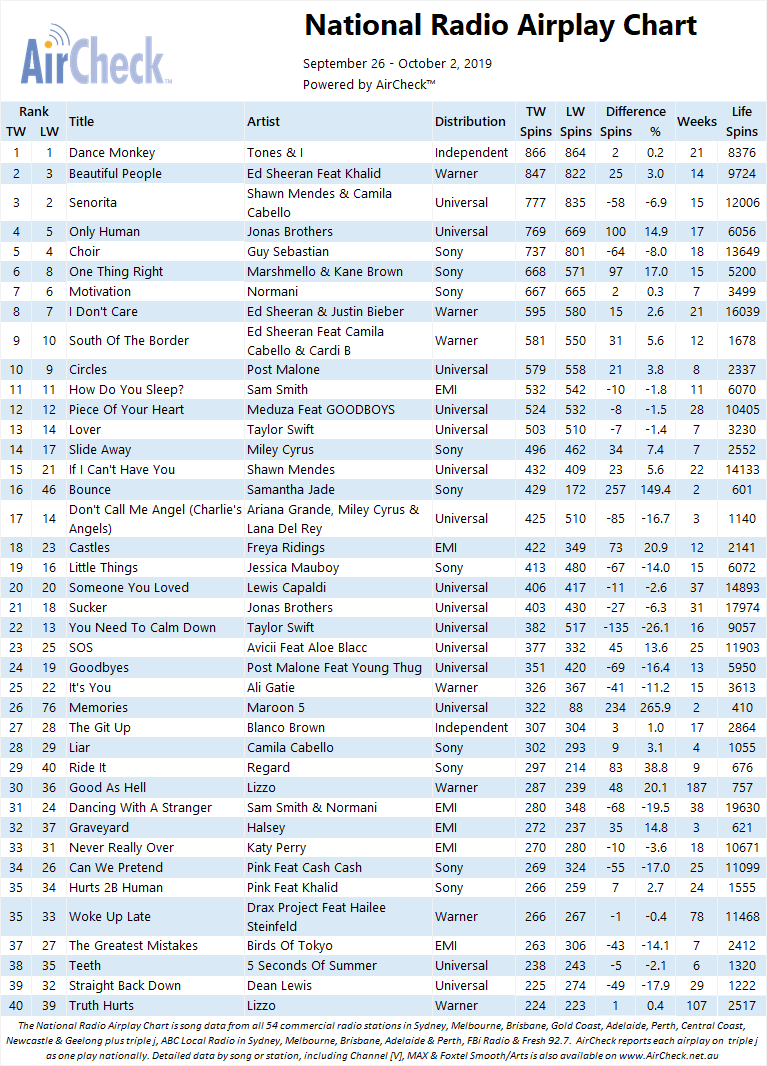 This week Samantha Jade was the biggest mover on the AirCheck National Radio Airplay chart with 'Bounce' up 257 spins landing at No.16. 19 stations across Australia spun the track with The Edge Sydney, KRock Geelong and Star 104.5 Central Coast all adding the track to rotation this week.

While KIIS Sydney and Melbourne were the top supporters of the track last week, it was the Nova network out in front this week with Nova100 Melbourne spinning the track 45 times followed by Sydney and Brisbane.
Maroon 5 returned to the airwaves with 'Memories', in at No.26, their first single since their smash featuring Cardi B, 'Girls Like You', released in May last year.

Brisbane's Nova1069 spun the track the most for the second week in a row but it was the Nova network as a whole that propelled the track up the chart, quadrupling the previous week's spins.
Regard continued to rise this week, with 'Ride It' up 11 places to No.29. The Kosovo-born DJ released the track as a remix of Jay Sean's 2009 hit of the same name, which gained popularity after it was featured in a challenge on social media platform Tik Tok.