SCA has delivered its half year results for the second half of 2019, with group revenue down by 8.2%.
The fall reflects the guidance given in October about a tougher advertising market, which triggered some job losses at the time and dropped the share price from $1.15 to 88 cents.
Net debt increased by 12% due to the acquisition of Redwave Media, which has taken SCA's network across Australia to 96 radio stations. The company plans to save about $1 million annually in synergies from the acquisition, including an impending rebrand. The debt is well within the company's debt parameters.
SCA needs to divest the Bunbury licence it gained in the Redwave acquisition and intends to do so as soon as possible.
Podcast listening is up, in both catch up radio and original content.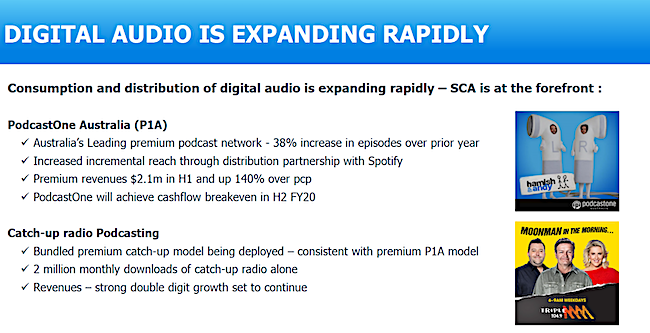 Metro revenue was down significantly, while regional revenue was also down, but less than metros.
CEO Grant Blackley says advertising conditions continue to "remain challenging" in January and February, but he expects the company's cost tightening efforts to yeild between $5-10 million in savings over the coming year, despite the fact that salary and talent costs are increasing and so have software licencing costs. To balance those increases, the savings from outsourcing transmisison and playout functions is helping the bottom line.
Subscribe to the radioinfo daily flash briefing podcast on these platforms: Acast, iTunes Podcasts, Podtail, Spotify, Google Podcasts, or wherever you get your podcasts.
Ask Alexa: 'Alexa, play radioinfo flash briefing' or ask Google Home: "Hey Google, play the latest radioinfo podcast briefing."