SCA have reported their half yearly results to December 2021, showing total revenue of $259.8m, up just 0.2% on the corresponding period in the previous year.
Their EBITDA of $46.5, excluding Jobkeeper and PING, was up from $40m in 2020, while the NPAT was down by 48.3% to $16.8m.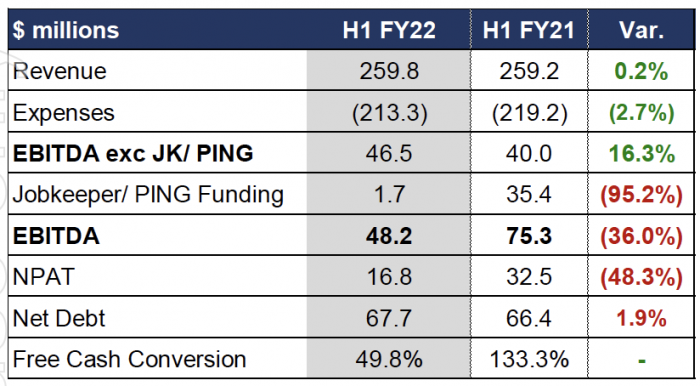 Jobkeeper and PING funding in the preceding year was $35.4m, but only $1.7 in the current reporting period.
The result allows the company to declare an interim dividend of 4.5 cents per share.
CEO, Grant Blackley says, "The recovery in advertising markers continues to strengthen but it is uneven, with Omicron related disruptions tempering the strong momentum of November and December. SCA has a strong balance sheet with a net debt of $68m and leverage of 0.7X EBITDA. Our quality of earnings continues to drive strong cashflows to support investment in new and emerging products and income streams and increasing shareholder returns."
Audio sales grew by 11.5 % or $20m with the end of lockdowns in Sydney and Melbourne producing a sharp increase in radio revenue.
Metro radio sales totalled $90.6m while regional radio was also up, improving by 4.9% to $82.4M.
LiSTNR now has 500,000 users, with strong growth in customer acquisition and streaming in the past 6 months, with further investment in innovation and premium content targeted to drive stronger sign-ups and habitual listening.
Digital audio revenue was also up from $7.7m to $10.5m.
Speaking to radioinfo after the results were announced, Grant Blackley says he agrees with Ciaran Davis' comments yesterday about the coming few months of radio revenue:
"If we look back at today's result from Metro Radio, we did grow above the metro market and obviously took market share in that period. So we were pleased with that result coming into January, February and March.
"I do concur with with Ciaran's outlook… there was some unexpected lag effect … and the rate of recovery was dampened by covid. Nevertheless, in January, our revenues were up three per cent on the prior year. In February and March, it will be stronger than that. In actual fact, for Q3, we expect it will grow by mid-single digits across the quarter. And for Q4, we would hope to see a strengthening [if] there is a level of normality… Importantly, we have the influence of the federal election."
Blackley acknowledged that there is more work to be done on the Hit Network, particularly 2Day FM breakfast, but hopes that numbers will increase when normal commuting patterns resume as pandemic restrictions ease.
"As you know, radio thrives on the commute, particularly in breakfast and drive, and the commute hasn't been at normal levels, for good reason, in the last couple of years. We've tried to launch new formats, but the mature formats in that period, in the absence of one of the key attributes and drivers of radio, [have been affected].
"However, that commute is coming back. Roads are busier than ever. People are using less public transport and are more in their cars, which is clogging up the roads more and more often. So I think if the cities remain open, it will create a platform for more in-car consumption. That's a really good thing in respect to formats we've launched, with good production values, story arcs, producers and content, in both Sydney Hit Breakfast and also with Marty Sheargold in Melbourne on Triple M drive.
"We stand by those two formats… if the ingredients are there for success and growth, we hope that under a level of normality twe will start to see growth in listenership, in referral and in trial, which hopefully leads to a more substantial number. I can tell you we are getting that in our daily streams. We're seeing an improvement in digital streaming of those two programs and related podcasts as well. But you don't necessarily see it at this point in time through the normal survey results."