When a media personality writes a "tell all" book it's sure to attract a lot of attention from the media – in particular, other media personalities – some hoping, some dreading that they're in it .
So it was last week when smoothfm 91.5 breakfast News Journalist, Jennifer Hansen, launched her first novel called Making Headlines. The launch, held at the Hotel Brighton in Victoria, was attended by many well-known news journalists and News Directors, industry friends and colleagues.
A labour of love, Jennifer's first novel Making Headlines is a story of passion, adrenaline and excess, set against the background of a TV newsroom. The novel explores the challenges of aiming high in the TV industry and features all the egos, office politics and even corrupt politicians.
Jennifer and Mal Walden hosted Network Ten's 5pm news for over 10 years and were the longest serving news duo in Australian television history so Jen is well equipped to give an insight into the challenges and buzz of the TV news industry and its colourful characters.
The MC for the evening was Jen's childhood friend, radio announcer Brigitte Duclos, (until recently of GOLD's Brig and Lehmo fame) and Catchy media marketing & management boutique agency Mitch Catlin (former Senior Marketing and brand manager for Swisse).
Although slated as a fiction novel, and the lead character Rachel clearly not Jennifer (she likes Sauvignon Blanc and Jen only drinks Chardonnay) many were trying to work out who the characters were based on.
Below: Gail Easdale, Jackie Woodburne and Natalie Bassingthwaighte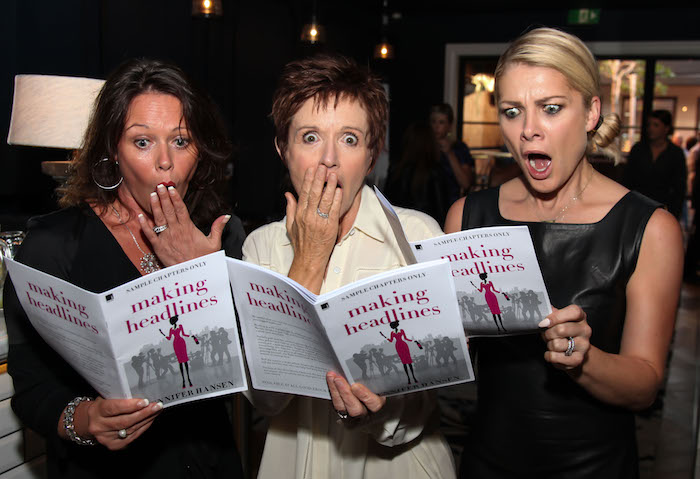 It was a family affair with Jennifer supported by her husband Alan Fletcher, Neighbour's Karl Kennedy, her two children Tom and Ronnie and her dad John Hansen and mum Elizabeth.
Also there to support Jen and Alan's work partners – Alan's Neighbour's long standing on screen wife Jackie Woodburne (Susan Kennedy), Jennifer's on air radio partner Mike Perso (host of smoothfm's More Music Breakfast Show) and Jen's Ten News co-host partner Mal Walden.
Other guests in attendance were current and former Neighbour's actors Natalie Bassingthwaighte, Stefan Dennis (Paul Robinson), Gail Easdale (wife of Stefan and Neighbour's actor) and Jackie Woodburne (Susan Kennedy); singer/musician Ross Wilson and wife Tania, former AFL footballer Nick Holland, Steve Carey former Seven Melbourne News Director (over 9 years), Kate McGrath – Nine News Chief of Staff, Ann Peacock – Crown Resorts GM of Public Relations, Qantas Key Commercial Executive Margaret Zita, former Ten News and now Profile Management Michelle Van Raay.
The smoothfm and Nova team were out in full support with smoothfm Program Director Peter Clay, announcer Ty Frost and Nova News Journalists Matt Simpson, Sophia Lazarides and Matt Thomson, NOVA Entertainment Integration and Marketing Director Tanya Simpson all attending.
Making Headlines is an e-book released by Harpers Collins and is available where all e-books are available.
Below: smoothfm PD Peter Clay, Producer Lauren Saylor, announcer Mike Perso, Jennifer Hansen and Ty Frost
Below: Brigitte Duclos and Crown GM Publicity Ann Peacock