After more than 12 months in planning Brisbane's HIT105 and Triple M are now broadcasting from their new custom-designed headquarters they call AUDIO HQ.

SCA's new setup on Level 4 at "The Barracks" will boast the country's most advanced radio super studios. It's been one of the biggest and most technical relocations in radio history in Australia – 125 team members – with no break in transmission.

The new headquarters are one of the most technologically advanced radio facilities ever built, with:
· 50km of CAT6A data cabling.
· 32,000 unique Audio Signals.
· 101 TV screens.
· 318 computer screens.
· 6144 channels of lighting control.
· The largest electrical switchboard in SCA history.
Below is the Triple M Breakfast team with
Marto, Robin & Nick Cody
and Breakfast show anchor –
Brendan Anakin
(with cap) + Hit105's
Stav, Abbey
and
Matt
.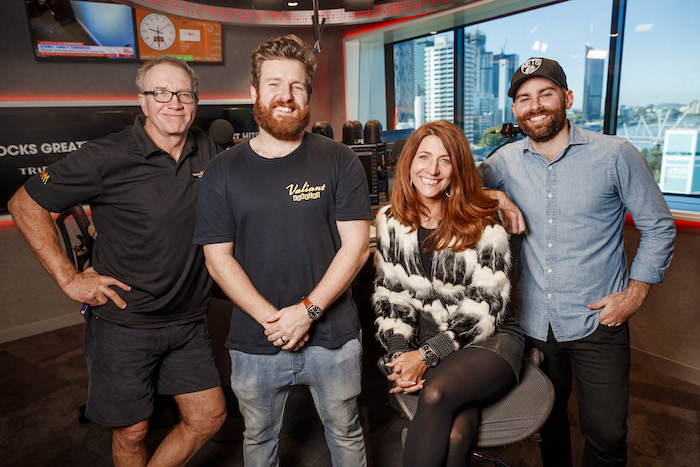 The project was under the direction of SCA Executive General Manager Queensland Damon Rielly and Brisbane-based Jane McConnell Interior Design with with direct input from every employee.
Here's what the excited people at SCA had to say about their new Bris Vegas digs…
Eyes (and ears) on Brisbane. The on-air teams that talk to Brisbane every day and night, now look at directly Brisbane. The views from the studios look out over the mighty Brisbane River, across the city and South Bank to the southern reaches of South East Queensland.
For The People. Designer Jane McConnell said she had never worked with a client who pushed so hard to ensure such forward-visioning in terms of space usage, technology and prediction of staff needs to create a work environment they call home. AUDIO HQ is a truly unique place, for the people, by the people.

24 Hours a Day, Every Day. The thing about AUDIO HQ is that some people start at 4am (that'd be the news teams), some start at 5am (the brekkie teams) and some start at 10pm (hello mid-dawners). There's also the 9am to 5pm teams. Therefore, the design of AUDIO HQ had to be about BALANCE – making sure the workplaces, End-Of-Trip facilities and common areas are as welcoming and inspiring at midnight, as they are at midday; making sure there were environments for hard thinking, collaborative works, chilling, meetings and more. Being open and on air 24/7 was a unique element of the design brief.

The Future of Audio on the Walls. Don't just listen, look! AUDIO HQ is now home to three exclusive artworks, created by famed contemporary fine artist, Brisbane's Matt Stewart. Working to a brief from SCA, Matt customised his interpretation of the future of audio and created the artwork direct to the three walls.


The Most Queensland Rooftop of them ALL! There's a lots of talk about corporate rooftop entertaining spaces. But no-one has a dedicated corporate entertaining space like this – AUDIO HQ's looks straight down the legendary Caxton Street to Suncorp Stadium, out over the Toowong reach to Mt Coot-Tha, and to the west past the iconic Red Hill church. Sunsets are glorious. Sunrises are epic. It does not get any more Brisbane or Queensland.
The Audio Pod – this velvet circular bench in reception is the go-to place for visitors to listen to their favourite podcast, live radio or music, using the best acoustics possible. The design was inspired by a 1950s vinyl record listening station.
The Sonic Boom Room. This is a unique and dedicated space where clients can be taken to listen to content that's been developed for them, where artists can listen to their tracks. It is a custom-designed, acoustically balanced, immersive experience, that sets AUDIO HQ completely apart.

Future Proofed – The Workplace of the Future. Design and the technology have merged to future-proof each other at AUDIO HQ, now a shining example of the future of sound and light! All screens and lights are programmable and entirely nimble, making static, permanent signage a thing of the past. At AUDIO HQ, wholly branded environments can be created easily and immediately. The layout of all areas is interchangeable from meeting to chill areas, able to accommodate all workplace needs. It feels like home, but better.


The Collaborative Approach – We Did It. Under the direction of SCA Executive General Manager Queensland Damon Rielly, all staff have had a voice in the design of AUDIO HQ. Twelve staff made up the design working group, representing all areas of the business. They met with their respective teams to uncover what they would like to see, what annoyed them about the former building, what they love, what they hate, what they are passionate about (turns out it's microwaves) and then presented to the designer. Every step of the way the working group was involved – right through to buying trips to Living Edge, Space and Stylecraft.

The Staff Café – worthy of a chef's hat! The stunning green marbled stone bench is the first sign this is no ordinary staff area. The La Marzocco coffee machine is the second! More Queensland bistro, than any staff area, the Staff Café at Audio HQ is a direct reflection of the huge investment SCA makes in their staff. Any other company would have hidden the Staff Café out the back and made it totally utilitarian – at SCA, it's in the heart of the building, the premium spot, and it is five star. (PS. the unique stone was quarried from a mountain in China, shipped to northern Italy for cutting and polishing and then shipped to Brisbane.


My personal memory of B105's first day at North Quay. (Previously I was the breakfast show EP).

Thurs 6th July 2000 – The B105 Morning Crew hosted by @IanSkippen1, Jamie Dunn, @robinbaileynow & Sally Quayle broadcast their final show from Bowen Hills. Last show meeting there too

— Brenden Wood (@BrendenWood) June 6, 2019

Gawndy chats to Hit105's Brad Wood about audio and and new premises.