In what may be an attempt to firm up ratings support for her return to air next week, 2Day's Sophie Monk has posted a raucous video on Instagram.
It comes after her 'leave your hat on' parody just before she went on her mid year ratings break holiday.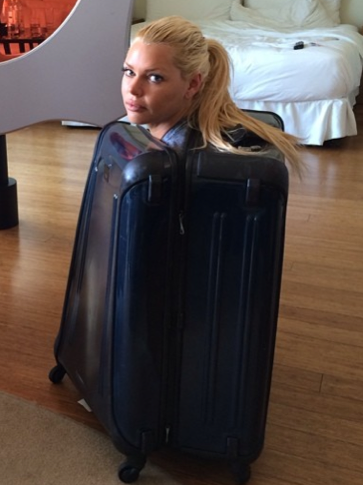 The video (see below) shows Sophie, bra-less, dancing with her suitcase.
Earlier in the week she posted other funny pics on Instagram of her and her suitcase on their vacation in Los Angeles and herself in a bikini to plug a friend's swim suit design.
Obviously relaxed and enjoying her holiday, Monk tweeted: "Some might ask why???? I say whyyyyyy not."
With the 2Day breakfast show dropping to 3% in this week's ratings, Sophie, Merrick and Jules will be glad of anything that will boost their numbers, to lift and separate them from their rivals.
Meanwhile, Sophie Monk's online stalker has returned, posting comments on the 2Day breakfast facebook page. The stalker, James Scott McCabe, has a bail condition that prevents him contacting Monk, but he is not in breach by posting comments on a facebook page. 2Day has now blocked him from the page. Read more here and here.
Click the pic to view Sophie's video.