Star FM has won the first Albury Wodonga radio ratings survey to be conducted in over a decade.
The
survey
was conducted by Xtra Research between 11 – 31 May 2014, with a sample size of 800 respondents.
The River was second placed, followed by 2AY then ABC Goulburn Murray.
Star FM's Ben and Kristie (pictured) won the breakfast shift, followed by The River, 2AY and local ABC.
Kristie Mercer won a radioinfo competition last year and was sent to the US to cover the NAB Radio Show. Read some of her reports: Social Media, Connected Car, Pop Culture, more.
2AY won mornings with the Neil Mitchell program. Star FM won afternoons and drive, ABC won evenings and Star won weekends.
Star FM dominated the 10-17 demographic and also won 18-24s, just ahead of triple j. The River won 25-54s and ABC won 55+.
Albury Wodonga is a strategic market for ABC Radio, which has participated in this survey, but does not have enough funding to be part of every regional survey that will be conducted this year.
The last survey in this market was just over ten years ago. radioinfo covered it at the time here.
Back then, The River was top, Star FM was new to the market, and stations were owned by DMG Regional Radio and RG Capital. A lot has changed since then. River and Star are now owned by Southern Cross Austereo and 2AY is owned by Ace Radio Network.
Click the chart below to enlarge and see the station Spin releases below the chart. Refresh this page during the day to see the latest updates.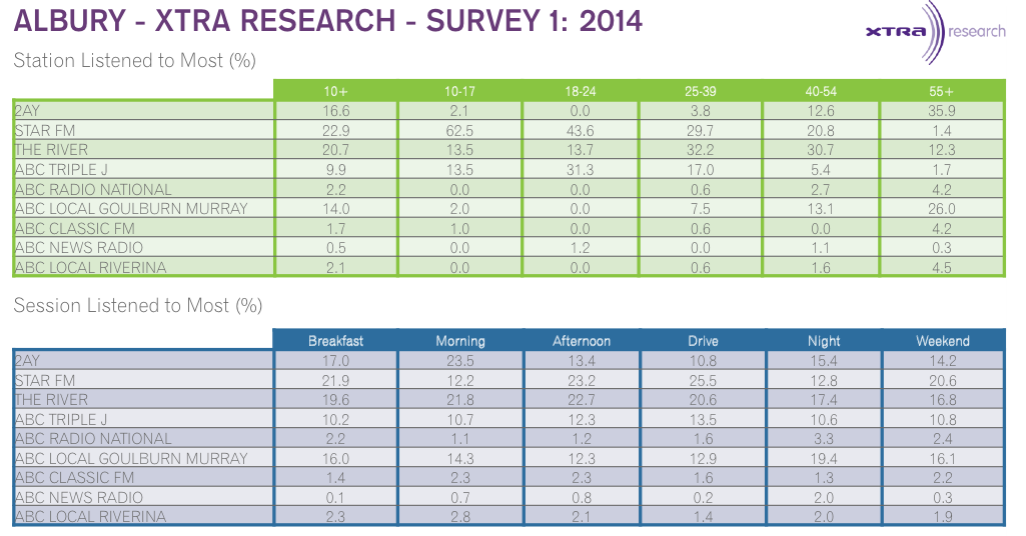 Spin Cycle