Star FM in Wagga Wagga has a new breakfast team – Michael Whittington joins Pip Enscoe to form the aptly named Pip and Whitto (below left).
Together they have wasted no time in getting down to business. First on the agenda is to lure Hollywood superstar Arnold Schwarzenegger to actually come to Vogga Vogga after Arnie made it famous in a realestate.com.au commercial, complete with Austrian accent.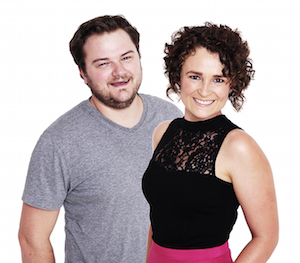 So far they've found him a house with a helipad, have got the Mayor to officially ban twerking (as Arnie is apparently not a fan of his son dating Miley) and now have embarked on a journey to search the Riverina for the best schnitzel.
Pip, a 2012 graduate from Swinburne University, spent time as a floater at the SCA media hub in Albury before making the move to Wagga at the end of 2013 for the breakfast shift. Whitto joined the team in Wagga in late 2013 as a workday announcer and promotions manager after graduating from AFTRS.
Leigh Ryan has moved from breakfast to become the station's new Assistant Content Director. His role will also include Promotions Manager and Workday announcer.
Duncan Potts the Station's Content Director says "I'm very excited about 2015 and our plans for Star FM and 2WG. I have at my disposal some excellent young radio talent that I look forward to working with. I believe "Pip & Whitto" have a fantastic natural ability, a real focus on content, and an understanding of the need to be local.
"It's early days, but the first few weeks have been really encouraging, and the show will naturally evolve.
"I also look forward to working with Leigh in content, as we take both our brands further. Leigh has a passion for creating and driving content. Exciting times coming up in the Riverina."