Comment from Peter Saxon
Five years ago, Nova Entertainment's content supremo, Paul Jackson– better known then to some in the supremo fraternity as "that pommy upstart" (Scottish, actually) – claimed that Nova 969 was the number one station in Sydney with more listeners than 2GB. It was as if Donald Trump had claimed his inauguration crowd was bigger than Barak Obama's.

There was outrage from the other supremos. How dare this pommy/scotty startup (sic) upset the established pecking order and bring the hallowed ratings system into disrepute? Trouble is, unlike Trump, Jackson was right – that is, if you choose to use cumulative audience data (cumes) as your measurement instead of the established 'average audience share' (share).

"Across the world," he argued, "most stations in Europe, the UK and in America, all rely on cume as being the big indicator. If you ask the question, in our market here in Australia, 'How many people watch a TV show of a night?' we deal in cume."

In Survey 6, released just last week, Nova969, which ranked equal 4thon the Sydney ratings ladder with a 7.5% share of the measured audience, actually had the most listeners with a tad over a million a week. The accepted number one station, 2GB, with a 15.4% share of audience – more than double that of Nova's – could manage to attract only 667,000 listeners.

On listener numbers or cume alone, Nova would easily be number one (followed by smooth and KIIS) while 2GB would be languishing in 7th place. Even Nova's Fitzy & Wippa (522,000 listeners) beat the king of radio, Alan Jones (498,000 listeners) in Breakfast.

To put the difference between cume and share into even sharper relief, 2GB's cume figure remained static since the previous survey, yet the station added 1.3 to its share of audience to reach that heady 15.4%. Nova added 13,000 listeners to its cume total, yet they slid back 0.4 in share.
Below: Share rankings on left, Cumes on the right

Here's the best explanation I've heard as to how cume and share differ. Imagine, say, a JB-HiFi store with a person at the door equipped with a hand held counter. This person is charged with clicking the counter each time a shopper enters the store over a period of a week. If an individual shopper leaves and then returns at any time during that week, they're not counted again. So, Cume is very simple, it tells the management how many different or unduplicated people came through their store over a particular time.

Share is measured this way: Same person with their clicker is now tasked with counting the number of people in the store at regular 15 minute intervals. This time though, if a person was counted in one 15 minute period and is still there when the next count is taken 15 minutes later, they are counted again. And again for as many 15 minute periods that they remain in-store and no matter how many times they leave and return during the week.

By adding up the numbers recorded each quarter hour between, say, 5:30 and midnight over 7 days and dividing that by the number of quarter hours (490) in that period, 2GB records an average of 80,000 people at any given time.

If JB-HiFi decided to run a test on both cume and average, an interesting question for them might be: which kind of customers spent more – those who ran in and out in less than 15 minutes or those who browsed in-store for 30 minutes or more? Which translates into a question of reach and frequency for radio advertisers.

Given that a radio ad needs to be heard several times by an individual before it gains any level of traction, is it more efficient to run a higher rotation to reach more listeners who listen less or a lower rotation to fewer listeners who listen more? In other words, is it better to have more listeners or listening? Given the number of other factors, such as the quality of the creative and live reads that affect ad efficacy, it can be difficult to know. After reading this article, Craig Bruce talent coach, Game Changers: Radio host and former SCA content supremo told me, "The challenge for radio is that we don't know when a listener has just walked into our shop. Every moment is as potential trial moment of truth."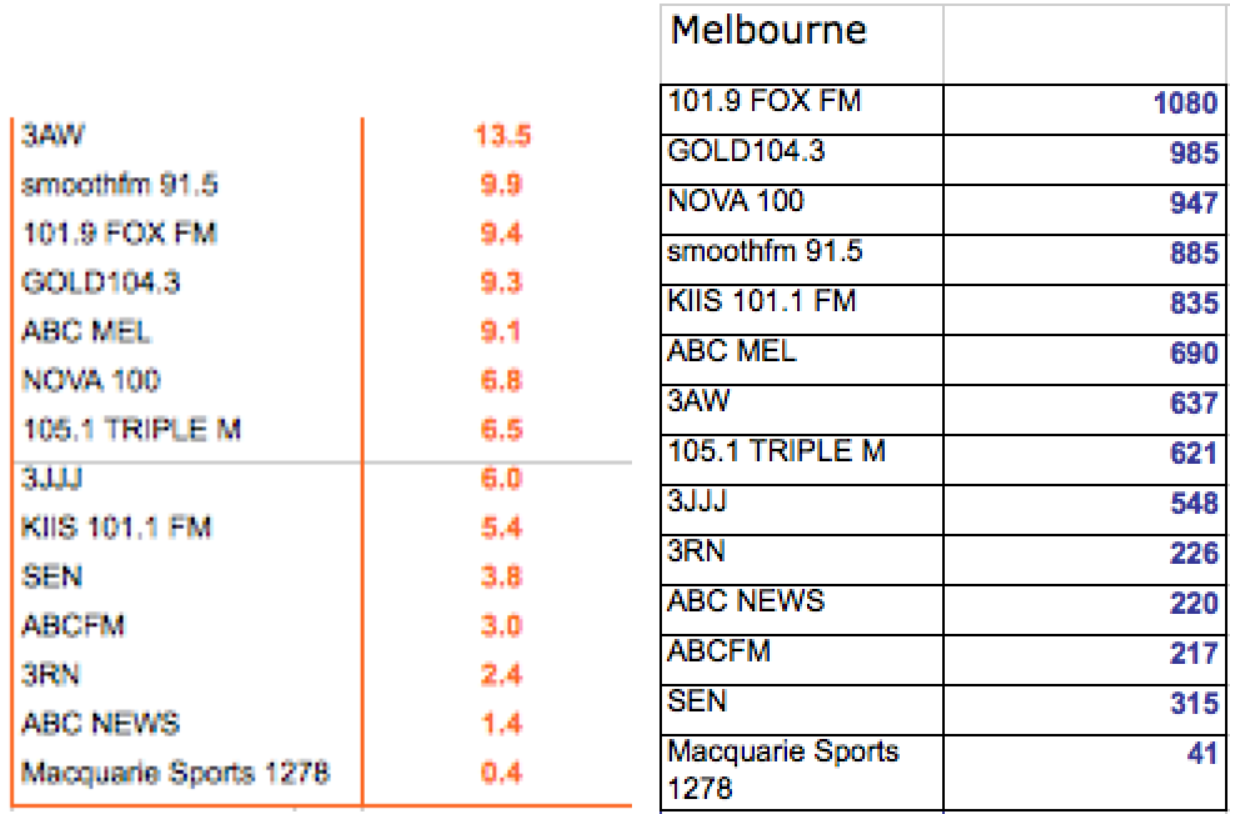 In Melbourne the highest ranking station, by share, is 2GB's MacRadio stablemate 3AW with 13.5. But its 637,000 listeners are only good for 7thplace, just behind ABC MEL with 690,000. FOX has the most listeners: 1,080,000 followed by GOLD and smooth91.5 who have close to a million each.

The difference between the two measurements, Cumes and Share, could be likened to choosing the difference between Line Honours and Handicap to determine the winner of the Sydney to Hobart Yacht Race. Traditionally, all the media focus has been on the maxis that win Line Honours while the true yachties remain fixated on the arcane rules of Handicap.

So, why do we use shares rather than cumes to rank stations in Australia while most other countries use cumes? Perhaps its because we've always done it that way. CRA has no official view on the matter. The peak body's chief executive Joan Warner has told radioinfo, "Commercial Radio Australia has no position on the relative value of cume or share measurements. Each station has a different view and what their advertisers want. It provides advertisers with two ways to buy – frequency with a particular audience or do they just want to get the message to as many people as possible."
Nonetheless, the two measurements can provide a valuable correlation for those who work on the content side of radio. A case in point is the Christian O'Connell Breakfast show on GOLD104.3.

Some might think that ARN content supremo Duncan Campbell would be concerned that his star recruit has continued to slide in share in the Melbourne book. Apart from the fact that O'Connell's had less than three full surveys to win an audience, the station's high cumes are keeping Campbell calm. "GOLD having very strong cumes means we don't have a systemic issue with the radio station. It's a strong station and people are listening to it. We just have to create a greater stickiness so we can convert that cume into greater share."
Peter Saxon