Chart Highlights – June 16, 2022
Top Debut: Kate Bush's classic 'Running Up That Hill' makes it mark at No. 20
Heating Up: R3HAB & Amy Shark bring a 90s hit back to life
Big Mover: Harry Styles' 'Late Night Talking' adds 98 spins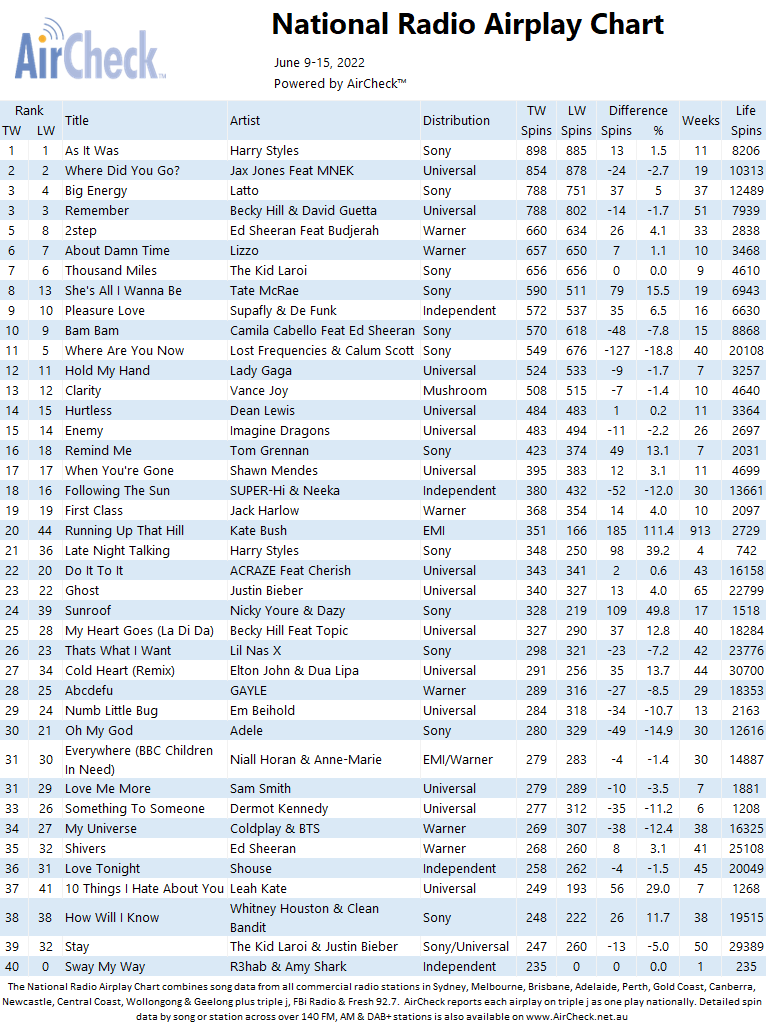 The recent resurgence of Kate Bush's 1985 classic 'Running Up That Hill' is being felt at Australian radio. The single notches 351 spins and lands at No. 20 on the latest AirCheck National Radio Airplay Chart.
Featuring in the fourth season of Stranger Things, 40 stations opted to spin the song this week, spanning various formats including CHR, AC, rock, classic and talk radio. Coming into this week, 'Running' had recorded a total of 2,378 lifetime spins across 912 weeks, averaging just 2.6 spins a week.
R3HAB & Amy Shark's rework of Bic Runga's 'Sway' sneaks into the chart at No. 40 with 235 spins. The majority of spins came from Nova and SCA's Hit Network.
'Late Night Talking' by Harry Styles moves up 15 spots to No. 21 with a gain of 98 spins (+39.2%). KIIS Sydney and Melbourne collectively increased spins by +27.4%, while the Hit Network also bolstered its support.