The big news is Smooth Sydney's jump to number 1 FM and the effect the return of Hamish and Andy has had for the Hit network across Australia.
Our analysis of networks and cities is below.
Refresh this page during the day to get the latest updates.
See the raw results here and the spin here.
Networks
Southern Cross Austereo
It's always the way, isn't it? The week after they let the coach go, the team finally puts it all together and wins big. Just days after Craig Bruce left the SCA buildings, every station in the much maligned "hit" network went up – and not by a little bit either. 0.6 in Melbourne; 1.1 in Adelaide; 0.9 in Sydney; 0.3 in Brisbane; and a massive 2.1 in Perth.
Even more impressive than all of that is the contribution made by Hamish and Andy in just their first survey back. They've taken the hit Drive shift up 1.5 in Melbourne; up 1.5 in Adelaide; up 2.7 in Sydney; just 0.2 in Brisbane and 3.5 in Perth. On the back of that, every breakfast team also went up.
On the Triple M side of things, things were mostly steady with small drops everywhere except in Sydney where the station dropped back from its heady 7.9 last time to a 6.5 overall.
ARN
Not that they've had a bad survey, but this Survey 5 is perhaps the least good survey the network has had in a long time. The KIIS brand dropped everywhere, except Adelaide where KIIS is still MIX and remains number one in that market. Overall, the Hughesy and Kate juggernaut that was disrupting the natural order of things in the national Drive shift last survey has now been disrupted itself by Hamish and Andy who have the potential to put even more pressure on KIIS over the next few surveys.
Also somewhat worrisome for management is the continuing slide of KIIS FM in Sydney which now occupies the #3 FM spot on the ladder and #5 overall – a far cry from ARN's stated goal of having the #1 FM station in every market.
In pure number terms, the GOLD network didn't fare any better, dropping share in both Sydney and Melbourne. And while Jonesy and Amanda reclaimed the #1 FM breakfast crown in Sydney, it was at the expense of stable mates Kyle and Jackie O. And where WS could have expected to be #1 FM station, it was pipped at the post by smooth.

Nova Entertainment
If management were disappointed at seeing Melbourne's smoothfm shed 1.1 share points to land on on a 6.4, overall, their frowns would have turned upside down when they saw the results for Sydney – up 1.0 to 8.2 which places them at the top of the FM heap.
While it's a strangish survey for smooth in that that the two stations are usually closer together, it reveals the sharp contrast between the Sydney and Melbourne radio markets at the present time.
But while smooth, like Triple M, is running its own race, over at Nova where they are pitched in a three way battle between CHR stations things are different.
On the face of it, Nova stations lost ground everywhere. Yet, the network remains number one under 40 nationally and despite the surge of ARN's Hughesy and Kate and SCA's Hamish and Andy in Drive, Nova's Kate, Tim & Marty, remain Australia's #1 Drive Show with an 11.6% share and 1,513,000 cume.
MRN and Other Talk
A very positive survey for MRN with all of its talk stations on the rise. Both 2GB and 2UE went up in Sydney. With 3AW up too, MRN easily retains the proud boast of owning the number one station in Australia's two biggest markets.
In both Sydney and Perth too, 4BC and 6PR went up respectively. The only talk station to shed share was Nova Entertainment's FIVEaa which eased back from a very big result last time to settle on 11.7 to be equal #2 in Adelaide.
Melbourne's all sport station SEN was fairly steady on a 4.3 share, a tad below its average for this time of the footy season in past years. The fledgling Sky Sports in Sydney continues to struggle on a 1.2 share.
MRN Music
Getting spruced up for sale, 2CH jumped 0.7 while Magic in Melbourne gained 0.3 and Brisbane shed 0.1
ABC Local Radio
Not a great day for Aunty who dropped her share everywhere except Perth where 720 rose a modest 0.1. In Melbourne 774 lost 0.7 overall with most action in Mornings with Jon Faine returning the number one crown to 3AW's Neil Mitchell in a 4.0+ point turnaround.
Sydney also shed 0.7 but there it was breakfast that lost most ground (-1.7), seemingly to a resurgent Alan Jones on 2GB who gained 1,1 to land on a 17.1 share.
The rout continued in Adelaide, down 0.8 and Brisbane, which took the biggest hit in the network, down 1.4 to be on 8.6 overall.
triple j
As often is the case with the j's, who run their own race, some went up and some went down. In the up column goes Brisbane 1.1 and Sydney 0.7
In the down list is Melbourne -0.2; Adelaide -0.1 and Perth -0.2.
Cities
Sydney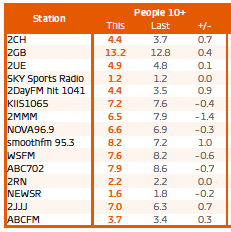 While everyone had their eyes on the fight between the CHR formats, smooth's easy listening format overtook the rest of the pack to claim number one FM station in the Sydney market. The station has no doubt benefitted by the instability caused by the return of Hamish and Andy, which has taken the shine off other networks enough to allow smooth move to the top of the music stations, but that doesn't diminish the achievement of the station's slow and steady climb.
2GB remains number one overall in Sydney, up 0.4 to 13.2%. Smooth is number two overall, up one share point to 8.2%.
ABC702 slipped into third place, down 0.7 to 7.9%. WSFM is fourth, down 0.6 to 7.6%, followed by KIIS, down 0.4 to 7.2%.
2DayFM had the biggest gain, up 0.9 to 4.4%, reflecting the Hamish and Andy effect. 2CH had the second largest gain this survey, up 0.7 to the same overall score of 4.4%. Triple M had the biggest loss, down 1.4 to 6.5% overall.
Nova won 10-17s, triple j won 18-24s just ahead of Nova, triple j and Triple M tied for dominance of the 25-39 demographic, WSFM won 40-54s, 2GB won the over 55s.
2GB won breakfast, ahead of ABC702, then WSFM and KIIS. 2GB won all other shifts in the market.
All shifts at 2Day were up fractionally, most notably drive, which nearly doubled its share. Nova won the drive timeslot, ahead of smooth and ABC702 (tied for second drive position, then triple j, KIIS, triple M, then Haminh and Andy on 2Day.
Melbourne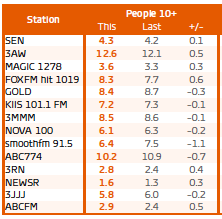 3AW, up 0.5 to 12.6%, and ABC774, down 0.7 to 10.2% remain at the top of the Melbourne market in number one and two spots.
Triple M is in third place, down 0.1 to 8.5%. Gold is fourth, down 0.3 to 8.4%.
Fifth placed Fox had the most significant rise of the survey, up 0.6 share points overall to 8.3%, thanks to the Hamish and Andy effect. Smooth had the most significant fall of the survey, down 1.1 to 6.4%
Nova won 10-17s, Fox won 18-24s, triple j own 25-39s, Gold won 40-54s, 3AW won the over 55s.
3AW won breakfast ahead of ABC774 and Triple M. All other shifts except Drive were won by 3AW. Fox won drive, with a significant lift from the Hamish and Andy effect.
Brisbane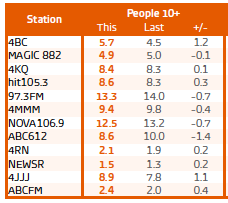 Top station 97.3 slipped a little, down 0.7 to 13.3%. Second placed Nova also slipped, losing 0.7 to 12.5%.
triple j was third, with the largest gain of the survey, up 1.1 to 8.9%.
Triple M was fourth, down 0.4 to 9.4%, followed by Hit and ABC612 in equal fifth place.
ABC612 lost the most this survey, tumbing from second place to equal fifth, down 1.4 to 8.6%. Hit 105.3 increased by 0.3 to 8.6%, with very little significant effect from Hamish and Andy being on the drive shift at this stage.
Adelaide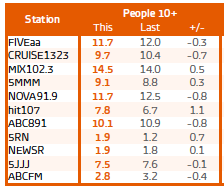 Mix102.3 is top of the market, up 0.5 to 14.5%.
Nova and 5AA shared equal second position, reflecting the recent close race at the top of the Adelaide market. Nova slipped 0.8 from its number two spot last survey, while 5AA dropped 0.3, with both recording an overall score of 11.7%.
Next was ABC891, down 0.8 to 10.1%, followed by Triple M, up 0.3 to 9.1%.
ABC891 won breakfast ahead of Mix, 5AA then Triple M.
Perth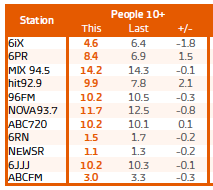 Mix 94.5 remains at the top of the market, down 0.1 to 14.2%.
Second placed Nova dropped 0.8 to 11.7%.
Three stations tied for third place on 10.2%: triple j, down 0.1, ABC720, up 0.1 and 96fm, down 0.3.
Hit 92.9 had the biggest rise of teh survey, rreflecting the effect of Hamish and Andy, up 2.1 to 9.9%.