The latest releases for Survey 6 from the spinmeisters' desks.
Please feel free to send your station's version of events to [email protected]. Refresh this page regularly for new additions.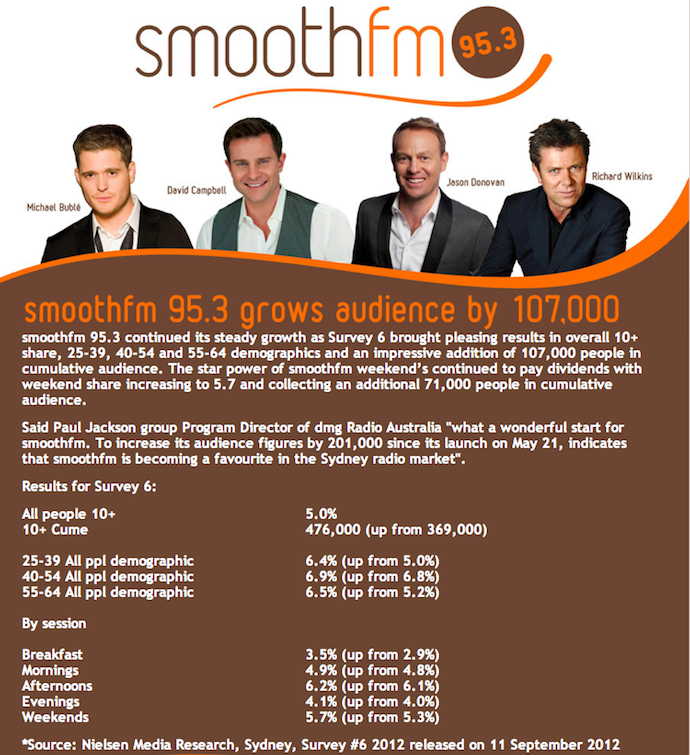 Media Release
Tuesday 11th September 2012
Triple M's Hot Breakfast Rocks as Melbourne's #3 FM Breakfast show!
(Triple M Hot Breakfast's Eddie McGuire, Mick Molloy & Luke Darcy with Stephanie Rice live in London )
Triple M's Hot Breakfast continues to rock, in Nielsen's sixth radio ratings for 2012* with Eddie McGuire, Luke Darcy and Mick Molloy now Melbourne's #3 FM breakfast show!
Joining in their success, The Rush Hour and Merrick & the Highway Patrol in the afternoons have also increased their audience, up in share and listeners. Across the day, Triple M Melbourne has grown listeners with more than half a million Melbournians tuning in for the best rock, sport and comedy.
Triple M's Hot Breakfast on the rise! Now Melbourne's #3 FM Breakfast show.
The Rush Hour and Merrick & The Highway Patrol growing their audience in drive, now rocking to 300,000 listeners and up to 6.7 share.
Still Melbourne's #2 station for listeners aged 25-54
Triple M Melbourne increases overall, now serving up the best rock music to 558,000 listeners throughout the week.
Triple M Football remains the clear broadcast powerhouse – convincingly retaining the #1 station for AFL for anyone under 55.
Triple M Content Director, Mike Fitzpatrick said, A good result for MMM right across the board. It's great to see the Hot Breakfast reclaim the #3 FM Breakfast spot. Ed, Mick and Darc continue to provide something different for FM breakfast – a compelling breakfast show for grownups. Our dominance of AFL, for everyone not in a nursing home, is testament to the extremely talented on and off air teams. With finals in full swing and some big stuff planned for the rest of the year we're looking forward to building on this result."
You'll get MMMassive amounts of the best football coverage at 105.1 FM Triple M Melbourne
Catch up with all of the latest at www.triplem.com.au
*Survey period: Sun Jun 24 – Sat Sept 1, 2012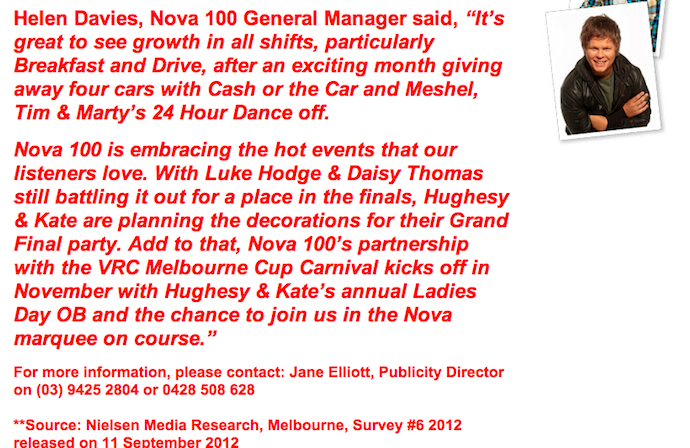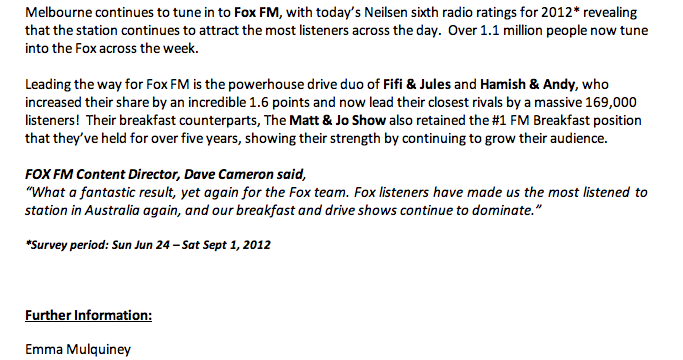 Morning – overview below for you: AND Brisbane remains the tightest radio market in Australia – there's only 0.2 percentage points between 3 FM stations in breakfast – amazing.
Triple M
Triple M's Grill Team with Marto, Pete Timbs & Michelle Anderson is celebrating their 4th successive increase taking the #3 FM Breakfast position (behind 97.3 and Nova106.9) this survey on 11.5 up from 10.9.
Triple M again retains the outright No.1 position across the workday (9am-4pm) with an increased lead of 2.9% – up from 14.4% to 14.8%. This is their highest share since Survey 3 2010 where it was 16.4
Triple M has increased their lead in mornings (9am-12noon) with a 0.6% increase to 14.4.
Triple M also had their highest 25-39 Share with 17.4% since Survey #3 2010 when it was 18.5%
Richard Barker, General Manager Southern Cross Austereo, Brisbane:
In an extremely tight Brisbane radio market, Triple M has performed very strongly with increases across key day parts and the Grill Team with Marto, Pete Timbs & Michelle Anderson maintaining very high visibility with partnerships including the V8 Supercars in Ipswich, the 2012 EKKA and the Bridge to Brisbane event which resulted in a new High 5 World Record. We are looking forward to a strong end of year for the Grill Team.
B105
B105's Labby, Stav & Abby (5.30am-9am) now has more listeners than any other breakfast show in Brisbane from a cumulative audience perspective with an increase of 13,000 to 294,000. They also see their Highest SHARE figure for 2012 at 11.5
B105 has retained the #1 position for the Hot30 Countdown and The Dirt (7pm-10pm) on 17.8 points – up 2.2 points
B105's Fifi & Jules (Mon-Thurs) and Hamish & Andy (Fridays) remain the No. 2 Drive show with another increase to 12.6 points, up 0.4
B105's website remains the No. 1 radio website up 10.9% with 119,390 unique browsers for the month of August
Richard Barker, General Manager Southern Cross Austereo, Brisbane:
B105 has recorded a strong survey with breakfast and drive both increasing, signalling a return of listeners to Labby, Stav & Abby with impressive cumulative audience results responding to the teams tag of 'most active breakfast show in Brisbane', with the team live from the EKKA daily and the relaunch of The Regatta Hotel with the Veronicas and Timomatic live.