Survey 6 highlights for each city. Mix 102.3 jumps to the top in Adelaide.
The survey was conducted for Commercial Radio Australia between Sun Jun 24 ‐ Sat Sep 1, 2012. Click our other page to see the full results or view Nielsen's pdf reports here now that they are online.
View station media releases in our Spin Cycle article here.
The Networks
Southern Cross Austereo
For SCA it's been a steady survey with minimal movement everywhere but Sydney which is marked by wild fluctuations. Kyle and Jackie O jumped ahead by an incredible 2.1 giving them a 12.7 breakfast share on 2Day-Fm which rose by 0.7 overall.
While K&J have opened up a 5.3 chasm between themselves and nearest rivals (two surveys ago) Jonesy and Amanda at WS-FM, it was not so good news for SCA's other interests at Triple M where the Grill Team shed 1.5 and the station dropped to a 4.5 share overall which puts it behind smoothfm on a 5.0 share.
Australian Radio Network
Once again ARN has had an up and down book across the nation.
It's best result was in Adelaide where Mix102.3 has regained its number one spot while Cruise1323 remained steady.
In Brisbane, 97.3FM had a nice gain to be just 0.1% from the lead while 4KQ had a good lift too
It's Melbourne where it starts to get tricky. While GOLD104.3 had a tidy little gain to be number two FM, Mix 101.1 dropped 1.4.
In Sydney, it was the Mix brand that enjoyed a bit of a gain, and a bit of relief for breakfast team Rosso and Claire who also managed a 0.5 gain. But the great hope of the network that was oh so close to knocking off 2Day just two surveys ago, WSFM has slid back among the pack. But it remains number two FM overall and number two FM in Breakfast.
DMG
Making Lachlan Murdoch's decision to buy the other half of DMG look like the smartest media play of the century, it is a ripper survey for the network.
While the smoothfm brand didn't exactly power ahead, it didn't slip back either going up by just 0.2 in Sydney and down 0.1 in Melbourne. The most encouraging side of that was that it did add about 100,000 in cume.
But the great news for Lachlan, Cathy, Tony, Paul, Fitzy and Wippa et al is that Nova 969 had a solid gain. It went up 0.9 overall while the Breakfast Boys could finally see some of the hard work pay off with a 0.5 gain.
In Melbourne, Nova edged up nicely as it did in Brisbane, while shedding a negligible 0.2 in Adelaide where FIVEaa posted the only significant drop – 1.5, still a comfortable Number 2.
Fairfax Radio
Fairfax woes continue with only one of its entire fleet of stations going up. Flagship 3AW in Melbourne enjoyed a 1.2 gain to consolidate it as firm leader in that market. It's stable mate, MAGIC stayed steady. But that's where the good news stops for Fairfax.
Every station in every other market dipped to a degree. Sydney's 2UE was no exception. It shed only 0.4, but that was enough to drop it below a 5.0 share. The only bright aspect is that Breakfast and Mornings bucked the trend, both posting modest gains.
ABC
Both major brands, Local Radio and triple j had mixed results city to city. But overall, both posted more gains than losses without any of them being huge one way or the other.
Triple j was up in Melbourne, Adelaide and Perth. Down in Sydney and Brisbane.
Local Radio fared even better. They went up everywhere except Melbourne where ABC774 eased back 0.5 but kept a stranglehold on number two spot.
The Cities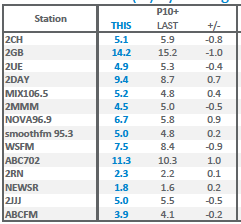 Sydney
2Day's breakfast show has lifted 2.1 share points to 12.7% in that timeslot, helping to lift the station to an overall share of 9.7%. 2Day is in third place.
2GB dropped, but is still the leading station in Sydney on 14.2%.Second placed ABC702 gained one share point, jumping to 11.3%.
Fourth placed WSFM dropped 0.9 to 7.5%. Smooth gained slightly, up 0.2 to 5.0%.
2Day won the 10-24 demographics, ahead of Nova. The 25-34 age group was a close race between 2Day, Nova and triple j. WSFM won 40-54s ahead of 2GB, ABC702 won 54-65s ahead of 2GB and 2GB dominated the over 65 age group.
2GB retained the lead in the breakfast timeslot, but Kyle and Jackie's breakfast show had the biggest increase in that timeslot. ABC702 also had a good increase in breakfast. WS FM, 2GB and Triple M's breakfast shows all slipped back this time around. 2GB won mornings, afternoons, evenings and weekends. ABC702 won the drive timeslot.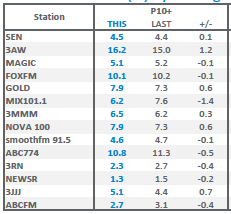 Melbourne
Top station 3AW consolidated its place at the top of the Melbourne market and as Australia's highest rating metro station, gaining 1.2 share points to 16.2%. It's breakfast show, hosted by Ross and John, lifted by 2.5 share points.
ABC774 held second place with 10.8%, despite a small slip in share. Fox was third with 10.1%.
Mix 101.1 scored the biggest drop this survey, falling 1.4 share points to 6.2%. Smooth was steady, with a fractional dip of 0.1 share points.
Fox won the 10-24 demographics, ahead of Nova. Triple M, Nova, Fox and triple j all showed up well in the 25-34 age group. Gold won 40-54s ahead of 3AW. 55-64s was won by 3AW, ahead of ABC774 and Gold. 3AW won the over 65 audience ahead of ABC774.
3AW won breakfast ahead of ABC774. Mornings, afternoons, evenings and weekends were all won by 3AW. Fox won the drive timeslot.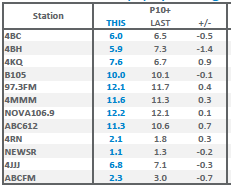 Brisbane
Nova 106.9 retained its lead in Brisbane, scoring 12.2% overall, just ahead of an improving 97.3, which also had a marginal increase, up to 12.1%.
Third placed Triple M gained 0.3 to 11.6%, followed by ABC612 then B105. 4BH scored the biggest drop, down 1.4 to 5.9%.
B105 won the 10-17 demographic ahead of Nova, and the situation was reversed in 18-24s with Nova leading, followed by Fox and then triple j and Triple M. Nova won 25-39s ahead of triple M. 97.3 won 40-54s ahead of Triple M. ABC612 won the over 55s.
Nova and 97.3 tied for top ranking in the breakfast timeslot. Triple M won mornings and afternoons. Nova won drive. B105 topped evenings and 97.3 won the weekend timeslots.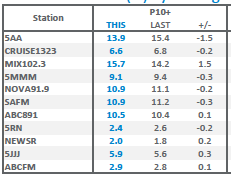 Adelaide
5AA lost its top spot in Adelaide, dropping to second with a 1.5 share point fall to 13.9%. Mix 102.3 snatched first position with a lift of 1.5 share points taking it to 15.7%.
Nova and SAFM tied for third place on 10.9%, followed by Triple M, Cruise and Triple J.
Nova won the 10-24 demographics ahead of SAFM. 25-39s was won by SAFM. Mix won 40-64s. 5AA won the over 65s ahead of ABC891.
5AA won breakfast ahead of ABC892. Mix won mornings, afternoons, drive and weekends. Mix won the evening timeslot.
Perth
In Perth Austereo's Mix 94.5 slipped a fraction but still maintained first place with 14.5%. Nova and ABC tied for second place on 11.8%.
The biggest loser was 92.9 which dropped 1.5 to 11.0%, with Fairfax Media's 96fm and 6PR both also losing share.
92.9 won 10-17s ahead of Nova, triple j won the 18-39 timeslots in Perth over Nova. 40-54s was won by Mix94.5 and ABC720 won the over 55s.
ABC720 won breakfast ahead of Mix and Nova. Mix won mornings, afternoons and drive. ABC720 won evenings and Mix won weekends.