Our analysis of Survey 8 results by network and cities, informed by our historical charts of all this year's surveys.
See the raw figures here, along with the charts of each station in each city.
Refresh this page during the morning for more updates.
Networks
Southern Cross Austereo
It was a fairly steady survey for SCA overall with the standout being FOX which has kicked away from the Melbourne FM pack to be 1.6 ahead of a surging smooth and 2.0 ahead of next placed GOLD. A 0.9 jump posted by the Fifi, Dave and Fev Breakfast show didn't hurt either.
The HIT brand also did well in Adelaide where it gained 0.5 to nab third place overall, leapfrogging Nova and closing the gap between it and market leader, Mix.
In Sydney, Brisbane and Perth, the HIT stations all lost a little ground.
While Triple M was rock steady in Sydney on a 4.9 share overall, it was a 6.9 in Melbourne, down from 7.7 last time. But in Brisbane the Ms enjoyed a 0.6 uptick and in Adelaide too, there was a rise of 0.3.
While Perth's MIX94.5 was the biggest loser (-1.2) in terms of share it still retains a 15.7 market leading share.
According to the stats provided by SCA, there'll be plenty of cheer under the the company tree this Christmas
Hit Network is #1 commercial network for all people 10+
Hit Network is #1 for people 18-39 years
Hit Network is #1 for women 18-39
Hit Network is #1 in Drive – up 0.5 share points
Hit Network #1 in Drive for females 10+- up 1.1 share points
Hit Network is #1 on (RNB) Fridays and has the biggest audience with over 1.7 million tuning in
Triple M is #1 for males
Triple M is #1 for males 18-54
Triple M is the #1 network in Drive for males 25-54
SCA is #1 commercial for all people
SCA is #1 for people under 40
SCA is #1 for people 25-54

Nova Entertainment
The mercurial smoothfm network continues to surprise. Although Sydney's 95.3 took a -0.9 hit to land on a still lofty 8.8 share, Melbourne's 91.5 rocketed up 1.4 to reach a heady 9.0, its best result ever.
The Nova stations were steady with 0.0 change in both Sydney and Melbourne. 93.7 in Perth had a 0.6 gain to take second spot overall in the market. But news was not so good in Brisbane and Adelaide.
In huge 2.3 point turnaround in Brisbane, Nova gave up its crown to 97.3FM, while in Adelaide it was leapfrogged by HIT107.
ARN
A pretty good result overall for ARN.
In Sydney, while KIIS1065 remained steady to regain the #1 FM spot while smoothfm dropped, WSFM put on a 1.4 spurt to come to land on a 8.3 share overall going in to the long break.
In Melbourne, both KIIS and GOLD had modest gains to reach 6.0 and 8.6 shares respectively which will ensure the cash register at ARN HQ keeps ticking over.
Brisbane was ARN's standout with 97.3FM surging back to number one in that market on the back of a 1.5 gain. The venerable 4KQ managed a 0.3 rise.
In Adelaide, despite losing -1.1 in audience share Mix102.3 is still number on the market. Cruise1323 could be described as steady with a small -0.2 loss.
Perth remains a troubling market for ARN with it's latest acquisition, 96FM, foundering on a 6.9 share with only 6IX doing worse amongst the major licences.
ARN Provided this summary…
Sydney
#1FM Station – KIIS 1065
#1FM Breakfast – KIIS 1065's Kyle & Jackie O – 10.5% share
#1FM Drive – KIIS 1065's Hughesy & Kate – 9.5% share
#2FM Breakfast WS FM101.7's Jonesy & Amanda – up 1.7% to 8.7% share
#3FM station – WS FM101.7 – up 1.4% to 8.3% share
Melbourne
• GOLD 104.3 – up 0.6% to 8.6% share
• KIIS 101.1 – up 0.2% to 6.0% share
• GOLD 104.3's Breakfast Jo & Lehmo up 0.7% to 6.3%
• KIIS 101.1's Breakfast Matt & Meshel up 0.3% to 6.1%
Brisbane
• #1 station overall – 97.3FM – 13.7% share
• #1 Breakfast overall – 97.3FM's Breakfast – 13.1% share
• 97.3FM's Drive – Hughesy & Kate up 0.9% to 13.4% share
• #1 commercial AM – 4KQ – 8.8% share
• #1 commercial AM Breakfast – 4KQ's Laurel, Gary & Mark up 0.6% to 10% share
Adelaide
• #1 station overall – Mix 102.3 – 12.9% share
• #1FM Breakfast – Jodie & Soda – 11.2% share
Perth
• 96FM on 6.9% share
• 96FM's Breakfast Carmen & Fitzi on 6.1% share
• Increase in total breakfast audience by 3,000 listeners
Macquarie Media & More
Both 2GB and 2UE in Sydney lost share. 2GB lost 1.7 out of a market leading 13.0 and still managed to retain first place by 2.3 ahead of ABC102 in a tie with KIIS1065 for second.
2UE lost 1.3 but off a much lower base leaving them languishing on a 3.5 share behind their soon-to-be-sold sister station 2CH on a 4.3.
Melbourne's 3AW performed much better on a steady 13.7 to lead the pack there.
4BC in Brisbane, with much of their programming coming from 2GB, it also shed audience losing -0.9 in share.
In Perth, 6PR did well to leap into an 8.2 share, the highest its been for some time.
The other talk station nominally in the Talk Network, NovaEnt's FIVEaa recorded neither gain nor loss to remain on a 10.1 share.
Apart from Magic 2CH's 4.3 Share, Magic in Melbourne could muster just 2.4 while Brisbane got 2.8.
ABC
Local Radio was steady in both Sydney and Melbourne returning shares of 9.0 and 9.6 respectively.
Brisbane, Adelaide and Perth all showed good gains to be in the 9's except Adelaide which had the biggest gain to land on 11.9 share overall.
triple j had a mixed bag. A big rise (1.4) in Sydney. Steady (0.0) in Melbourne and down everywhere else.
Cities
Sydney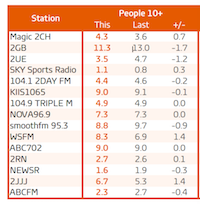 Top station 2GB dropped 1.7 share points to 11.3%, the biggest loss of the survey and its lowest score this year. Sister station 2UE also dropped audience, down 1.2 to 3.5%, recording the lowest commercial station share and its lowest result this year. Soon to be sold stablemate 2CH was the only station to gain for Macquarie Media this survey, as shown in our charts.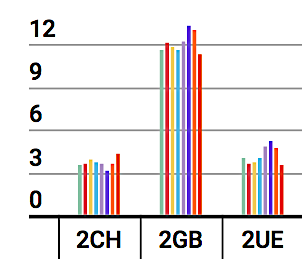 WSFM and triple j recorded the biggest gains, both rising by 1.4 share points.
KIIS and ABC702 tied for second place on 9.0%. KIIS gained 0.1 and ABC702 was steady.
Third placed smoothfm 95.3 lost 0.9, slipping to 8.8%, closely followed by WSFM, which gained 1.4 and lifted to 8.3%
Fifth placed Nova 96.9 was steady on 7.3% overall.
Melbourne
In Melbourne smooth fm 91.5 had the bigest gain, up 1.4 share points overall, and Triple M had the biggest fall, down by 0.8.
Top station 3AW increased slightly, up 0.1 to 13.7%.
Second placed Fox lifted by 0.5 to 10.6%.
Third placed ABC774 was up 0.1 to 9.6%, followed by smooth in fourth place, up 1.4 to 9.0%.
Fifth placed Gold gained 0.6 to 8.6%.

Brisbane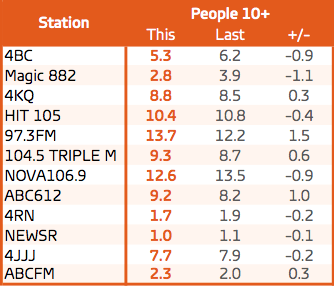 In Brisbane the head to head battle between 93.7 and Nova continues apace, With Nova desperately hanging on to its hard earned place atop the ratings ladder, 93.7 has shot to the top again with a 1.5 gain in audience share while Nova lost -0.9.
Triple M's done okay too on the back its resurgent Breakfast show with Marto & Ed Kavalee to bring the station up to a 9.8 share.
It was less than a magic day for Macquarie Media in Brisbane with the biggest loss in the market being sustained by Magic 882 which lost about a third of its audience share, going down 1.1 to land on a 2.8. The other MML station, 4BC dropped 0.9.
Adelaide
Surprise, surprise, MIX102.3 is still number 1 but not by the long shot it used to be. On a 12.9 share, it is now only 1.0 ahead of Australia's best performing ABC station on 11.9.
Nova 91.9 experienced the biggest slump in the market going down -1.2 in share. But it was good day for SCA with both HIT107 and Triple M on the rise.
Perth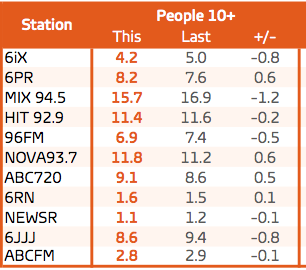 Surprise, surprise! Like Adelaide, it is a MIX station that's #1 and has been for years. Except this one is 94.5 and it's owned by SCA not ARN. And despite losing -1.2 in share, it sits on 15.7 overall, almost 4.0 ahead of next placed Nova 93.7.
Having slowly worked itself into the #3 position over many surveys is another SCA station HIT 92.9 on 11.4 which, along with MIX, gives SCA more than 27% share of the Perth market.
At the other end of the scale, ARN's venture into Perth via 96FM has been less than the success they'd hoped for with the station far behind the leaders on a 6.9.
Look back on last survey's analysis article here.