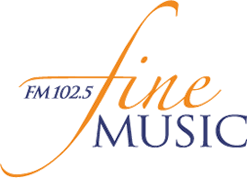 Known for nearly four decades as 2MBS-FM, Sydney's first FM stereo radio station has undergone a major facelift with a new name, logo, website, social media channels and a new studio opening later in the year.
From today (1 July 2012), the community broadcaster will be known as Fine Music 102.5 – reflecting the station's playlist, which spans all eras of classical music, jazz and other fine music genres.
The decision to rebrand was made after a 2010 McNair research study showed the 2MBS-FM demographic to be younger than estimated, with more than 40 per cent of listeners aged between 25 and 39. Respondents to the survey also indicated the need for a distinctive call sign, which would clearly communicate the station's musical identity and values.
Along with a new name and look, the station has also broadened its communications push through campaigns on popular social media channels.
Fine Music Chairman David Brett says that the organisation's growth and success over the last 38 years is due to a skilled army of volunteers – 21 of them have been with 2MBS-FM for over 30 years.
"We have more than 260 volunteers operating the radio station and another 120 who hand-deliver our monthly magazine Fine Music to subscribers," said Brett.
Three of the volunteers who helped 2MBS-FM get off the ground are still with the station today and this year marks the 40th anniversary of their support.
Over the intervening years, there have been multiple challenges for the community-funded broadcaster, explained Brett: "During the station's lifetime, we've seen more than our share of tough times but our listeners have been a driving force, generously offering donations when we were almost forced to shut down. This is what has kept our station alive. Without our volunteers and listeners, we would not have survived."
Fine Music FM's new logo is at the top, with the old dated, ancient greek Lyre logo shown below. The station's new website is at the link below.