Chart Highlights – January 20, 2022
Top Debut: The Weeknd's 'Sacrifice' debuts at No. 18
Heating Up: Alesso & Katy Perry's 'When I'm Gone' a big hit on KIIS FM
On The Move: Adele's 'Oh My God' adds 174 spins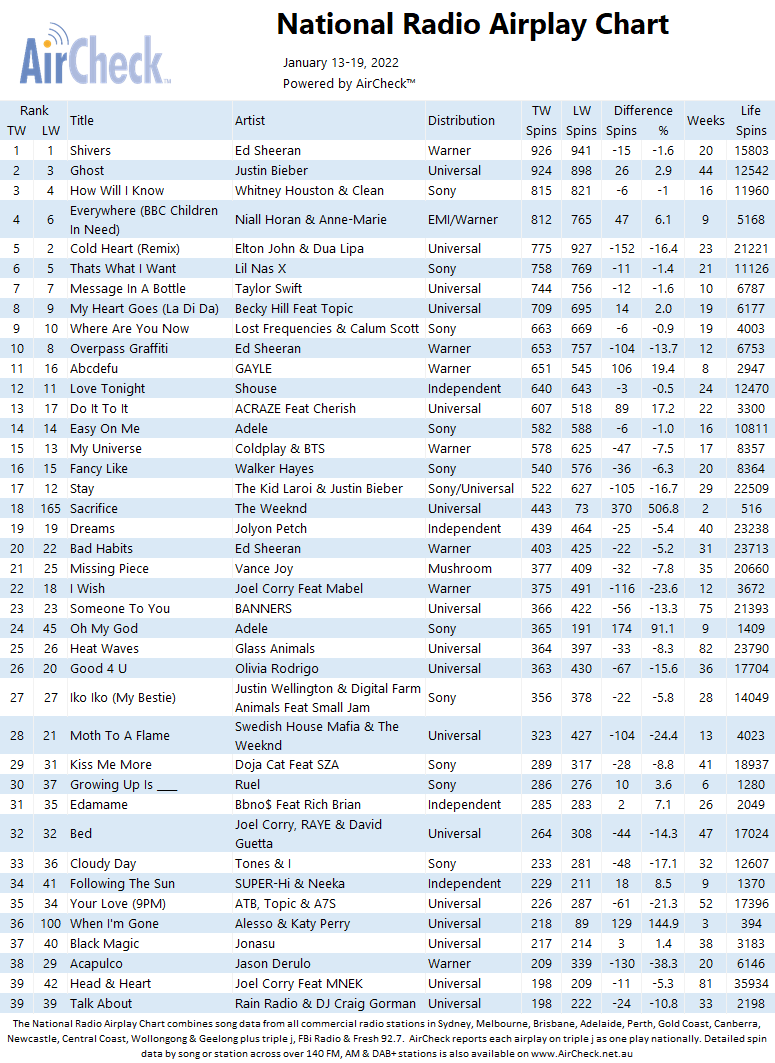 The Weeknd secures another Top 40 hit on the AirCheck National Radio Airplay Chart in the form of new single 'Sacrifice'. The track debuts at No. 18 with 443 spins across 21 stations. KIIS106.5 contributed 32 spins, while KIIS101.1, SAFM and Hit101.3 each posted 31 spins.
'Sacrifice' joins The Weeknd & Swedish House Mafia's 'Moth To A Flame' (No. 28) on the chart, despite the latter dropping 104 spins (-24.4%). 'Sacrifice' is the highest debut on the chart so far this year.
Alesso & Katy Perry stake their claim at No. 36 with 'When I'm Gone'. KIIS Sydney and Melbourne led the charge, accounting for 27.1% of total spins this week. Perry's most recent airplay chart appearance was in 2020 with 'Daisies'.
Adele's 'Oh My God' picked up an extra 174 spins (+91.1%) to enter the chart at No. 24. The UK singer had a total of 1,142 spins on radio this week spread across 13 singles.