Comment
from
Jen Seyderhelm
I changed my profile on social media from being a caffeine enthusiast (I'm a breakfast radio announcer so – duh) to a statement around loving people, dogs and (some) cats. Trivial details you'd think, but no opinion stated is ever trivial anymore when you put them out to a public forum, no matter how inoffensive you think they may be.

My social media accounts also include my work and business details, as many of my posts are interconnected. You'll ascertain that I love country music, rugby league and
Andrew McCarthy
. Again, hardly controversial (except for those of you shuddering over country music) and certainly not career ending.
I like and actively engage with friends, celebrity, music and business posts and generally ignore those that stir the pot too vigorously. Sometimes I bite, sometimes I say how I feel and sometimes I regret it later.
I would never set out to ruin anyone's reputation or sense of self worth via my words. Life is short, I've got far better things to do with mine.
The above being said, I have also been profoundly affected by the "me too" movement, angered by Allyson Felix outlining her reduced value to Nike when she became pregnant and distraught at how COVID is decimating the arts and live music industries.
In light of this I cannot let David Anderson's warning to ABC staff that they risk being sacked for social media posts that comprise the public broadcaster's independence go unmentioned. I realise that he is thinking of the big and damning things, but as Paul Kelly has sung, "from little things big things grow."
I put to you a hypothetical situation that is close to home for me right now. Imagine someone you knew to work to the highest personal and professional standards getting nudged aside from their role by their stance on a matter unrelated to the work they were doing. You'd have three options.
One – do nothing. Pretend you didn't know or keep the topic out of future conversations. The proverbial ostrich with its head in the sand.
Two – privately support them. Send them messages, discuss face to face yours and their feelings and thoughts. Be a friend but act without any professional engagement.
And three – stand with them privately, publicly, and professionally. Respond online. Post on the matter. Like and share.
My decision has and will continue to be based on what I would hope/expect from my own circle if I were in the same situation.
Other news articles around David Anderson's updating of staff contracts all mentioned three particular ABC journalists that perhaps this warning was most directed towards – Louise Milligan, Sally Neighbour and Laura Tingle. I would encourage you to research them and the posts in question.
As journalists they are privy to some information that must remain confidential and reported with the impartiality to which the ABC wants to hold themselves. They would also bear witness to some people, moments and situations where personal opinion pieces might just be operatives for change.
There's a saying that a good relationship, be it work or personal, makes you feel safe to speak, act and do. It troubles me that these three journalists might have to think twice before displaying their anger over another DV death, their frustration over inaction to support our arts community or, worst of all, their emotions toward lived experiences or one's they have borne witness to.
We all have a right to a private life and to the sharing of those private lives where we feel it contributes to a broader conversation. Work, personal lives and social media go hand in hand and can longer be truly separated. But, just because I'm a vegetarian doesn't mean I won't be able to do a glowing report on the butcher voted best in the area.
I'm choosing option three. Consider this a thumbs down to David Anderson's decision and a public statement to Louise, Sally, Laura et al that their personal opinions matter and can sit separate to their working roles.

About the author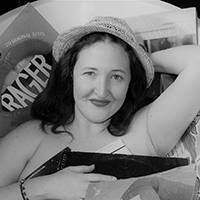 Jen Seyderhelm is an announcer, podcaster, producer, writer, news reader and music historian.
She's Breakfast co-host at 2CA in Canberra.
Jen's podcast, 20/40, celebrates friendship and connection between two women with a 20-year age gap. She is taken her podcast, teaching and storytelling skills on the road as part of an exciting national conversation project.
---
Subscribe to the radioinfo podcast on these platforms: Acast, Apple iTunes Podcasts, Podtail, Spotify, Google Podcasts, TuneIn, or wherever you get your podcasts.
Ask Alexa
:
'Alexa, play radioinfo flash briefing'
or
ask Google Home
:
"Hey Google. Play the latest Radioinfo flash briefing podcast."
---