Latest in Podcasting
Those Two Girls move to an afternoon podcast, On Her Game podcasts partners with Puma, and Control is the latest podcast from NSW Police State Crime Command and Adam Shand.
---
The Hit Network's early breakfast radio hosts Lise Carlaw and Sarah Wills will be transitioning from their national show to kick off a new daily podcast, Halfternoons with Those Two Girls, from 31 May on LiSTNR.
Released at 2pm weekdays, Halfternoons with Those Two Girls will be 30 minutes of Lise and Sarah helping listeners power through the mid-afternoon with their relatable stories around what's caught their attention that day.

The pair are on- and off-air best friends who have enjoyed successful broadcast careers as radio presenters, podcasters, event producers and MCs.

Sarah says, "The freedom, play and potential in the podcast space has excited us for some time and to work with the LiSTNR team developing a daily podcast right in time for those who need a little arvo pick-me-up, is where we want to be."

Lise says, "The beauty of Halfternoons is people can listen to the 2pm drop, but it will absolutely still be relevant for folks on their evening commute home, or on the 5am trip to the gym the following morning; the aim is to keep our listeners company, whatever they're doing."

SCA has also acquired Lise and Sarah's successful podcast, Forty, a weekly podcast series celebrating the life lessons and stories of popular Australian women in their forties, including Ada Nicodemou, Sarah Wilson, Yumi Stynes, Mia Freedman, and Julie Goodwin.

Forty has achieved more than 200,000 downloads and a 185% increase in listenership from 31 December – 31 March 2021.

Head of Hit Network, Gemma Fordham, says, "We have worked closely with Sarah and Lise since 2017 and created the early morning national breakfast shift for them to provide a platform to help their natural broadcasting talents sharpen and flourish. They have gone from strength to strength and have carved out an audience of Australian women who connect to their candour and authenticity. They have been standout performers for us digitally and I'm so pleased we have them joining the LiSTNR offering."

---
Also available on LiSTNR, that latest NSW Police State Crime Command podcast, hosted by Walkley Award winning investigative journalist Adam Shand.

Over three episodes, the new podcast, entitled Control, explores how violence and control are two different tactics used by perpetrators in a relationship and what it takes to break the cycle.

Cassie was aged 29 when she met and married her partner after he moved to Australia. The couple welcomed a son in 2014. Throughout their three-year relationship, Cassie endured controlling, jealous and violent behaviour at the hands of her husband before she finally left him 2015.

In 2016, Kylie began a relationship with the same man. Together they also had a son.

Like many women, Cassie and Kylie hid years of abuse perpetrated on them by their partner from family, friends and even police because they lived with both fear and shame.

This podcast shares their very personal story, in particular, the way that violence and intimidation gradually evolved in their relationships.

"There is a fear that completely envelops you when you're in an abusive relationship, and eventually, it becomes a matter of taking yourself out of the situation," explains Cassie, now aged 39.

"To anyone experiencing any form of violence, find someone you can trust and have the courage to speak up and get out. Yes, it was hard to leave, but I can't feel guilty for doing what was the right thing for me and my son."

The podcast also highlights the red flags of a violent and controlling relationship and how together with police and support services, people can stop the cycle of domestic violence.

"Until you make that decision to call the police, you're never going to get out of it because until the police are involved, you're just going to keep going back and they're not going to stay away," Kylie said.

The following services are available to anyone experiencing domestic or family violence:

Anyone with information about domestic and family violence incidents is urged to contact Crime Stoppers: 1800 333 000 or visit https://nsw.crimestoppers.com.au. Information is treated in strict confidence.
1800 RESPECT (1800 737 732) – a confidential information, counselling and support service;
NSW Domestic Violence Line (1800 65 64 63) – a state-wide telephone crisis counselling and referral service for women;
Men's Referral Service (1300 766 491) – provide telephone counselling, information and referrals for men;
Link2Home (1800 152 152) – can help refer women experiencing domestic violence to crisis accommodation; and
Lifeline (13 11 14) – a national charity providing all Australians experiencing a personal crisis with access to 24-hour crisis support and suicide prevention services.
---
The On Her Game podcast hosted by sports journalist, Sam Squiers, has partnered with PUMA to create a six-episode special as part of PUMA's 'She Moves Us' campaign to provide a female perspective in a field that has traditionally been dominated by men.

This is the first time that PUMA has partnered with a podcast in Australia as the brand establishes itself as a leader in gender equality by giving female athletes a platform to raise their voices and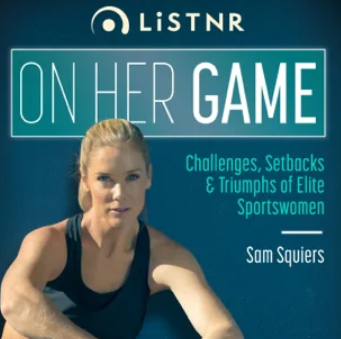 call for change in sport.

Squiers will speak to elite champions and trailblazers across a number of sporting codes including netballer Jemma Mi Mi from the Queensland Firebirds, rugby league player and captain of the Brisbane Broncos Ali Brigginshaw in her first podcast interview and Peggy O'Neal, President of the Richmond Football Club.

On Her Game host, Sam Squiers says, "Through candid conversations with six of Australia's top athletes and sports administrators we will hear women raise their voices, challenge expectations and inspire the next generation of would-be athletes. PUMA is a perfect partner for On Her Game; we both want to empower women athletes to share their stories, raise their voices and create a positive future for women in sport."

PUMA Oceania General Manager, Daniel 'Pancho' Gustein, says, "For many men, and even women, they shy away from discussing gender issues for fear it may negatively impact their career. We have made a commitment to drive for equality on and off the field. Creating an environment for important and high impact stories that stimulate thought, encourages ongoing dialogue and supports positive change is an important part of that commitment.

"The podcast series in the Oceania Women's 2021 campaign are filled with poignant moments of truth – I have found it inspiring, insightful, and valuable and encourage everyone, especially the men out there, to have a listen because you will enjoy it and you will be better for it."

SCA Head of Commercial – Podcast and Partnerships, Kim Norman, says, "The On Her Game podcast with Sam Squires offers PUMA an engaging platform with an established audience base, that enables female athletes to tell their inspirational stories of resilience.

"Marketers globally are looking at new ways to reach new audiences. With 6.6 million Australians listening to podcasts each week, brands are choosing podcasts to establish relationships with engaged audiences and build brand recognition. The personal nature of podcasting allows them to have a one-to-one conversation, in a natural way and in a premium environment. The right podcast delivers an authentic story for a brand that can be amplified and drive audience engagement and the PUMA partnership with On Her Game is a wonderful example of how this can work."
---
Subscribe to the radioinfo podcast on these platforms: Acast, Apple iTunes Podcasts, Podtail, Spotify, Google Podcasts, TuneIn, or wherever you get your podcasts.