Triple T is celebrating its 40th birthday this July, marking the community radio station's first live broadcast as Townsville's first FM station.
Over the weekend the station is opened its doors to the public for an exclusive, behind the scenes look at the inner workings the community station.
Triple T has an extensive demographic of listeners with a reach covering Ingham, Ayr, and Charters Towers caters for the community with diverse programming that includes easy listening, 60s to present, Jazz, Blues, Classical, Country, Folk, and international programs such as French and Chinese.
Triple T Manager, Tee Johnson says the Open Day provided the opportunity for current listeners to connect with the station in person and encourage the wider community to get curious about community radio.
He says, "Triple T's Open Day is a great way for us to demonstrate the diversity of community radio as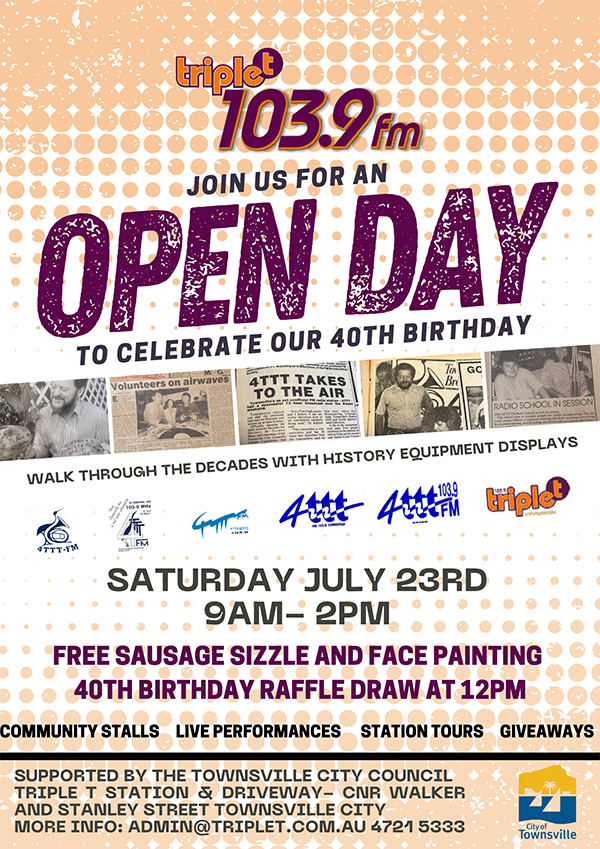 well as showcase other incredible local organisations doing great work in arts and culture. It's going to be a day of celebration, reflection, and recognition, especially for our team of 79 volunteers."
Townsville City Council's Community and Cultural Development Committee chairperson Ann-Maree Greaney says community radio is a valuable part of the fabric of Townsville, "Without community radio we would have entire sections of our community which would miss out on what they love best, whether that's a specific kind of music or programs in their mother tongue, so I want to say well done and thank you to Triple T for its tireless work over the last four decades."
"Council has proudly supported Triple T in various ways over its illustrious 40-year history, and we're looking forward to seeing what the station has to offer Townsville well into the future."