Just like the Music Jury, The Triple M Club is there for you to have your say on everything Triple M. The Music, The Shows, The Sport.
You'll have access to exclusive music events, tickets to the big gigs and biggest sporting matches around the country.
Spiderbait's Ivy and the Big Apples album is celebrating its 20th Anniversary with a massive tour around Australia this March & April.
Triple M Club members have the chance to be there to hear the band play Ivy and the Big Apples in its entirety.
All you need to do is your Jury Duty, and you'll go into the draw.
Grab your tickets right here.
Get a €200 discount for RadioDays Europe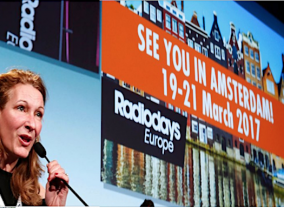 Hurry… Must be booked by February 10.
Thinking of going to RadioDays Europe next month in Amsterdam?
You can save 200 Euros off the ticket price by booking with radioinfo's special discount code.
radioinfo is once again partnering with what has become the biggest European radio event.
If you can't get there, we will cover the three day radio fest for you, but if you are going and haven't booked yet, take advantage of our discount.
YOU MUST BOOK ONLINE BY 10 FEBRUARY, USING OUR SPECIAL CODE TO GET THE DISCOUNT.
Email us for the code, no strings attached, no limits, you won't go onto a mailing list… just ask us for the code by emailing [email protected].
Participants must register on the RDE website (www.radiodayseurope.com) using the partner organisation discount code. Payment is made by credit card online.
Radiodays Europe is being held from 19-21 March at RAI Convention Centre in Amsterdam.
See some of our coverage of last year's event here.