Love it or hate it, Q&A is the show that starts thousands of conversations well after it's over.
Now that conversation starts the moment Tony Jones says "good night" with Q&A Extra.
Q&A Extra is Hosted by journalist Tracey Holmes on ABC NewsRadio and is also live-streamed on Facebook, with Tracey taking questions and comments from Facebook, Twitter and talkback.
Listeners can call in to join the conversation with Tracey and her studio guest.
Last night's guest was Georgina Downer, Adjunct Fellow of the Institute of Public Affairs and experienced Q&A panellist.
Find out more on the NewsRadio website.
Get a €200 discount for RadioDays Europe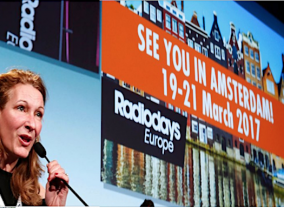 Hurry… Must be booked by February 10.
Thinking of going to RadioDays Europe next month in Amsterdam?
You can save 200 Euros off the ticket price by booking with radioinfo's special discount code.
radioinfo is once again partnering with what has become the biggest European radio event.
If you can't get there, we will cover the three day radio fest for you, but if you are going and haven't booked yet, take advantage of our discount.
YOU MUST BOOK ONLINE BY 10 FEBRUARY, USING OUR SPECIAL CODE TO GET THE DISCOUNT.
Email us for the code, no strings attached, no limits, you won't go onto a mailing list… just ask us for the code by emailing [email protected].
Participants must register on the RDE website (www.radiodayseurope.com) using the partner organisation discount code. Payment is made by credit card online.
Radiodays Europe is being held from 19-21 March at RAI Convention Centre in Amsterdam.
See some of our coverage of last year's event here.