Triple M Newcastle has consolidated its position on top of the ratings in the latest GfK survey for the Hunter, up by 0.6 to 18.3.

Their stablemate, hit 106.9 made the biggest gains in this survey, up 2.4 to 14.9, closely followed by triple j, up 2.3 to 13.7.

The biggest loser was 2HD, dropping 1.7 to 6.1, with their biggest loses in their 65+ demographic, while ABC Newcastle picked up 0.5 for 9.4.


Tanya and Steve (Triple M) continue to dominate breakfast, up only slightly to 20.3, while Nick, Jess & Ducko (hit 106.9) jumped from fourth to second, up 3.6 to 14.1.

The triple j breakfast team of Bryce and Ebony, up 2.6 to 13.3, putting them just in from of Jenny Marchant and Dan Cox (ABC Newcastle) on 13.2.
Jade, Matty and Krivo (NEWFM) also made some gains, picking up 1.3 and moving them to 9.2, and leapfrogging them over stablemates Richard and Shanna (2HD) who eased 1.8 down to 6.3.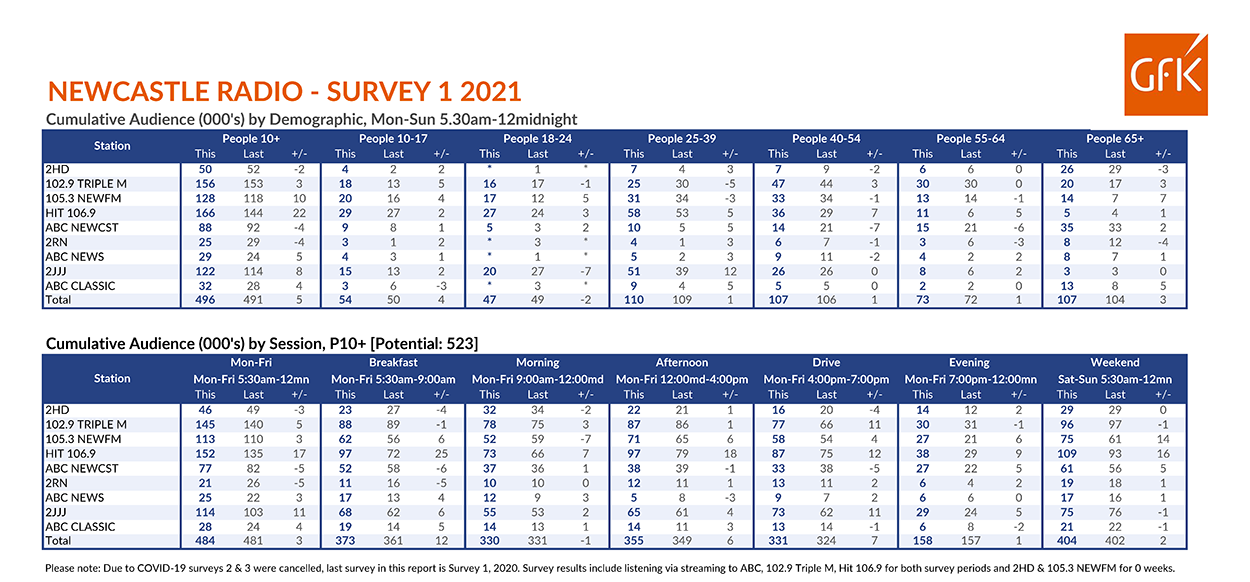 THE SPIN
---
Subscribe to the radioinfo podcast on these platforms: Acast, Apple iTunes Podcasts, Podtail, Spotify, Google Podcasts, TuneIn, or wherever you get your podcasts.
Ask Alexa
:
'Alexa, play radioinfo flash briefing'
or
ask Google Home
:
"Hey Google. Play the latest Radioinfo flash briefing podcast."
---