Triple M 106.3 Coffs Coast has made significant gains to be a clear number 1 in front of its SCA stablemate, Hit 105.5 Coffs Coast in the latest regional radio ratings survey, conducted by Xtra Insights.

Triple M gained 6.1 overall to give it 29.4 ahead of Hit 105.5's 23.6, with triple j on 12.0 and the ABC Coffs Coast on 10.9.

2HC gained 0.9 but still trails the rest, a long way back on 4.5.
CLICK ON THE TABLES FOR A LARGER VIEW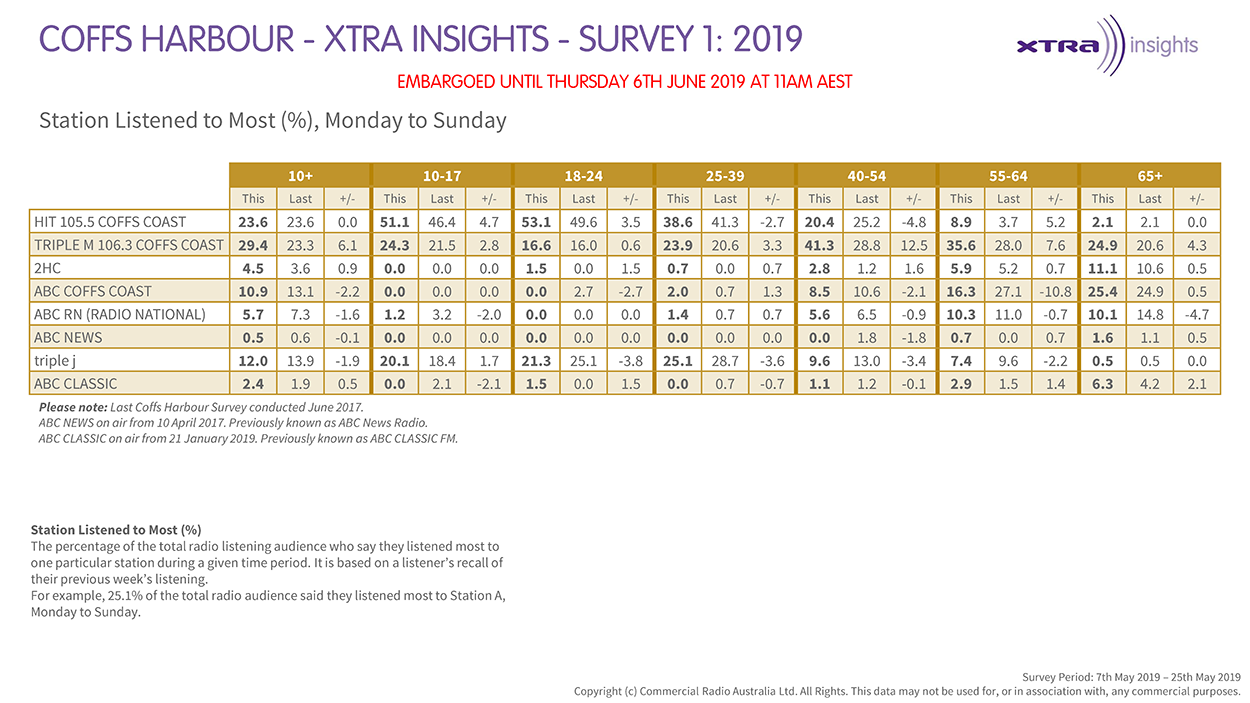 Triple M saw gains on all their programs and age demographics with Moffee For Breakfast gaining 6.0 to leapfrog A.B. & Ben on Hit to now be the breakfast program most listened to on the Coffs Coast.


The survey involved 800 participants and was held between the 6 – 25 May and the findings are based on stations listened to most, rather than share.
CEO of CRA, Joan Warner says "The survey is a great way of drawing attention to the role of commercial radio in Coffs Harbour and allows the local stations to demonstrate their extensive audience reach."

Coffs Harbour is the fifth of more than 20 radio surveys that will be undertaken across regional Australia in 2019.

The stations in Coffs Harbour serve a population of more than 85,000 people aged 10+.
THE SPIN