Former ABC Producer Peter McCormack passed away yesterday after a long illness.
Born in Victoria, Peter began his media career producing Mike Walsh's tv show, then joined the ABC for a short stint in Melbourne, before leaving media to be a road manager for musician Earl Grant.
After Earl Grant died in an accident, Peter rejoined the ABC as a producer in the Light Entertainment Department and later moved to the Current Affairs Department in Sydney, spending his entire career as a producer. He retired in the early 1990s.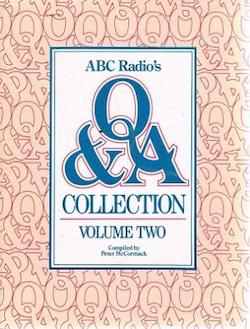 In those days the 8.30am morning show on ABC Local Radio was produced by the Current Affairs Department. Peter produced Caroline Jones in that timeslot, and later Margaret Throsby and Andrew Olle.
As part of his work Peter was tasked to edit a book of tips and hints from a popular locall radio segment called Q&A, where station experts would take talkback questions from listeners about household hints.
Paying tribute to Peter, Margaret Throsby has told radioinfo today:

We were already friends from when I joined the ABC, but our friendship deepened when we worked together. When Caroline Jones left the 2BL morning show in 1981 I took over and Peter was the producer.

He helped me learn how to be a journalist, I felt very confident under Peter's steady hand and I knew I could depend on him, he made me feel very comfortable on air.

I loved working with Peter. He was very thorough and accurate. He had the qualities of a great producer: he was incredibly loyal and, importantly, he didn't what my job, he never wanted to be on air.

He was a shy man and hilariously funny at times. He was a very good cook.

One time he invited a bunch of us to dinner at his place. All week he was telling us how he was going to endless trouble to prepare the dinner. When we got there he put the meal down and said, "I'm buggered you can all go home." It was perfectly timed, we all thought he was serious for a few moments.

He was a real treasure, the kind of producer the ABC needs.

I said he was accurate, but I remember one time when he was not. He must have booked in architect Harry Seidler for an interview, but he forgot to put it on the board. Harry Seidler turns up and Peter comes in to me and asks, "do you now why he's here?" I had no prep and had to wing it, but between us we got through and Harry never knew we forgot about him.

I will miss him very much.
Former 702BL Manager Peter Wall also remembered Peter McCormack, saying:
Peter was a wonderful radio man. He had brilliant ears and knew what worked.
He was my executive producer for many years – the one guy you could chat with to see if you were being a dope about something or other and get a straight answer. He saved my neck on many occasions!
He was a thorough gentleman and always a delight to be with. He was a major force in our industry – but he wouldn't believe that. I will really miss him.
Peter McCormack, front middle, with the 702BL team in the 1980s, including Andrew Olle, Tony Rasmussen, Tara Macarthy, Ray Taylor, Patrick Weaver, Peter Wall, Michael Mason and Jan Forester, amongst others.