Vice President and presenter at Hawkesbury Radio, Gavin Casburn, passed away on Sunday 3rd February following complications from surgery for a septic ulcer.
His funeral will be held next Monday (details below).
A member of the station for over 30 years, Gavin had also been a long-term member of the management team, with a wide participation as a presenter, Technical Director, and eventually as Treasurer and Vice President.
He was also influential and just as highly regarded amongst the Water Ski Racing community, the Auto Repair and Auto Electricians industries, the Competitive Equestrian community and the Hawkesbury community generally.
Remembered by his colleagues as someone with an insatiable urge for learning, he was also knowledgeable about all the members, their achievements and problems, the sponsors, competitors, regulators, and he had a worthwhile opinion about every issue the station faced.
He had a talent for cutting through the fog of obfuscation and getting rapidly to the heart of any matter and coming up with a solution.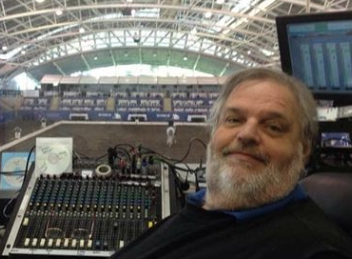 Gavin's friend and colleague for 13 years at the Sydney International Equestrian Centre, Christopher Groves (pictured right with Gavin) says he feels "… like a part of me has died. I just received the phone call that I have known in the back of my mind for some time now, would come one day. I am devastated and heartbroken beyond words.
"In all the years that I have been the Announcer for Dressage NSW at the CDI and the Championships held at the Sydney International Equestrian Centre, Gavin and I sat side by side.
I was the announcer and Gavin was the incredibly talented, super computer wiz, sound engineer. If there was a problem, Gavin could fix it, always with a joke and a smile. He always managed to make me laugh even on my darkest day. He and I had many deep and personal conversations, he was the one person who I could pour my heart out to in confidence and so many times I was grateful for the advice he gave me."
Gavin was a regular reader and contributor to radioinfo and a long term paid subscriber. Our admin manager Wendy says Gavin was "always up for a chat and I spoke to him each year when the subscription was due for renewal, and when there was something interesting going on with Hawkesbury Radio and he was always laughing, funny and charming – I shall miss him."
In his Faces for Radio entry, the description he wrote about himself was three words: "Just having fun." We will miss you Gavin. RIP
Gavin's funeral will be held at 9am Monday Feb 11
at Castlebrook Memorial Park, 712 Windsor Road, Rouse Hill.