Australian musician and composer Martin Armiger has passed away.
Martin was lead guitarist of band The Sports in the 1970s, which had the hit single Who LIstens to the Radio, and many other rocks hits between 1976 and 1981.
He wrote music for radio and television, and was a well known screen music composer.
By the time The Sports broke up in the early 80s, Martin had established himself as a respected producer and session musician. In 1984 he took on the role of musical director for the ABC's weekly drama series Sweet and Sour. Martin also produced the programme's Platinum-selling soundtrack.
He had continued success as a screen composer through the 80s, 90s and early 2000s, working on a string of Australian films and TV shows that included Young Einstein, Clubland, The Secret Life of Us and the ABC News Theme (more information from Mushroom Records here).
For 15 years he taught screen composition at AFTRS, passing on his talents to a new generation of media professionals.
Tributes will be held in Sydney and Melbourne later this month. More details on Martin's facebook page when available.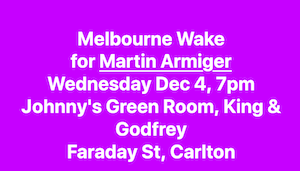 RIP Martin, we're still listening to the radio!