At the opening of today's NEMBC Conference in Brisbane, local member Terri Butler (pictured) told ethnic broadcasting delegates:
"Your leadership is important. Good leadership is in pretty poor supply around the world at the moment…
"We are meeting at a time where there is more tension and less cohesion.
"Your work bringing communities together, standing up and having a voice, helps combat racism and build cohesion. You help new migrants find their feet. You help everyone celebrate the diversity of us all here in Australia. It is important and I thank you for the work you are doing."
She also acknowledged host broadcaster 4EB's 40 years on air, paying tribute to the staff and volunteers in the station.
Senator Gerard Rennick, representing the Prime Minister, told delegates that the federal government supports the sector and Queensland State Minister Stirling Hinchlife (pictured right) confirmed his government's support for ethnic community radio.
"Radio plays an important role in our lives. It can play a significant role in supporting people to play a part in their communities. It is a clear principle of the Palaszczuk government that the people of Queensland should be able to lawfully express and celebrate their cultural linguistic and religious diversity.
"Your broadcasts support these priorities so that all people can fully participate in the lives of our communities. Your broadcasts, workers and volunteers play a powerful role in reducing isolation, especially for new migrants."
Delivering the keynote address, James Cridland said:
"Radio used to mean transmitters and big studios, but now it means a shared experience with a human connection. That big transmitter is only one way of reaching our audiences.
"When tv and music television came along people thought it would kill the radio star. So many things were supposed to kill the radio star. But radio is still alive… Don't forget that radio is massive, nine out of ten people listen to radio, here in Brisbane and around the world."
Discussing how radio is now being delivered in lots of different ways, he said it is becoming a much more multiplatform medium. DAB, phones and smart speakers are some of the new platforms. "Remind your audience that you can be heard on many platforms so they can listen at work on their computer, as well as listening at home on their standard radio or smart speaker."
"Think of yourselves as an On Demand service more than live radio… This is especially important for ethnic broadcast stations, where the most difficult thing is to put together a program schedule of so many different language programs."

Cridland played this video to illustrate how some journalists don't beieve that radio is still so big. "A 60 minutes reporter asked some old guy where he got his music and was shocked when he said radio." The old guy was Sir Paul McCarttney.
"Ethnic community broadcasting is going where other broadcasters can't go," said NEMBC Executive Officer Russell Anderson, outlining how ethnic broadcasters are leading the way. "Ethnic broadcasters reach local, national and diaspora audiences all around the world."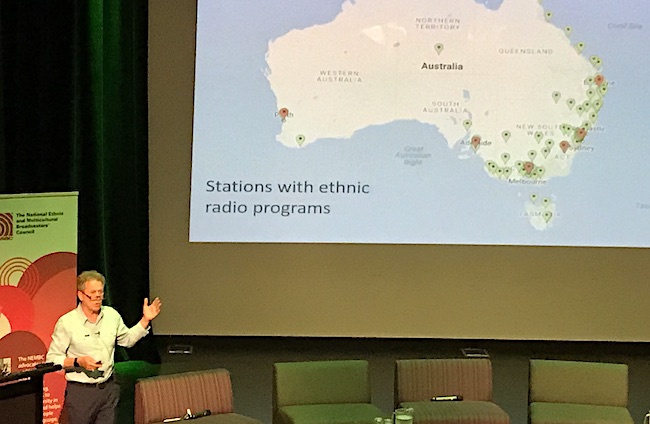 He encouraged broadcasters to expand their reach by using tools such as Facebook Live to enhance their radio shows, giving examples of various programs that already do so, and detailing how their audience has grown.
The NEMBC is also now moving into a production mode, working with ethnic member broadcasters to produce sports coverage, podcasts and video content. "We are on Foxtel with the AFL and soccer programs… we also use Soundcloud and Whooshkaa for audio."
"This is ethnic broadacasters reaching out and leading the way."
The CBF's Dean Linguey (pictured) told delegates that $3.9 million was allocated to ethnic programming, operations activities and ethnic sector coordination ($460,000) last year.
Some key points in his presentation included:
Requests over $30k require collaborative funding from the station.
The CBF also wants to see new ideas and evidence of reaching out to bring new people into the station.
A new grant titled Bright Futures is a one off project to improve the financial sustainability of stations for the long term. The focus is on technology and infrastructure projects that will deliver long term value for stations.
Anyone submitting a grant can get feedback from the CBF team to improve their application if they submit it in advance.
Tips to successfully win a grant include:
Use simple language
Demonstrate a clear sense of purpose
Describe your target communities
Provide clear technical documentation
Most common mistakes include:
Not including letters of support
Not including measures of success
Not including Timelines
The CBAA's Jon Bissett explained funding sources across the sector, telling delegates that sponsorship is (on average), the biggest funding segment for community stations followed by station fundraising activities. Grants were the third largest average funding source, followed by membership fees and other sources.