At this week's ABE Show Conference and Exhibition in Sydney a range of radio and audio exhibitors displayed their latest products, the most interesting being the latest advances in video switching technology for radio studios.
The CBAA's Andrew Morris also spoke at the conference, showcasing the recently launched Community Radio app. He explained how the community broadcasting sector is positioning itself to take advantage of the significant digital disruption taking place across the radio industry.
The CBAA strategy is "to enable every community broadcaster in Australia to be available online in the places that listener expect – for live and on-demand. The key to this strategy is Community Radio Plus the industry app which showcases over 330 community radio station live streams and on-demand content in one place… The station metadata, with 59 fields for each station stored in a database, not only powers the app but will also soon power smart speaker skills for Alexa and Google and Sonos music systems… and in the future new technology including car dashboards."
Using Alice Springs station 8CCC as an example, the audience were shown the depth of metadata displayed on the stations screen which listeners could view and interact with in a presentation which also included All In Media's Richard Phelps (both pictured)
John Maizels took a quick tour around the exhibition for radioinfo:
The OnAir Solutions stand featured the Australian launch of the Logitek mixIT console and Jet67 audio engine.
The package combines 6, 12 & 18-fader consoles with a compact 1RU audio-over-IP engine. The Jet67 engine natively supports AES67 and Livewire+ IP audio formats, with an option card for adding Dante.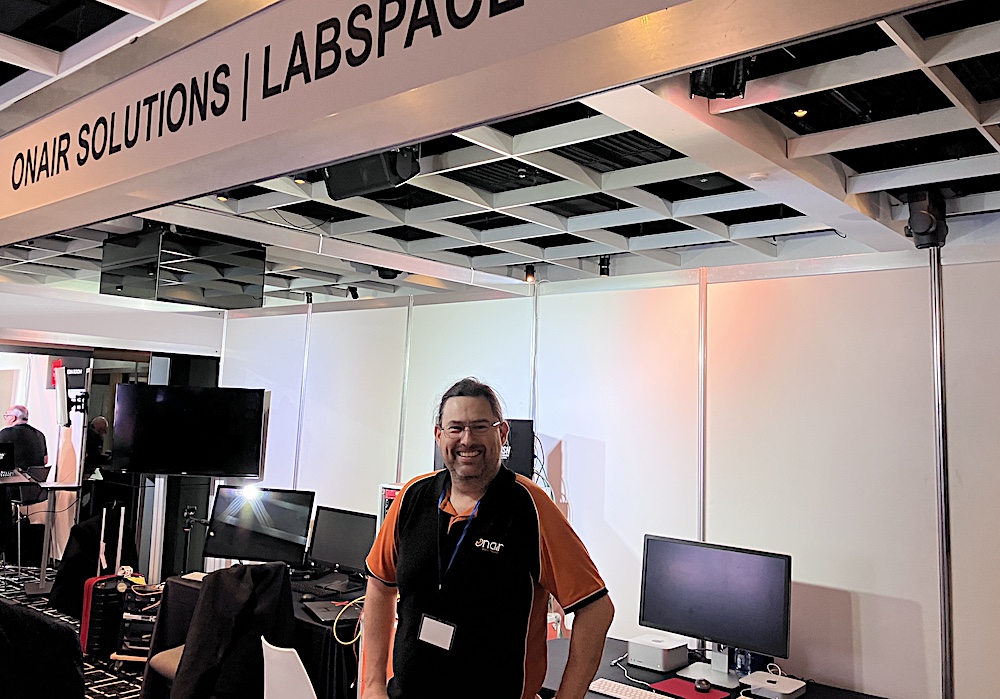 OnAir Solutions Managing Director Paul Dengate (pictured) told radioinfo "Now that Audio-over-IP is the standard way of wiring your studio, it's important to speak all formats at the same time, so all your AoIP devices can connect. Jet67 makes that easy!"
Also debuting in Australia at the OnAir Solutions stand was the multiCAM Systems video-for-radio system. multiCAM automates video production for radio studios, with mic level detection over IP and integration with major playout systems.
The Logitek mixIT-6 console, Jet67 engine and multiCAM video system are all available from OnAir Solutions.
At the Professional Audio & Television stand, Steve Exton (main picture) told John Maizels more about the latest trend in video for live radio.
The Lawo Diamond radio broadcast panel displayed at the PAT can activate a range of options for video to accompany the live radio feed using triggers attached to each on-off fader switch.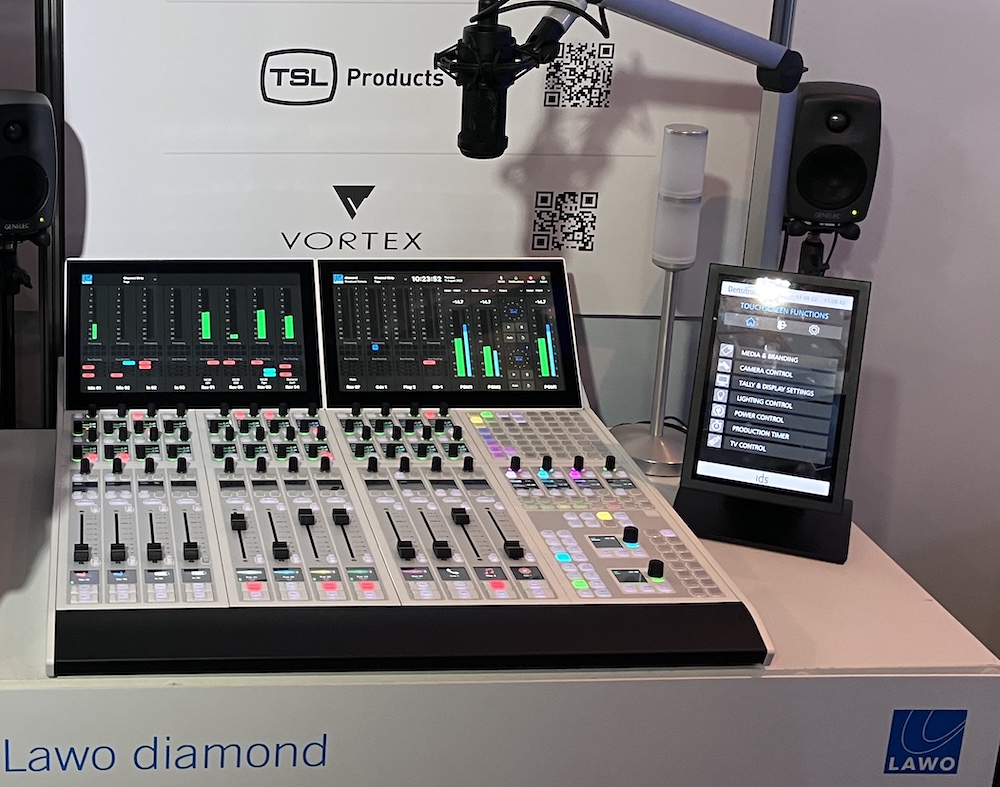 Cameras can be locked to focus on the presenter at Mic 1 when its button is pressed, or to guests on Mics 2 & 3. Beyond the simple functionality, panels and integrated cameras can also be set up to remember a range of shots, with a wider shot activated when audio is coming from two mics, or two cameras being turned on to capture the presenter and two guests when all mics are on.
This new trend was evident in both the Lawo and Logitek consoles we visited at the exhibition.
Other trends on show included new efficiencies in cloud storage, the latest version of Dalet's editing, storage and playout system, 5G transmission technology plus a range of new microphones and switching equipment.