While Australia's unemployment rate has jumped to 6.2 per cent in April, up from 5.2 per cent in March, radio is only just coming to terms with the overall impact of COVID-19.

Most telling has been the number of job ads that have dropped on sites such as SEEK, with categories like Advertising, Arts, Media down by 56.1 per cent in April and 60.5 per cent this month.

Currently there are eight radio related positions being advertised on SEEK, ranging from journalists to producers, technicians to account director.

With direct sales suffering declines of 40 per cent or more, and even with JobKeeper in place, holding onto staff, let alone recruiting new staff, is becoming more difficult as the lockdown continues.

The radioinfo site has seen a sharp decline in the number of job ads being placed, and radioinfo publisher, Steve Ahern, says, "It's very tight in the radio industry at the moment as we know. In the past month we have seen a 100% decrease in job ads from normal months. There have been none on the site for 3 weeks until today.
"December and January are normally quiet, while May/June and September/October are usually our businest months for jobs due to the financial year end and, later, contract renewal season.

"Commercial station job ads dried up first, then the community sector. The last to go were the national broadcasters.

"It's understandable. At a time when companies are cutting hours and salaries, even if they had jobs to fill they would wait until their existing workforce got back to normal first. When they resume it will be an indication of confidence returning.
"I have been speaking to industry leaders in the past two weeks about the state of play as things open up again. Their consistent comments are first, that they really appreciate the government's Jobkeeper program because it has allowed them to keep most people on even when revenue is done and second, that they are all cautiously optimistic about a good recovery, but the only uncertainty is when.
"A lot of employers have told me that Seek is too expensive at $275 per job (our jobs board costs less), and that they get lots of unqualified people applying with no experience in the radio or media industries, so they prefer targeted sites like ours when they are serious about finding the right people.

"When things do get back to normal I expect that there will be pent up demand and lots of ads will come back all at once.

"Interestingly, we have had dozens of emails from people scanning the site and telling us that they will be ready to apply for jobs when they return. This is not a normal trend, and it tells me there is also pent up demand in the job seeker market, so employers will have good fields to choose from when they resume their job advertising."
The Seek employment chart, April 2020 compared with March 2020, indicates a 60.5% fall in the Advertising, Arts and Media category.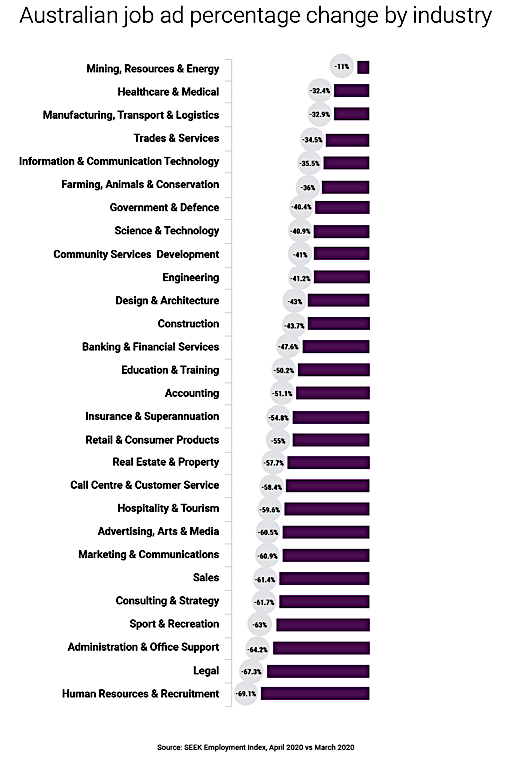 ---
Subscribe to the radioinfo daily flash briefing podcast on these platforms: Acast, Apple iTunes Podcasts, Podtail, Spotify, Google Podcasts, TuneIn, or wherever you get your podcasts.