Nova has completed a research study into consumer attitudes during the Corona Virus lockdown period. NOVA Entertainment's National Director, Commercial Strategy CREATE, Stephanie Loupelis tells Steve Ahern about the findings.
Stephanie Loupelis has been communicating the finding of Nova's Home Truths research to advertisers in a whirlwind round of presentations over the past two weeks… from her home.
Working from home in her "respectable jumper up top," but "long sox and slippers" below the camera lens frame, Loupelis has talked to about 800 agency and direct advertisers in 7 one hour video sessions. About 90% of them stayed for at least 50 minutes of the one hour presentation, according to stats from the Zoom sessions.
"We made it valuable, engaging and gave them the broader media perspective, so they stayed with us for the whole presentation. It was a successful approach, people were receptive… Some people working from home are getting Zoom fatigue, but it didn't seem to affect this presentation," says Loupelis.
The online survey of a nationally representative sample of 1000 people explored the roller coaster of feelings experienced by Australians during the Corona Virus lockdown from 'this is fine,' through 'this is f**ked' and 'this is fun,' to 'this is forever.'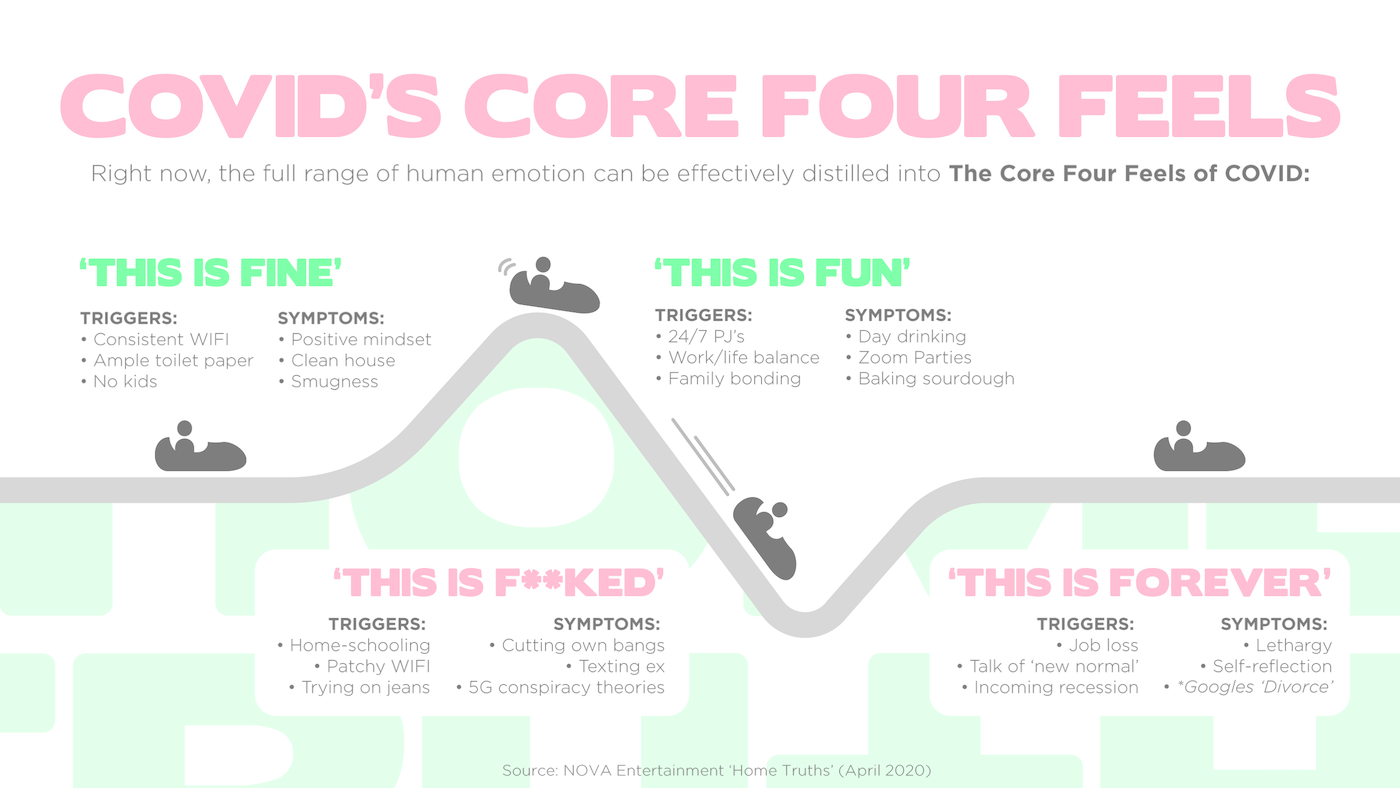 The research was conducted last month (April 2020) by The Lab. Clik the pic to enlarge it.
In this time of fast changing consumer attitudes and media buyer uncertainty, Nova wanted to reach out in a timely way to help advertisers understand the best approach for their messaging. The presentation "wasn't just about us, it was for our clients, to help them understand changing audience habits and messaging in a timely way during this weird period."
Now that Loupelis has finished her big picture presentations, Nova's sales teams will follow up individually with agencies and clients.
Nova Entertainment, ARN, SCA and Nine Entertainment have all worked hard to communicate to advertisers during this time (see our previous reports here and here), and Nova's research is consistent with information coming from the other networks about the role radio is playing in the media mix during the pandemic.
"What the market needed was genuine actionable insights into how people are responding to advertising during March and April. There is a demand for data about what is happening right now. We wanted to showcase some broader insights into how people are thinking, feeling and acting while in isolation and give advertisers some insights into their preferences," says Loupelis.
One of the big home truths from the research is that the absence of the commute has not killed radio, debunking one of the myths that was infecting the ad industry and spreading fast in the early days of the pandemic. "We called out those untruths and unqualified feelings around radio that were anecdotal not factual. Agencies have heard that message now."
Loupelis thinks the radio industry has stopped the spread of that disinformation by working together to communicate the facts. 65% of Australians are listening to as much or more radio during the crisis, and they are listening longer (1 hr 46 mins more), according to the research.
"They are consuming more media, because they have more time. People are also seeking more information and this has resulted in increases in media usage across board."
"People's relationship to their favourite shows is the same, they are just beginning their listening slightly later, then there is strong workday listening while they are working from home. The peak is coming off a little earlier than usual, 6pm, not 7pm as we usually see."
Listening on devices has increased: smart speaker listening is up 20%, desktop/laptop listening up 33%, and mobile device listening up 47%. "CRA did a great job of communicating the additional information and it has been received well by agencies."
This is "life as we don't know it," says Loupelis, explaining that "the value exchange has changed a lot."
Previously Australians' key values included honesty, empathy and open mindedness. Now the number one value is safety, followed by honesty and freedom. "It's about survival, we are all feeling challenged and survival is the priority."
Loupelis says companies should not be scared of advertising during this time. "91% of people are happy for you to continue advertising," Loupelis told advertisers in the webinars. Attention to media has never been higher and there is also a sense that people are happy to hear ads for familiar companies because it is a good economic indicator. "They don't want advertisers to go dark. Everyone is focussed on what's next."
Despite flattening the curve and talk of relaxing social restrictions, 60% of Australians are still "moderately or extremely concerned about then virus and reluctant to go back to normal social interactions. Instead of FOMO (fear of missing out) people are now thinking experiencing FOGO (fear of going out).
The public mindset has moved from awareness then ambivalence in the early stages, through anxiety to adjustment as Australians realise there is no quick fix to the pandemic. This is an indicator that, as pubs, clubs and coffee shops reopen over the next week, patrons may still be slow to return to normal socialising habits quickly, so advertisers in these sectors will need to work hard and think about their messaging to bring back business.
Many people are feeling this is the circuit breaker society has needed to remind us to slow our pace and re-evaluate the was we are living. This is also a clue for advertisers who are looking for new ways to craft their messaging. 84% of consumers expect advertisers to change their messaging to adapt to the current circumstances.
During the lockdown, all media consumption has increased. Notably, according to Loupelis, social media, youtube, free to air tv and radio have all seen increases, along with most other media.
Increased usage does not always mean increased trust however.
"While people are spending more time with several mediums they are having negative interactions with some," says Loupelis. "Not all media are created equal. The level of trust in online sites and social media is not as high as the human connection in established broadcast media." While free to air tv news, online news sites and social media rank higher than radio in usage, they are not as trusted. Radio is seen as the most trustworthy and factual medium, followed by free to air tv, newspapers and pay tv. Social Media is the least trusted medium.
"Social media helps us to feel connected, but its trust ranking is the lowest (10%). Brands advertising in social media are seen, but they are not necessarily having a positive recall because they can't control what is around them if they are on a less trusted medium. Social media is on the more negative end of the trust scale, while radio can control the context and mood of the content that surrounds the ads.
"Radio is always trusted in crisis times. Radio was crisis capable. Advertisers want to be placed in a trusted medium. All media have adapted in the face of adversity, but radio was already brand safe, crisis capable and cost effective."
Across the audio category, podcasting has had big growth. Nova's revenue from podcasting is up 95% on the same period last year. "People have adopted podcasting and radio streaming at home, so that trend should continue."
The information presented in the study also gives hints as to how advertisers should change their messaging for the new normal. Some advertiser will continue to engage with the pandemic theme in their messaging, but, as the 'new normal' takes hold, there will be other advertisers who do want to align with positive formats and give messages that are not directly aligned with the pandemic. As the lockdowns ease and people are excited about doing some of the things they could do before, there will be other types of creative execution that will appeal to them.
"Some advertisers will want to be aligned NOT with Covid. We are not 24 hours news stations, the Nova and Smooth networks have the right amount of information, but also companionship and entertainment. Some brands will find our stations more appealing in the next stage."
One significant sentiment that jumps out in then research is that 67% of Australians predict that it will take two years to return to normal. "There is a sense that we are not out of woods yet so businesses should continue to adapt their messages around the idea of adaptation and resilience."
Some advertisers that are getting it right by talking about their products in a way that is topical and connected are:
• Committed to Fitness, a gym which is using its radio spots to talk listeners through an exercise routine
• Soil Solver is having fun with the new trend of people growing vege gardens
• Just Cuts is referencing parents cutting their kids hair, as the kids look forward to getting a real haircut when the salons reopen on July 1
• Stan is focusing on the binge watching trend for those in isolation
• KFC's focus on its home delivery and contact-free drive through offerings
• Vino Mofo, which talks about how the company is a wine dealer at your door
Home Truths began as a piece of research, but "has almost become a B2B tool more than a sales presentation," according to Loupelis, because it is helping direct and agency clients understand how to communicate with their customers during this fast changing time. Small businesses are especially appreciative of the help they are getting from this information and their Nova sales reps. "Our sales reps are telling me they feel like therapists, they are listening to the issues confronting their direct clients and helping them navigate through the pandemic."
---
Subscribe to the radioinfo daily flash briefing podcast on these platforms: Acast, Apple iTunes Podcasts, Podtail, Spotify, Google Podcasts, TuneIn, or wherever you get your podcasts.