Tom Malone tells Peter Saxon
Just after 8:00 am yesterday, Alan Jones finally dropped the bombshell that many in radio had been expecting for some time. After 35 years on air, 18 of them at 2GB, but less than a year since NINE bought the station and its network from Macquarie, he was leaving radio for good.
Citing Doctors' Orders, he told listeners his final show will be on May 29.
By midday, I'd taken at least half a dozen phone calls from different people with at least seven different theories between them on why Jones had really quit… or was pushed.
It takes a certain level of stardom for people to care that much about something that's none of their business.
Somewhat bewildered by that many different versions of events, I turned to Tom Malone, NINE's Managing Director – Radio, for guidance.
When asked how long this event had been in the planning, Mr Malone replied, "Alan had some medical appointments last week and then got some pretty clear advice that continuing with his breakfast show was going to be seriously detrimental to his health. He started a conversation with us. So it's all been pretty quick in coming together."
Apart from Alan's health were there any other contributing factors to his departure? "No," said Mr Malone.
Pressing on, I asked: Given the downturn in advertising at the moment, due to the pandemic, is the timing of Alan's departure better now than it might have been when revenue was higher?
He said, "You can make the argument both ways. I think there's never a good time to lose the number one breakfast presenter in Sydney radio in 30 years."
And what about the client exodus following Alan's remarks about NZ PM Jacinda Ardern last year? Now that he's going, are you expecting a resurgence in advertising from those clients that may still be boycotting the show?
His response: "This is not about a boycott of advertisers. It's about celebrating Alan's wonderful legacy. He's done a great job in the last 30 years for this business, 2GB, and before that, 2UE.
"It's rare that someone chooses to go out on top as Alan has done today. He's been a tremendous success. And we're celebrating his career over the next three weeks and we'll also be planning for Ben (Fordham) to take over the Alan Jones legacy as he takes Breakfast on board."
Which brings us to the biggest surprise coming out of the media release from NINE's corporate HQ, that Ben Fordham – not Ray Hadley – will be taking over Breakfast from Jones. For many years, it had been common knowledge that Hadley was deemed the heir apparent to Jones in the way Prince Charles is to The Queen. Now that Bessie's abdicated, it's as if William's got the top job instead.
When quizzed about this part of the strategy, "why Fordham not Hadley" Mr Malone was forthright in his response, "Ray Hadley at 9:00 am is appointment listening. He's been there for 20 years. And number one for most of those years. He's my John Laws of this generation.
"He's got 30 stations hanging off the back of him across rural and regional Australia. With Alan leaving, it means Ray's Morning is more important than ever. So, he'll continue doing an amazing job for the business there."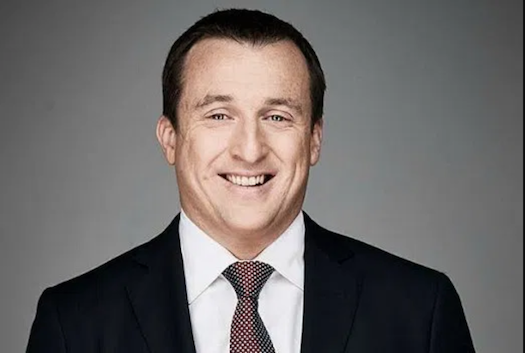 NINE's Managing Director – Radio, Tom Malone
Many radio types were incredulous when they heard Hadley yesterday tell his listeners that he wasn't interested in breakfast. Two years ago, or even one, I wouldn't have believed him either but oddly, I do believe him today. Firstly because I believe that Ray has mellowed in recent times. His workaholoic nature has caught up with him. It's cost him a marriage and forced him to reflect on his role as a father. The several bullying cases against him have worn him down as he attempts to mend his ways. Insiders say that his new partner has had a positive affect on his nature.
As a result, he made the decision last year to step back from working 7 days a week during the football season and spend more time with his family. By the end of his current five year contractract Ray will be 70. He indicated yeaterday that he would likely retire at that time. I reckon it would a good decision. A mature decision. After all, Ray has nothing left to prove. And what if he bombs in breakfast? It can happen to the best of them. Why risk going out a loser?
And if Tom Malone put to Ray his reasons for keeping him on Mornings in the way he has stated above, and the money was right, then I believe that Hadley would have accepted the offer in the manner in which it was made.
So who'll be replacing Ben Fordham on drive? "We haven't had a chance to work that out yet," says Mr Malone.
Whatever else you may think of him, if 2GB was a movie then Alan Jones has been its star – winner of multiple Oscars for Best Actor. Ray Hadley wins Best Actor in a "supporting role" while everyone else are members of "an all-star cast." Jones is one of only three acts ever in Australian Radio history that's successfully migrated an audience from one station to another – the other two being John Laws and Kyle and Jackie O.
There's no doubt, in my mind, that for better or for worse, Jones' departure will have a major impact on the dynamic at 2GB. But if Jones decision to leave was made as quickly as Mr Malone suggests, I can't help but feel that a contingency plan for just such an event has been in place for some time.
Finally, I asked: What's your vision for 2GB in a post Alan Jones era?
"Of course different broadcasters have different personalities but at the heart of it and central to what we do is, we are a source of information and companionship for our listeners.
"And I think Ben does that just as well as Alan did and that will continue.
"I think Ray, Ben and Deb (Knight on Afternoons) all do what Alan's done, which is champion their audience. They're great advocates for their listeners. They take on power. They talk to politicians they talk to business and they put the listeners first. And that's always been the hallmark of great talkback radio and that will continue to happen on 2GB and 4BC," says Mr Malone.


Peter Saxon

Listen to what Ray Hadley had to say about this article, and about Alan Jones.
---
Subscribe to the radioinfo daily flash briefing podcast on these platforms: Acast, Apple iTunes Podcasts, Podtail, Spotify, Google Podcasts, TuneIn, or wherever you get your podcasts.