Comment from Peter Saxon.
Spotify's uber-ambitous CEO, Daniel Ek has broadcast radio firmly in his sights.
"Both short and long term, we are always thinking about Spotify's role within the larger ecosystem," said Ek in a recent interview with Music Ally. "While most [external] focus is on competition between streaming services, we continue to be focused on the billions of users who are listening to linear radio."
Hate to rain on Mr Ek's parade but the latest Infinite Dial findings presented last Wednesday by Edison Research president Larry Rosin, for CRA and Triton, shows that Radio remains not only Alive and kicking goals, but if Audio was an Olympic sport it would win gold for Australia.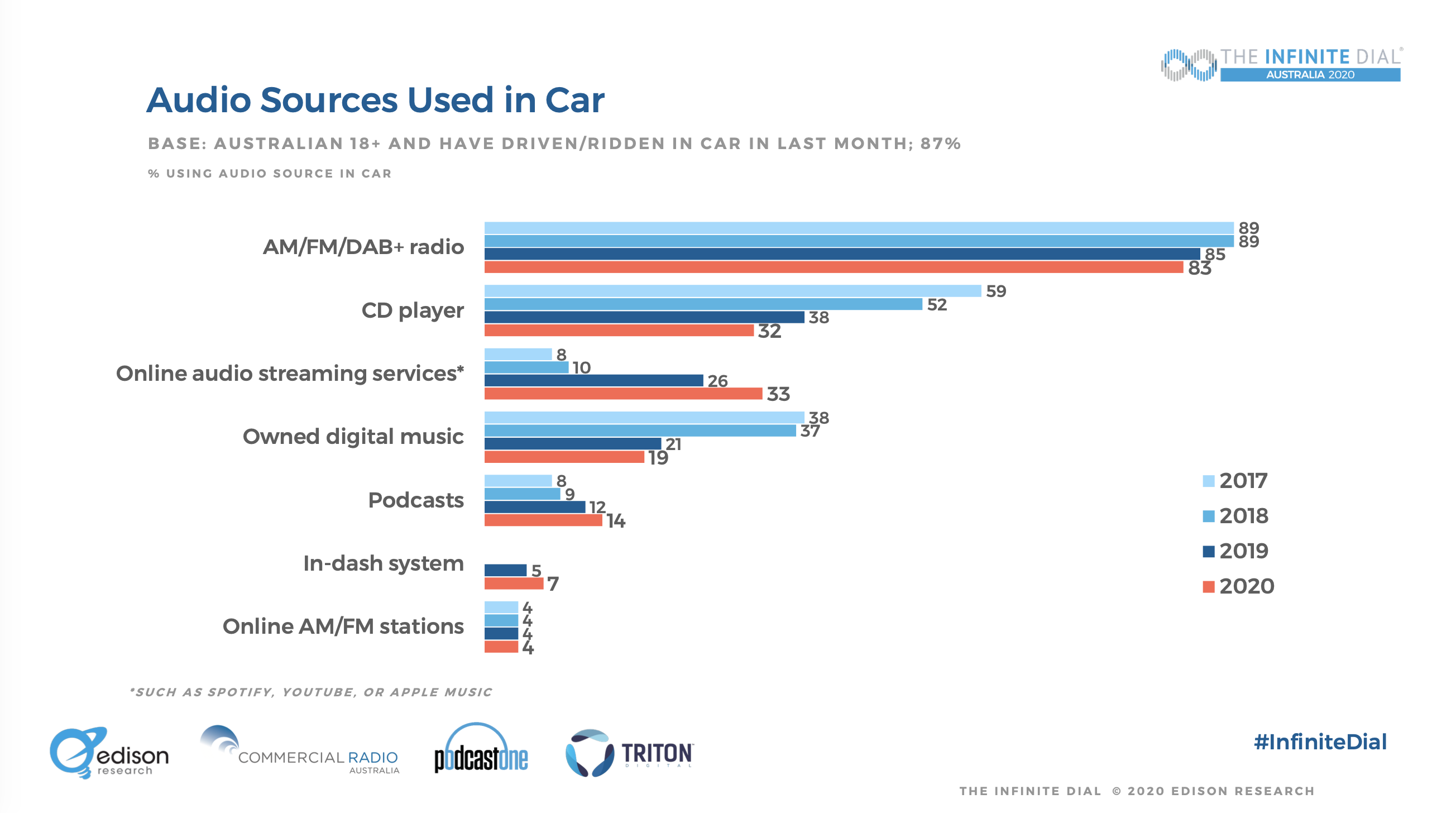 Among a treasure trove of valuable insights was this graphic that seems to confirm radioinfo's long held belief, that online music streaming organisations such as Spotify are not so much replacing radio listening as they are owned music as is demonstrated by the chart below. Over the past four years, online music listening has increased at a rate that pretty much corresponds to the rate of decrease in listening to owned music, CD's in particular.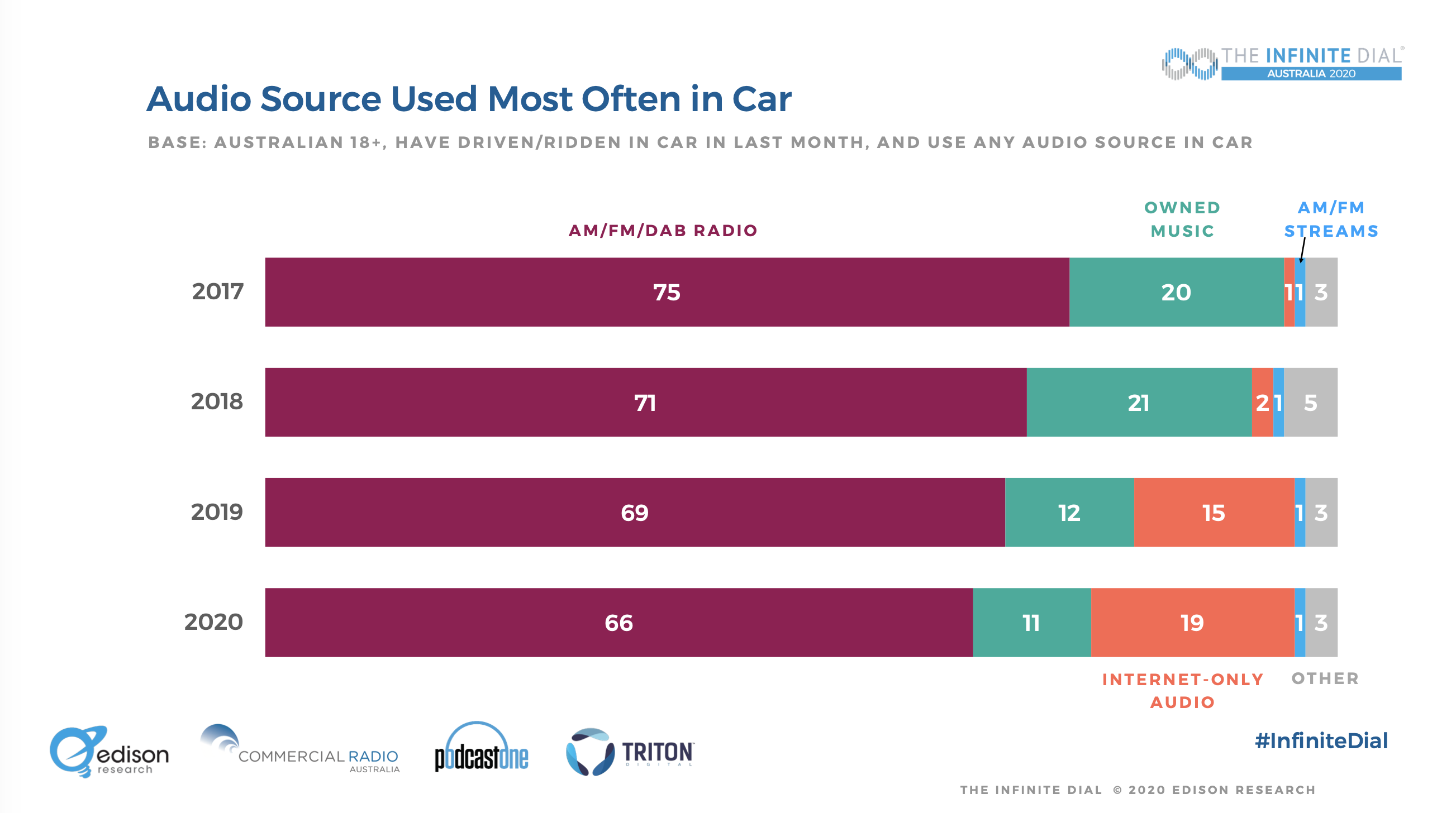 To be honest, linear radio hasn't been totally immune to the streaming services but the damage has been minimal and its got every chance of coming back when the new streaming toy loses its shine.
While all that may be old news for radioinfo readers, there's something even more interesting to come out of the Infinite Dial findings.
Although we we've been largely unimpressed by claims that streaming services would eat radio's lunch, we were somewhat concerned that they would, nonetheless, compete for radio advertising dollars which is something that could not previously be achieved with owned music.
But as the chart below shows, 60 percent of Spotify users prefer to pay for the service, without ads, rather than listen to ads so as to get it for free.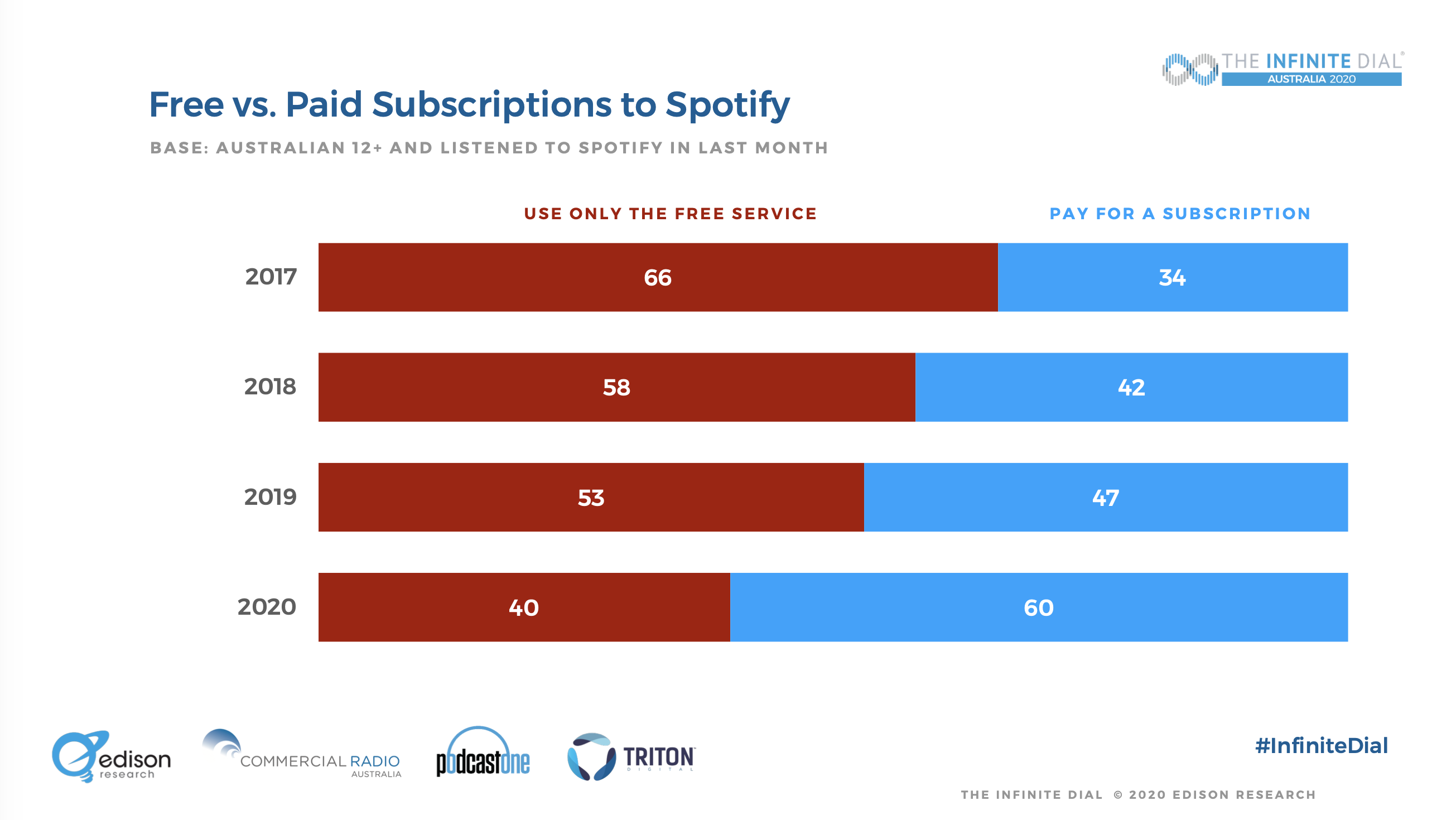 Not only that, the trend towards paid subscriptions has grown year on year for the past four years.
In effect, in terms of bang for your buck, when you advertise on radio your potential audience is all radio listeners (10+ Mon – Sun). In other words you get 100 percent of radio's listeners but only 40 per cent of Spotify listeners.

Peter Saxon
---
Subscribe to the radioinfo daily flash briefing podcast on these platforms: Acast, Apple iTunes Podcasts, Podtail, Spotify, Google Podcasts, TuneIn, or wherever you get your podcasts.