Radio Tomorrow with James Cridland
A warm July day in West London, and I was early to see presenter
Jon Gaunt's
new studios. I discover the trendiest, hippest coffee shop I've seen for a while, and pop in, to be given my flat white by a man with a hipster beard and tie­back hair double. I think to myself: Jon Gaunt, running a radio station. The only people brave enough to do that would be people with an army of lawyers.
Jon's broadcast history is an interesting one. The winner of three big radio awards, a columnist for The Sun (a racy UK tabloid), and a daily show on national station talkSPORT. One day he compared a councillor to a Nazi (or, as he puts it, "stood up for kids in care and foster parents by declaring that a policy banning smokers from fostering was more Nazi than British"), talkSPORT swiftly sacked him, regulator Ofcom ruled that talkSPORT was in breach (though didn't fine the station), and he became relatively unemployable. His legal case against regulatory interference with political free speech is now before the European Court of Human Rights in Strasbourg.
I make it to reception, and it turns out that Jon Gaunt has, in fact, got an army of lawyers at his radio station. He shares the building with a set of human rights lawyers. The very set, it turns out, who are representing him in Strasbourg.
Jon whisks me upstairs and starts showing me round his studios. He jokes that it's his hospital radio station: indeed, the building used to be a private A&E hospital, and contains an almost fully­equipped surgical theatre, as well as a large amount of green hospital curtains. It had lain dormant since March 2007. A nicely set up main studio was already in situ when I looked around, and more work was being done.
After making me a coffee, Jon sat down to tell me the plan behind his new radio station.
Jon became interested in podcasting after listening to Serial, and discovered Gimlet Media's S​tartup,​which followed the launch of a new podcast network. He claims he spent his last £80 on a microphone to start podcasting from his spare room. Six months later, his podcasts have been downloaded over a million times, and the idea of "talk2me radio" was born.
The plan for the station is as a platform where speech broadcasters can have their say. talk2me radio starts with Jon Gaunt as the main broadcaster, but they'll be looking to expand with other broadcasters too.
Martin Howe, Jon's business partner, leant over and highlighted the importance of talk2me radio as a platform for free speech. He spoke eloquently about human rights. Freedom of speech, said Martin, is important for human rights. And well he should know: he sits on the board of Liberty, and worked on, among others, the recent Ghurka justice campaign with Joanna Lumley. He pointed out how important it was to keep talking. "We will offend," he said, "but we won't be offensive. Nobody has a right not to be offended," he adds.
Jon jumps in. "The only thing you can be sacked for, on talk2me radio, is for playing devil's advocate." This is a dramatic difference from current broadcasting, particularly from the BBC, where a presenter's job is to be devil's advocate and to argue the opposing, balancing, view. "We want a cleverer debate than that".
We then go, slightly bizarrely, upstairs to the roof. Thankfully, Jon wasn't going to throw me off; instead, he was showing me the large advertising billboards on the roof. If you've a building next to the M4 motorway, a big highway into London, it's worthwhile using every asset available.
talk2me radio, while live between 10.00am and 1.00pm, sees itself not as a linear radio station; rather a platform for free speech. "Podcasts are at the heart of it," said Jon, and discussed how he'd rethought the production process. He's producing shows with segments that mean that you can easily produce a variety of different podcasts out of one programme. This is music to my ears: I've been talking about reevaluating the primacy of live for a while now, and it's great to see broadcasters thinking about how this can work.
talk2me radio went on­air on Monday just after 10.00am. Initial technical teething issues quickly righted themselves, and ­ for the first time in some time ­ Jon was able to take live calls on his programme. A fast­paced first hour, with a surprising amount of calls. "Gaunty" might not be your cup of tea; but the station is a welcome addition to the radio landscape in the UK. Take a listen.
About The Author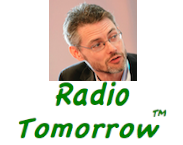 James Cridland is a radio futurologist, and is Managing Director of media.info, a companion website to radioinfo and AsiaRadioToday.
He has served as a judge for a number of industry awards including the Australian ABC Local Radio Awards, the UK Student Radio Awards, and the UK's Radio Academy Awards, where he has also served on the committee. He was a founder of the hybrid radio technology association RadioDNS.
James is one of the organisers of nextrad.io, the radio ideas conference each September, and is also on the committee of RadioDays Europe. He writes for publications including his own media.info, Radio World International and RAIN News.
James lives in North London with his partner and a two year-old radio-loving toddler. He very, very much likes beer.