Comment by Jen Seyderhelm

A decade ago, I was working as a radio announcer in regional Queensland. A couple of my colleagues were serving it up to Kyle Sandilands. I doubt I need to let you know what they were saying, or if what they said would come as any surprise to Kyle. Sitting nearby was the late, great radio man Terry Kerr. He said,
"Why don't you actually listen to him and think about what he's doing right?"
For the last five years, on and off, I have shared a portion of my working day with Alan Jones. Alan won't know my name or face but I have panelled, scheduled, edited and provided live advertising copy to the man in the building at Pyrmont. Long time listener, never a caller. I have endured countless ribbings over the amount of time I have had to spend listening to 2GB Breakfast. Again, like Kyle, I doubt any of this will come as any surprise to Alan. It takes considerable courage to admit to liking the man and his brand of radio, despite his 122 consecutive survey wins in the tough Sydney market.
Yet, here I am.
I'm not going to trouble you radio people with a recap of Alan's Jacinda Ardern comments. They weren't the most savoury. Alan apologised. If, across your entire adult life, you have never made a foolish comment to or about someone and had to apologise, then I'm going to suggest either you don't go out much or have few friends left. We've all done it. Keyboard warriors, take the advice of my mother (it's actually from the Bible, but mum used it on me ALL THE TIME) and remove the log from your own eye before you remove the speck from your brother's. Let's all move on.
Alan is in the very rare position in the media now where he is genuinely able to say what he thinks. Like him or not, we need these people. They may not always conform to your own beliefs but the crux of the matter is that Alan does not use his position to spruik his shampoo brand, become an Influencer or encourage people to view pouty pictures on Instagram. If you actually listen, you'll find that the issues Alan "goes on about" are critical to the good health of our nation. Will we have access to water? Where is our food coming from? Political secrecy. In the last couple of weeks he took PM Scott Morrison to task over his response to the drought and heard from a very emotional Kirsty from Berrigan who had zero water left, livestock she and her husband would have to sell and an overflowing Murray River just 30km down the road that she's unable to touch. Very quietly, with no to do around his own involvement, he mentioned this week that Kirsty was going to get a water allocation. That's a good use of media power.
A few other things I know about this very private man. I believe he works harder than anyone else in the industry. He might have a team of producers who aid his process but, having worked in both roles, you can't just hand someone a document you've written on fiscal policy. The reader, whomever it is, has to understand it themselves to make it cohesive to their audience. That doesn't even factor in the unexpected element of debate on a topic. Imagine the diversity Alan and his team encounter every day? And, he then writes opinion and commentary too, never seeming to falter on dates, names and purpose.
Radio is a tough game. Turnover is frequent. Some of Alan's colleagues have been working with him for a very long time. His crew are generous with their knowledge, respectful of Alan and their show. They know how thorough and exacting they need to be with people, dates and statistics, but, they are also fun and filled with Dad jokes.
If you listen, you'll know Alan ends each show with one of these; the cornier the better. Irrespective of the light relief, some days I find it hard to put the show down after I'm finished with it. Kyle Sandiland's great gift is that he is allowed to say the things we all think, but are too scared to articulate. I appreciate his value to the media landscape and, engage whenever he opens his mouth. Alan's show leaves me with the feeling that I could and should be actively doing more to make a positive future for my children. That (thanks Terry) is what Alan continues to do right.
About the author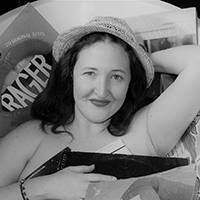 Jen Seyderhelm is a radio announcer, producer, news reader, lecturer, Rockwiz victor and podcaster.
Her podcast, 20/40, celebrates friendship and conversation between two women with a 20-year age gap. In her spare time, Jen does stand up comedy, is writing her first book, and posts music trivia around her vast collection of vinyl singles daily, online.