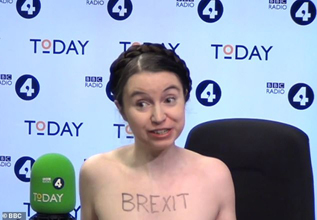 John Humphrys was given the shock of his life on BBC 4 as he interviewed a Cambridge University economist who suddenly stripped naked in the Radio 4 studio.
Dr Victoria Bateman, (partially pictured), a fellow in economics at Gonville and Caius College, who regularly delivers lectures in the nude, surprised the veteran host when she disrobed.
Humphrys, who said, startled, 'oh, I see you're naked', told listeners that Dr Bateman had the words 'Brexit Leaves Britain Naked' painted across her body.
It is not known whether the BBC was aware that Dr Bateman had intended to strip during the interview which saw her arrive wearing a coat and then disrobe in front of an unsuspecting Humphrys.
Listeners claimed he clearly struggled on air while interviewing the married Dr Bateman – who described Brexit as Britain's 'Emperor's New Clothes' moment.
During the terse five-minute interview, Humphrys accused the academic of undermining her argument by not wearing clothes as well as offending the sensibilities of the vast majority of the British public.