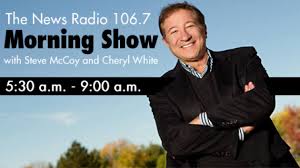 Host Steve McCoy was suspended and then let go from 106.7 after revealing he aired an old interview with presidential candidate Donald Trump and presented it as if it had just happened.

He did later admit that he lied about the interview and said that he had been suspended, but Atlanta's News Radio 106.7 decided it needed to go a step further.

Greg Tantum, the station's program director,said: "For obvious reasons Steve McCoy no longer works at the station."

McCoy not only lied about getting the interview but also about ground-rules the Trump campaign had given him for the interview, saying: "They said they wouldn't take questions about his policy because his policies, they weren't set in stone."

After the media picked up on the story and criticised Trump for putting these stipulations on an interview the campaign quickly shot the story down.
Trump spokesperson Hope Hicks said: "This interview did not take place. It is a fraud and/or a spoof. The Trump campaign has never communicated with this man. He said Mr. Trump spoke to him yesterday prior to the debate. Mr. Trump never spoke to him yesterday or any day before that. The radio host admitted it was a fraud to our attorney, apologised and he is now hiding and not returning anyone's call."

As a kicker Hicks said: "This is representative of the dishonesty Mr. Trump faces from the media."