Following incumbent PD Ryan Rathbone's exit yesterday, despite him being contracted to ARN in 2014, Derek Bargwanna is tipped to be odds on as his replacement.
Bargwanna was 2Day FM Content Director until he departed suddenly in late September, ostensibly for "family reasons." If our mail is correct then the family reasons have been solved now that Kyle and Jackie O are joining the station previously known as MIX 106.5. Bargwanna is known to have been highly liked and respected by K & J.
ARN CEO Ciaran Davis would not confirm or deny the possibility. Asked when he would be announcing the appointment of Bargwanna, he told radioinfo, "When any program director is signed sealed and delivered, that's when we'll announce it. Up till now we've focussed on getting Kyle and Jackie O across, which is the primary talent, and now the process of building the show around them starts."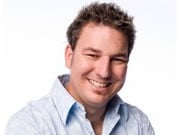 In other unconfirmed moves Lars Peterson (left) and Richard Mercer, The Love God are tipped to be shifted from MIX to WS FM paving the way for a younger target when MIX is rebranded.
Look out for Peter Saxon's in depth interview with Ciaran Davies coming soon. In it Mr Davis reveals how ARN has turned around from a network, "happy to be third" to a culture where the aim is to be number one. And how the Kyle and Jackie O acquisition is just another plank in that long term strategy initiated three years ago.