It was just last month following the release of the final survey of 2016 that the Hit Network's Head of Content Gemma Fordham was asked by radioinfo about the lack of impact 2DayFM's Rove and Sam had made in the Sydney breakfast market, finishing the year languishing with just a 3.8% share.
"Look," began Gemma.

"One of the areas we have been able to control is obviously the music across the work day, we know that we have got that right and I think the numbers are reflecting that.
"Obviously the focus is completely on breakfast…we are not resting, put it that way."
And rest they didn't, less than four weeks after that conversation it's been announced Rove and Sam will be replaced by comedians Em Rusciano and Harley Breen from January 23.
Southern Cross Austereo decided on the shake-up after executives took some time off over summer and a review was handed down.
2DayFM has taken to Twitter to share the news.

With others following on Em's Twitter feed to offer congratulations.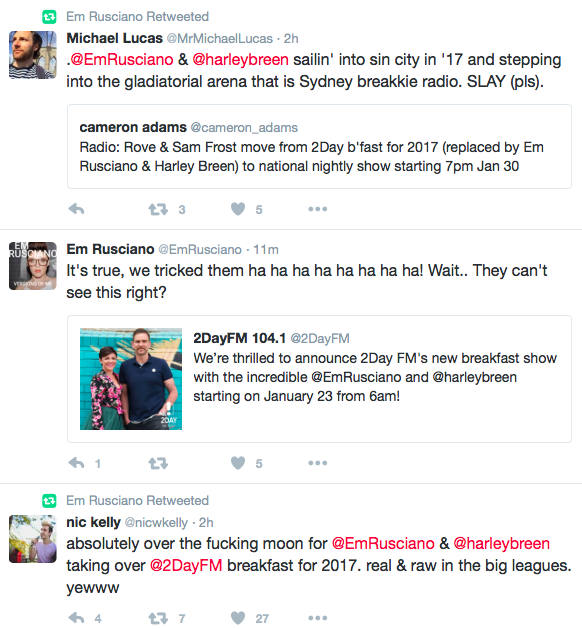 Having just stepped off the Summer breakfast show and after successfully hosting a Sunday night show for The Hit Network, Em Rusciano says "I'm excitified (sic) at the thought of hosting breakfast radio in Sydney, that's a combination of my two resting states: excited and terrified. I love radio, I've been in and out and in and out again for 12 years! I'm like the herpes of radio… wait, I probably don't want those words near my name for all of time do I? This job is the holy grail, the philosopher's stone- the one ring of Mordor! I'm bringing along one of my favourite comics and humans: Harley Breen and together we hope to excitify (sic) Sydney! "
Em adds "Please note that I included a fusion word in my press release statement and three pop culture references. If that and the icy cold cans of Coke I drive around handing out to random people, for no reason, doesn't convince you I'm qualified for this job: then I give up! Hear you soon Sydney pals!"
It's understood Rove and Sam will be moved to another time slot.
Rove says "One of the pleasures of 2016 has been working with Sam so I am looking forward to continuing working with her in 2017 at a morecivilized time of day". Sam adds "I'm pleased to move on with my friend Rove to our next gig, as well as undertake other commitments outside of radio."
Gemma Fordham says: "Rove McManus and Sam Frost continue to be key members of The Hit Network with their national show which will have a larger focus on entertainment content."
The new breakfast show will be called The Em Rusciano Radio Show with Harley Breen.