2SER's acting music director Daniel Ahern avoided the dilemma of whether to program his own music on the station last week, when his first EP was released by Future Classic.

"I didn't want to make that decision, so I asked Andrew Khedoori to decide whether it should be on 2SER's playlist before he went on leave. He said yes," explains Ahern to radioinfo.

The Sydney-based multi-instrumentalist, who has also been assistant music director at 2SER for the past two years, released the debut EP under his band name, Bus Vipers.

Federal Highway is "the first peek into the brilliantly bizarre world of Bus Vipers," according to Future Classic.

Previewing the release, Rolling Stone Magazine said: "Instant catchiness diverted away from predictability by frequent swirling speed switches and multiple interlude breakdowns."
Federal Highway is a six-track EP "filled with melodic power-pop, kaleidoscopic textures, electronic flourishes, garage rock and funk pulses." With visual direction from renowned Australian artists and Gucci-collaborators Prue Stent and Honey Long, Federal Highway has Ahern playing virtually every instrument on the record.

"Federal Highway evokes the feeling of being stuck in a subliminal space or caught between two dimensions – between childhood and adulthood, between relationships, and between Sydney and Canberra," explains Ahern, who wrote the songs when he was living in Canberra studying Law at ANU.

"The EP is my first attempt to create a cohesive record as opposed to writing single songs. I wanted to make something that felt warm and lived in – partly to soothe myself, while also being energising and perhaps even ominous. Prue and Honey complement the music perfectly with their visuals."

Bus Vipers first appeared in 2013, when Ahern, then a 19 year-old student writing in solitude from his dorm room, quietly self-released his first single entitled "Lonely Ghost." The song caught the attention of triple j Unearthed where he was named a Featured Artist, and was brought into heavy rotation.

Since then, Ahern has been preparing for his first official release, signing to Future Classic earlier this year, as well as collaborating and playing live with Stones Throw/Future Classic artist Jonti. He also credits his work at 2SER with increasing his knowledge of the radio industry, which is always important for a musician.

Federal Highway is "a product of catharsis and introspection." The title refers to the main road that connects Canberra to Sydney, a road Ahern drove many times in the three years he spent in the Capital. Recorded in his basement studio space in Sydney after returning home, Ahern explores confusion with his own identity, unhealthy relationships, and the universal feeling of otherness, but still manages to create "rapturous and sunny garage pop."

Across six songs, Federal Highway "bursts with trippy guitar licks, distorted synth and giddy psychedelia. The result is a rich and sprawling world that echoes with the warmth of the '60s, and the kinetic energy of psych-rock," according to Future Classic.

2SER Manager Melanie Withnall has told radioinfo: "Daniel has acted in Andrew's role when he was away, and also helped us implement WideOrbit at the station."

Andrew Khedoori said: "At 2SER I've been lucky enough to have Daniel slip me his tracks as he was working on them and loved every instalment of his humming pop mind. His songs are instant but with their own kind of style and the world will be brighter for anyone in earshot now that they're released."

All six tracks from the EP are now available for radio play from Future Classic via publicist Jaclyn Ulman – [email protected].
Website: www.busvipers.com
Stream or buy Federal Highway, out now via Future Classic, HERE.
Watch the music videos for singles "Fluid" HERE, and "CSIRO Weeds" HERE.
AMRAP Airit page HERE.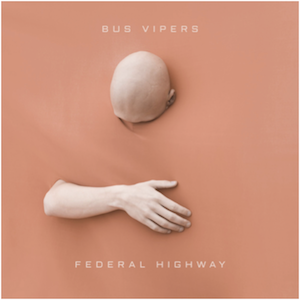 Tracklisting
1. CSIRO Weeds
2. Palace
3. Daniel's Dreams
4. Fluid
5. Daniel's Exercise
6. Federal Highway


Reviews
"Spectral and at times boisterous…showcases Ahern's dedicated multi-instrumentalist spirit" – Stereogum

"Bus Vipers paint an eerie picture of deep sea monsters and young love on 'Fluid'…heady mix of blissed out garage-pop" – The Line of Best Fit

"['Fluid' is] quite the immersive experience, anchored by a fascinating hook while offering a ghostly look at love." – Variance





Disclosure: radioinfo founding editor Steve Ahern is Daniel's proud dad.