Kirsty Meyer spends 5 minutes with Melissa "Missy" Femia, presenter on KIIS 106.5.

---
Where were you born from and where do you consider home?
I'm was born on Sydney's Northern Beaches and living back there now. While I've moved plenty over the years (for radio and TV work) the Peninsular is always home!
How did you end up in radio?
While I was studying (desperate to become a TV sports journalist!) I got a gig on the 2Day FM Black Thunder Team in Sydney. I fell in love with radio instantly and moved into producing and spent every waking hour locked in a studio learning the panel and how to present. After one shift middawn shift – I was hooked for life.
What is the best thing about working in radio for you?
I love the fast pace, the opportunity to be creative and being in control of the overall sound of a break from the birth of an idea to the final execution. Oh and it helps being able to get away with a bad hair day!
What does your radio timeline look like?
2000-2003 2Day FM Sydney – Street Team, Producer, Announcer
2003-2005 Nova 100 Melbourne – Mornings Announcer, Anchor/co-host 'Mel, Johnny & Bucko's Nova 19's'
2006-2008 Nova 969 Sydney – Anchor/co-host & producer 'The Nova Top 10 with Jabba & Mel.' Presenter 'The Official ARIA Chart Show'
2009-2010 Perisher Media – Media Supervisor/ snow & sports reporter
2010 Southern Cross Ten/SCA – Presenter 'Landed Music' TV & Presenter 'Landed Music' Radio
2009-2013 Mix 1065 Sydney – Announcer, Presenter/Producer of 'Body+Soul Radio,' Drive Producer – "Ant & Sami Lukis"
2014-current KIIS 1065 – Announcer
What is one of the memorable moments you've experienced on air?
There are many! However interviewing my teenage crushes Blink 182 is up there – especially when Tom Delonge admitted his crush on me and that if we went to school together we would've been high school sweethearts, married and lived happily ever after – my inner teenager was "like totally in love" #memorable
Most interesting job you've had thus far?
Reporting from the highest peaks in Australia for national television! A few years back I channelled my inner ski bunny moving to Perisher as Media Superviser and snow reporter. There is nothing like reporting live in a snowstorm for TODAY in sub-zero conditions unable to get the words out because your mouth is frozen over. Snowboarding to your live crosses was pretty cool too!
What's the date in your calendar you're looking forward to most this year and why?
March 20, 2015 – I'm getting married!
What advice would you give to other women who work in radio, who want long term careers?
Learn to panel and produce! It doesn't matter if you are chasing a co-hosting spot as many females tend to lean towards. Being skilled behind the panel and being able to produce can lead to more career opportunities in the industry and keep you around a little longer!
In my 15 years in metro radio I've experienced many highs and lows however my skill set has kept me in the game. In many cases I have been the only female at a station able to move between anchor, solo announcer, co-host, producer and panel op. Learn the panel girls and harness the power!
What's your mantra?
You can't stop the waves but you can learn to surf.
One day, I would love to:
Get over my crippling fear of heights so I can skydive, fly in a plane without crying and be able to wear 6 inch heels.
If you didn't work in radio, what career would you see yourself in?
I'm obsessed with high fashion (even if I can't afford it!) and always wanted to design (wear!) or style for famous fashion houses. Instead I'm left having to watch Red Carpet Season on E! and every episode of Fashion Police for my fix.
Where could we find you on a day off?
I love the outdoors, the beach, keeping fit and catching up with my BFF's. You'll mostly find me on Manly Beach running, soaking up the sun and sweating it out at Power Living Yoga.
What's your drink of choice?
Water! Ok I know it's a little boring but I don't drink alcohol, so I mix it up with lemon and cucumber.. I know still boring….
Why didn't you ask me about…
My obsession with anti-bacterial wipes?
Where can people follow you?
On Twitter @MissyFemia on instagram @MissyFemia on air KIIS1065 FM.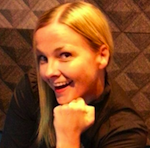 Our profiler, Kirsty Meyer, has worked in news and programs in Australia and internationally.
This is the second in a series of profiles Kirsty is compiling for radioinfo.

@KirstyMeyer